Inspiration
The Panics: A Few Of Our Favourite Things
In honour of its 21st anniversary and dramatic rebranding, we ripped up the one-sheet Favourite Things rulebook and chatted to three members of The Panics' team - Ania Markham, Mischa Rozema and Bruce Bigg - about some of the cool things to be found around the studio.
You don't last 21 years in this business without picking up some pretty cool souvenirs along the way.
That's why, when told of The Panics' (formerly PostPanic) anniversary and dramatic rebranding, we decided to break all of the A Few Of My Favourite Things rules we've kept for the past six months and open the feature up to multiple voices from the same company.
Catching up with the company's partner and EP Ania Markham, co-founder and director Mischa Rozema and producer (on both The Panics and Panic Room work) Bruce Bigg, we found out a few things about the impressive library of source material (including some hallowed copies of The Face), a lucky bank-robbers mask and a statue of a man with enormous testicles.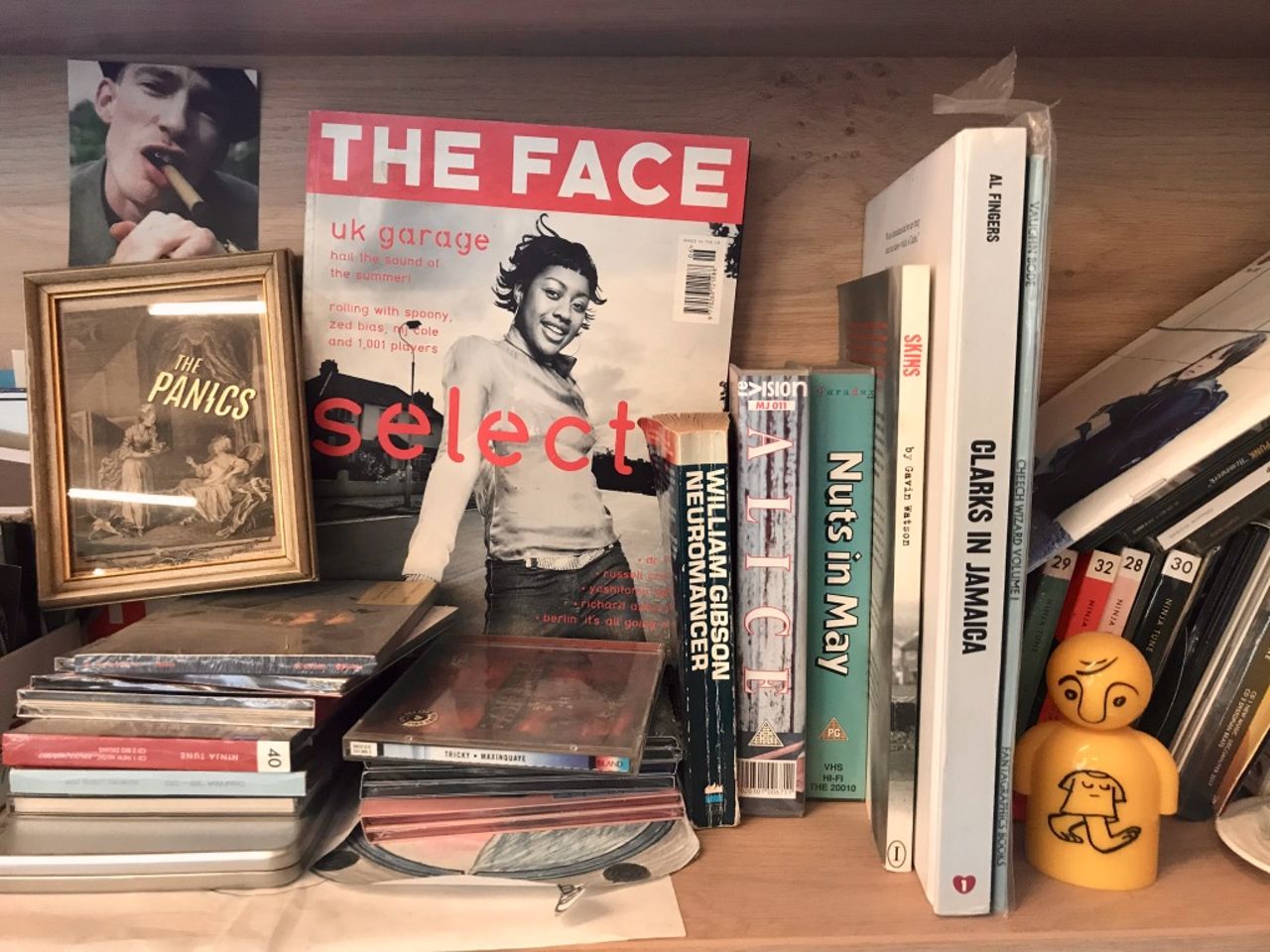 Ania Markham - Partner and Executive Producer
I've definitely got the messiest corner at The Panics but it makes me happy as it's my little bit of London. I moved to Haarlem (just outside Amsterdam) 17 years ago and most of these odds and bods either came with me or least my ongoing curiosity of all things subcultural.
The William Gibson book is the reason I joined Mischa (Rozema) and Jules (Tervoort) all those years ago when it was just the two of them. We bonded over a shared love of Neuromancer and I felt like I'd come home. Similar aesthetics and ambitions.
Alice by Jan Svankmayer perfectly illustrates the darkness we all possess inside and that also comes out in my sense of humour. Mike Leigh's Nuts In May is one of my all-time favourite films.
We have old copies of The Face hidden all over the building - I'm paranoid about them disappearing - they're like precious analogue memories I obsess over when plotting new documentary ideas in between our commercial projects.
Mischa Rozema - Co-Founder and Director
My desk is best described as a confused but creative ground zero. A physical place in my universe where past, present and future are fighting for my attention. There's no shame here, I thrive in chaos. My desk reflects the inside of my brain pretty well; If ever my desk looks immaculate, something is very, very wrong. You'll see numerous coffee stained scripts, a seemingly endless array of scribbles on Post Its, a ticket to an AJAX Champions League Game (perfect present from Jules Tervoort), a dozen Lucha Libre dolls, and let's not forget Fons Schiedon's statue of a man with enormous testicles [sadly not pictured].
I will, however, highlight the following objects:
Past: A bank robbery mask with my lucky number from my latest Playstation ad. I had tons of fun shooting this one. I love weird project memorabilia, and this one doesn't disappoint.
Present: My sketch book! I value this object the most. It's like a portable hard drive for my brain. It's full of finished and unfinished idea's and dreams. You just have to look at the most current pages to see what I'm up to at the moment.
Future: Not so long ago when I was in Belgium, I bought these books: Album 14-18 and The First World War Now. Research is my middle name and I'm fascinated by WW1 poetry and photography. So yes, this is part of a project in the making.
By the time this article is written, my desk will probably have shape shifted into another entity.
It's very much alive!
Bruce Bigg - Producer
The gallery wall is one of my favourite parts of the office. It hosts a curated selection of different artists' work that gets switched up every six months. I really love having such a strong focal point which stays refreshing and inspiring.
It's currently adorned with photographer Gavin Watson's work. It's not just the attitude that speaks to me, but the fact that many of these images were captured when Gavin was in his teens, with no regard of the photographic and historical value they would hold all these years later.
Friend of the company, Niels Shoe Meulman is responsible for drawing the Panic motif you can see on our company merch here. We also have his book Calligraffiti perched above.
Right next to it, is a portrait of Mischa Rozema, penned by illustrator Gijs Kast. This can cause a bit of a stand-off in the office with Mischa hiding it from time to time, only for someone to return it to its rightful place several days later.