Work
Fons Schiedon's animal magnetism for Groove Armada
A pair of pets have a remote romance in this strikingly animated promo for the band's latest track, Lover4Now.
Unlock full credits and more with a Source + shots membership.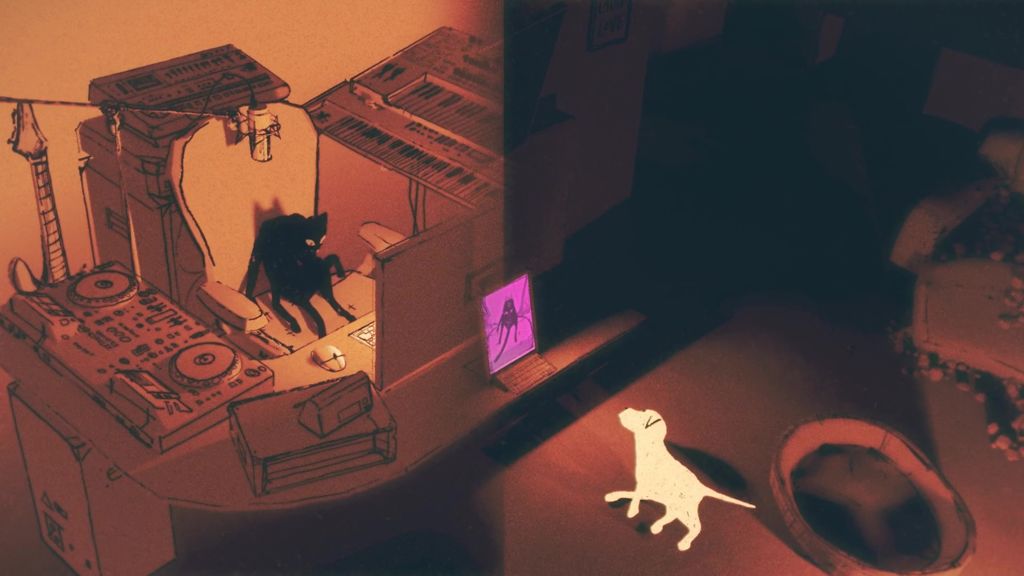 What was it Dr. Peter Venkman said about the world heading towards the apocalypse? "Human sacrifice, dogs and cats living together – mass hysteria."
Well, since we've been having a number of other signs that 2020 might be the end of days, it's only fitting that a tale of feline and canine friendship needs to be told, and it couldn't be told lovelier than in Forever director Fons Schiedon's gorgeous promo for Groove Armada's Lover4Now.
Following a lonesome cat (Cosmo) and dog (Mio) and they inhabit a world devoid of humans, the film sees both manage to engage in a long-distance relationship.
Animating in an eye-catching 2D/3D form, Schiedon manages to imbue the animals with character without resorting to anthropomorphics, each behaving in a distinctly doggy/catty style despite the oddness of the surroundings.
Speaking of the anuimation technique, Schiedon notes: "The video was originally written as a 2D animated, hand drawn film with the help of 3D backgrounds. As for most productions, I imagined I would work with character animators.
"But in the storyboarding and look development stage I got very interested in the idea of using multiple camera angles. It just made sense with the presence of technology in these homes: security, pet and nanny cams in addition to tablets and computers. I liked the thought of all these camera streams continuing without purpose until the battery runs out.
"I also got a bit obsessed with this piece of software called Blender which I had only used in supportive tasks on productions before. Quarantine provided an unusual opportunity to deep dive which normally schedules don't allow for.
So in the end I animated it by myself. The video was all done in 3D in Blender, which also has a clever 2D animation interface. The community around this software is quite amazing, and very helpful as I needed to figure some things out as I went along. I don't know if that's a good metaphor for the past few months….working on something in isolation, but virtually supported by others."