Talent
YDA winner Arthur Studholme on making a name in comedy
With his awkward, surreal and utterly hilarious short, What's My Name?, Pulse Films director Studholme picked up a Gold at 2022's YDA. Here he discusses the origins of the unfortunate encounter, how a chance job with a prosthetics expert can make a micro-budget into a masterpiece, and why losing your lead actor the night before the shoot can sometimes work in your favour.
How did you get into directing? Was comedy always a calling?
I think I knew I wanted to be a director pretty early on - I used to spend the summer holidays when I was a kid coercing my younger brothers into performing in these terrible music videos I wanted to make on the photo booth app on my Dad's laptop.
Watching them back now I'm pretty sure I can see the pain in their eyes as they mouth along to Bruno Mars' The Lazy Song for the 40th time (to be fair, I was 13).
I ended up doing Fine Art at Goldsmiths, and when I started making films about halfway through my time there everything sort of clicked into place, I knew the film world was where I wanted to be.
What led you to What's My Name?? Was there a real-life event that inspired it (hopefully not quite as drastic!)?
Not long after leaving university, I met a majestic man named Cosmo Wellings on the set of a fashion film I was shooting in Wales. He showed me these disgusting animations he'd spent his time at university making and I knew right then that we needed to work together in some form or other. It wasn't long before we spent so much time writing together that his girlfriend was convinced we were shacking up romantic style on the sly.
I got a phone call from a quivering Cosmo who tells me he's just had the most embarrassing experience of his life.
A few comedy shorts later I get a phone call from a quivering Cosmo who tells me he's just had the most embarrassing experience of his life. He says he was just at a party where he bumped into a good friend from his first year of university. I'm not sure exactly why they hadn't hung out since, but in a group situation, Cosmo said something along the lines of, "Dude, how come we never see each other these days? We need to hang out more!" And the guy came back with, "Really? What's my name?" Needless to say, Cosmo had completely forgotten and the guy refused to let him off the hook. (I suspect Cosmo might have had a track record.) We knew the only way to right this wrong was to funnel the awkwardness into some kind of comedy film.
I still selfishly hope to receive more phone calls from Cosmo with devastating encounters like that.
Unlock full credits and more with a Source + shots membership.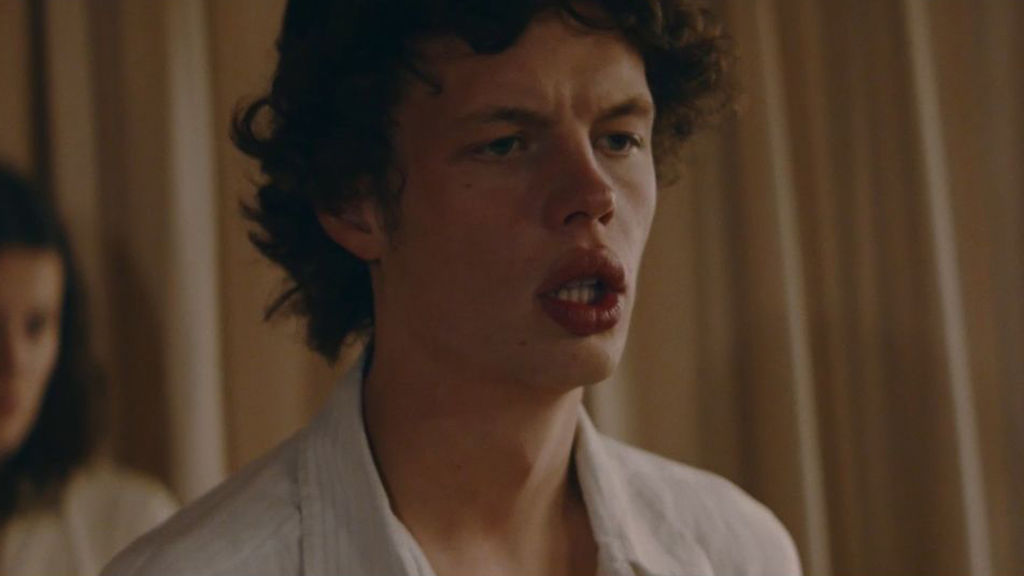 How did the project come together? How did you build your crew and cast?
Cosmo and I spent a while hammering that anecdote into a working script and saving up the money to shoot it (I was living at home and working as a runner and Cosmo, hilariously, as a model). We wrote it as part of our comedy sketch show called Uncle Shortbread. Needless to say, we didn't have much cash so the entire project ran on enormous, borderline unethical favours.
I'd met a brilliant prosthetics artist called Nicole Milton on a music video set around that time, and she agreed to do all those swelling prosthetics on the double cheap. That was still where most of the money went. The DOP was a friend I always work with, and he used his own camera.
We shot it in Cosmo's uncle's house in London. My younger brother helped us with production and did all the catering. Harrison Charles who so masterfully plays Stanley, the guy who dies at the end, was head of the comedy society at Goldsmiths. I cast him off the back of these insane skits he does on his Instagram.
How was the shoot itself? How long did it take and were there many issues to overcome?
The day before the shoot, the guy who was supposed to play Jack (the character who forgets the other character's name) pulled out in dramatic fashion. I think it had dawned on him during our rehearsal that day just how weird the script really was. He was off shortly afterwards to star in a massive Amazon show, so I think he figured, do I really need to put myself through this? He was also very anxious about getting covid before his flight to the shoot, and I had developed a lovely little cough and cold that week. I could see him flinch every time I coughed or sniffed during the rehearsal. Looking back at it I really don't blame him.
The day before the shoot, the guy who was supposed to play Jack pulled out in dramatic fashion. I think it had dawned on him during our rehearsal that day just how weird the script really was.
Anyway, we were at panic stations, calling every actor we knew. For a while, I was going to play Jack myself. Eventually, all eyes turned to a very nervous Cosmo, and I'm so glad they (all the eyes) did. He nailed it, especially when you consider he had one night to learn the lines.
I've since learnt that he has one of the most effortlessly anxious faces I've ever seen. I guess we shouldn't have been surprised… who better to play the role than the very man the role is based on.
The shoot itself went pretty smoothly - we shot it all in two very hectic days.
The line readings and performances are pitch-perfect - was there much rehearsal done to nail the tone?
We did a few hours of rehearsal, dotted over a couple of days, but not as much as I would have liked. We had the time to do a fair few takes on the day so we had plenty to work with when it came to sculpting it all in the edit, but mostly I've got to give the credit to Cosmo and Harrison who made it easy.
It helps that we already had Harrison in mind when we wrote the role of Stanley.
Above: Some BTS pics of Nicole Milton's stella prothetic work.
We need to talk about the ending. Why did you make the decision to enter the realms of heightened surreality and what were your influences? [ed note - We sensed a bit of Buñuel meets Vic & Bob]
That ending was never actually in the original script. We finished the first edit in its intended place after that final twist and, for some reason, it just felt a bit smug. In the end, we felt it was much funnier to kind of painstakingly build up to this intense psychological crescendo, and then dash it all on the rocks with something gratuitous and stupid.
Plus it made us properly laugh, which is difficult to do when you've been editing something for weeks.
In terms of influences, Vic and Bob are an absolute favourite, as are Tim and Eric and the mighty Chris Morris. You're on the money with Bunuel as well there - the mad, non-sequitur-filled worlds he creates are a huge influence on our work.
The surreal social logic you find in Tim Robinson's work was a particular inspiration to Cosmo and me when writing this film.
You edited the film with Cosmo Wellings. How important is an edit to capturing the comedy beats and are you always inclined to edit your own work?
With comedy, the edit is about as important as it gets, and this film was no exception.
After the first and second edits, we nearly chucked the whole thing in the bin. For some reason, it just felt lifeless. But we added in a few awkward pauses here and there using the bits of footage you get when the over-the-shoulder actor is talking and the actor you're framed on is just standing there listening. Then we surgically removed absolutely anything that wasn't completely necessary to the story and suddenly it came to life.
After the first and second edits, we nearly chucked the whole thing in the bin.
There was a whole sequence where various partygoers shout things like "someone call an ambulance!" that we had to cut because of crimes against acting. I'm joking - they shouldn't have been in the script in the first place; in retrospect I don't think any actor on the planet could have made them work.
I'm a bit of a control freak so I love editing everything myself because you can get anal, but I'm learning to trust the editors I work with and welcome them into my life with an open heart.
What does it mean to you to win a YDA and what can we expect to see from you in future?
It's completely insane to me, this was essentially a self-funded comedy sketch we made during covid with a bunch of friends and no money.
I couldn't believe it when it played in full in the cinema in Cannes, and "MENS' SEMEN" was booming out of the humungous Dolby atmos.
As for the future, hopefully more weirdness on screens of all sizes!