Inspiration
Roxana Nita: A Few Of My Favourite Things
The group creative director at Cheil Centrade Romania talks us through her love of Interpol (the band, not the bureau), her corner of superheroes and her magic drawer of calligraphy supplies.
After winning the local Cannes Young Lions competition in 2012, Roxana Nita's relationship with advertising was cemented when she was selected as one of the top two Romanian creatives to represent Romania at ADC Europe's Creative Express program in Finland.
Currently a group creative director at Cheil Centrade Romania, Nita's art direction background is evident in the items she's chosen to talk through in this week's Favourite Things, all showcasing a creative for whom design is at the forefront.

Nestled amongst the art supplies and design books, we find a poster that showcases her musical preferences, a touching Olympic drawing and an action-figure representation of the Jack Bauer Power Hour.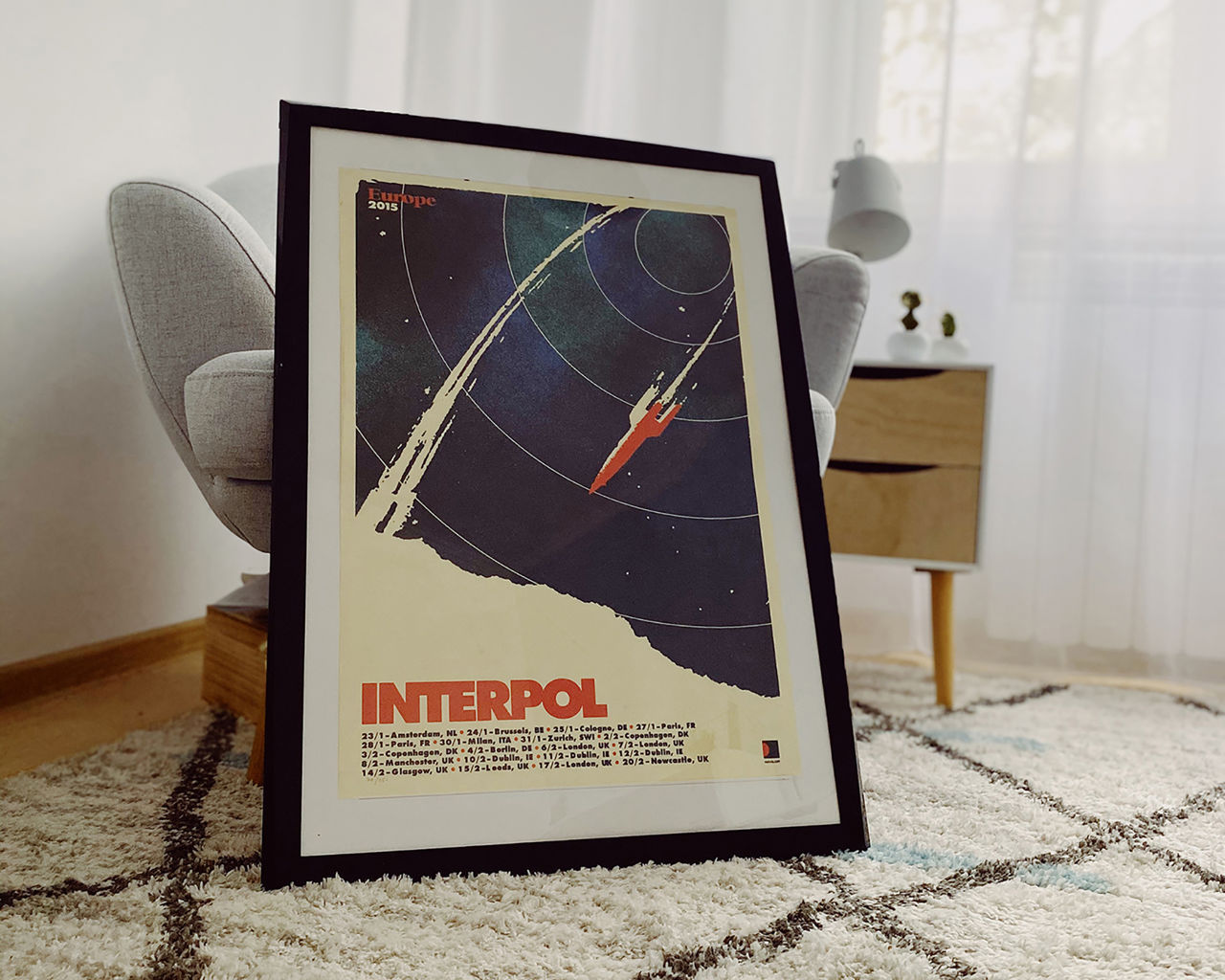 The Interpol Poster
The thing that people learn pretty fast about me is that I really love Interpol (the band, not the organization).
I've been a fan ever since I discovered them ages ago on last.fm. I was doing a school project and this song randomly came up and I remember I was instantly mesmerized by Paul's voice, those multi-layered guitars and that kick-ass bassline.
That song was The New and quickly afterwards I got obsessed with their debut album, Turn on the Bright Lights.
This poster is from their 2015 European tour and it's an artwork designed by Ivan Minsloff. I think the space-y vibe really conveys the feeling you get when you get lost in Interpol's moody melancholic songs.
I bought it after I attended their gig in Köln which coincidentally was also one day before my birthday.
The Breaking Into Advertising Book
Funny story, I did break into advertising and I did stay there, so amusingly it's a 100% return on investment on this one.
This little book is actually a printed version of an online column advice which was popular back in the days, called Ask Jancy, featured on the ihaveanidea community.
I remember when I was trying to break into advertising, competition was tough and we were putting in lots of effort trying to build up a decent portfolio so we'd get hired. Ask Jancy had lots of useful advice on internships, building a portfolio, approaching CDs, handling interviews and so on.
I keep it around to remind myself of where I started from.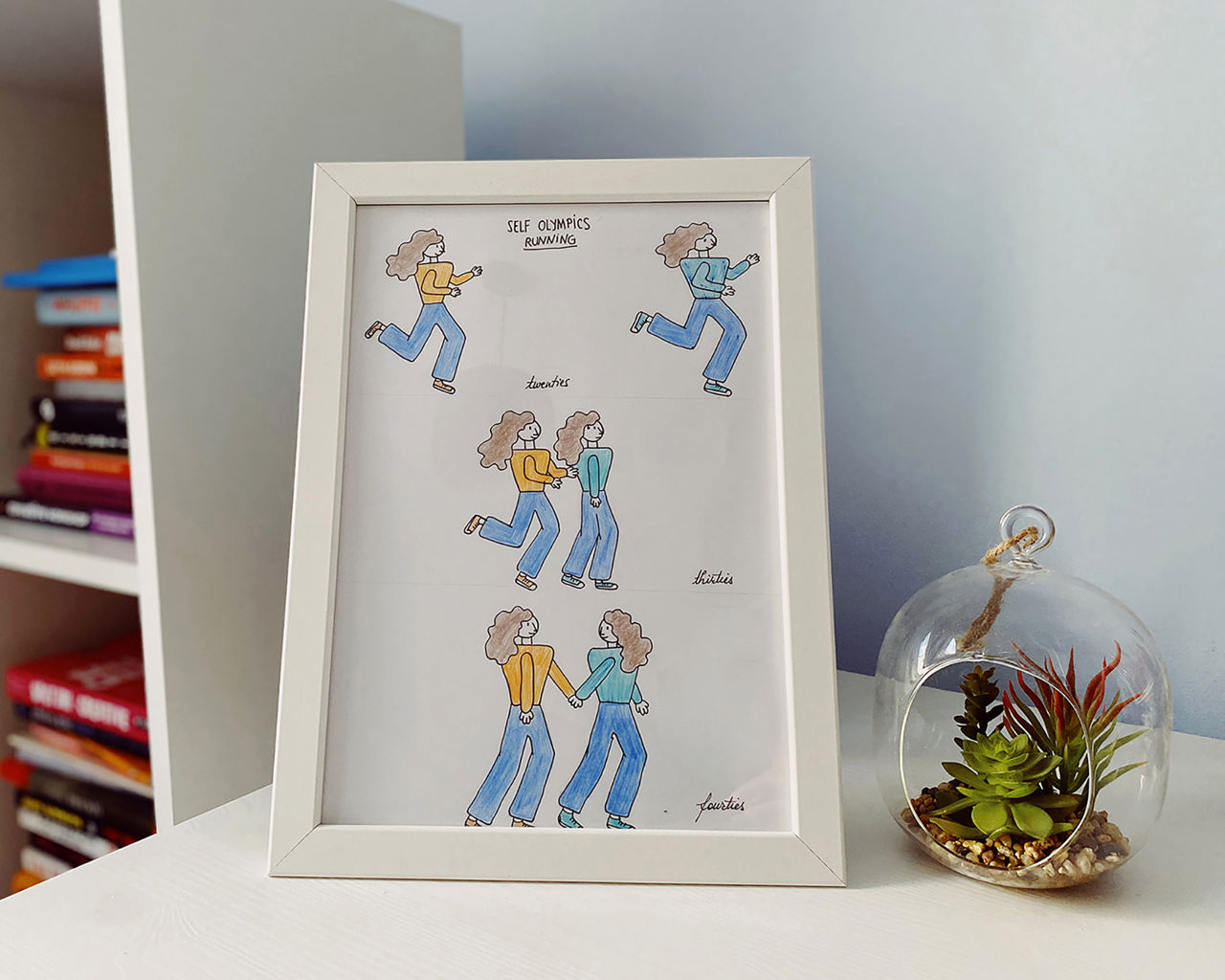 The 'Self-Olympics' Drawing
This one is really close to my heart.
It was a gift for my birthday and it's an original concept drawn by my friend Laura.
The drawing is pretty self-explanatory I guess.
I love how simple it is and yet has such a meaningful message behind it. It's a great visual reminder that life is nothing but a journey of self-discovery and acceptance.
I can't wait to get to my forties, haha.
The Jack Bauer Figurine
I'm a huge fan of the series 24.
It's by far the most exciting show I've seen. I love the adrenaline rush it brings.
Each season covers 24h of agent Bauer's life using a real-time narrative method and is packed full of twists.
In a way, it relates to advertising when it comes to the crazy deadlines and the chaos we deal with when we have to finish up a project.
"What would Bauer do?" is definitely a fun question I ask myself to stay sane when I deal with insane projects.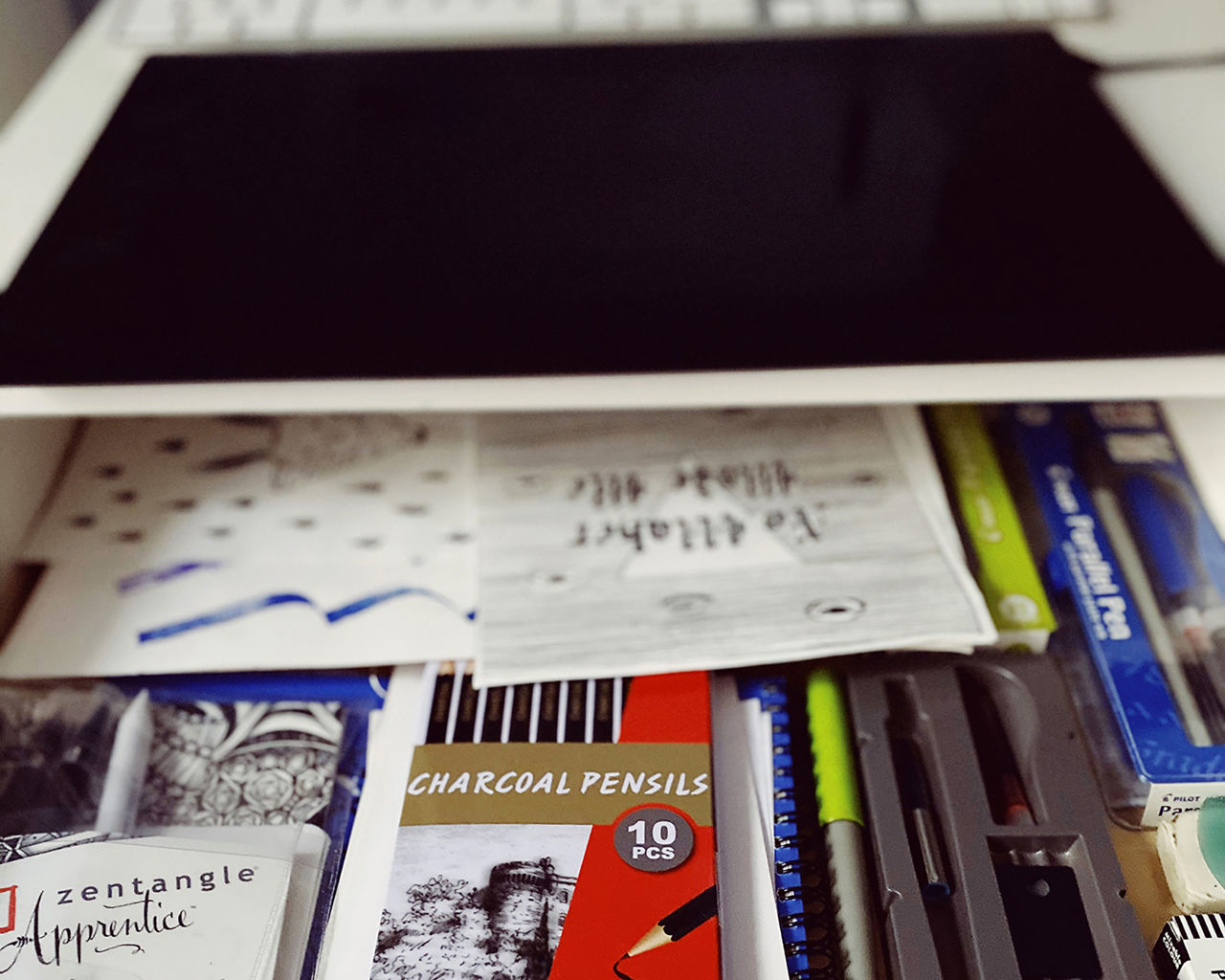 The Supplies
Every desk has a magic drawer and mine is close to my Wacom tablet.
I use it to store calligraphy pens and pencils and papers of different textures.
They come in handy for sketches or when I need to take a break.
I took some calligraphy lessons in the past and sometimes I re-practice all the letters just to relax. Other times I just scribble different lyrics or words.
I never take it too seriously, it's sort of my low-key relaxing hobby.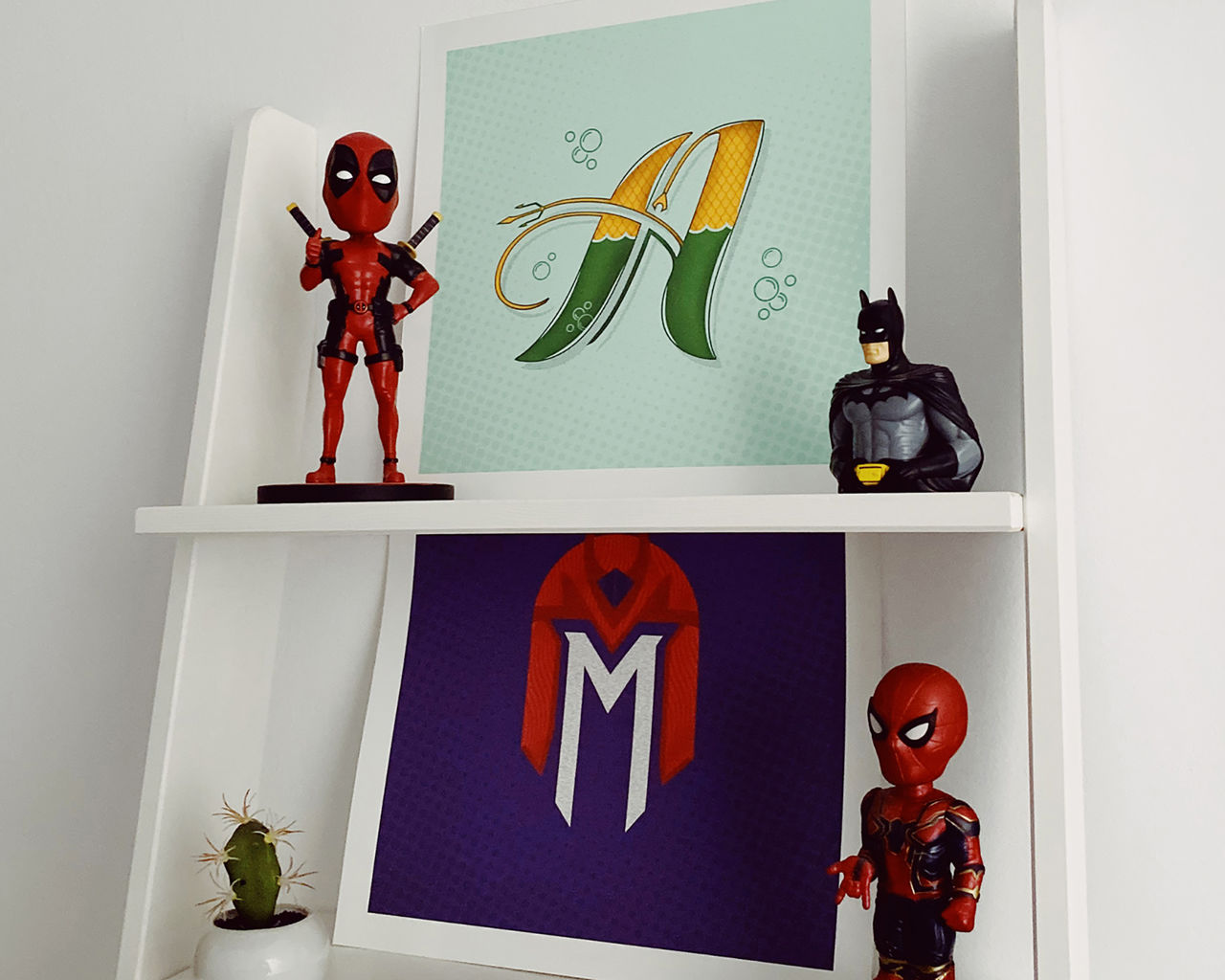 The Superhero Corner
I've always had a thing for superheroes and a couple of years ago I created an illustrated alphabet that pays tribute to various comic book superheroes and villains.
Keeping a minimalist style, each one of the 26 letters aimed to capture the features of a particular character through geometric form, colors, specific symbols and so on.
For my desk space, I've printed the A (illustrating Aquaman) and the M (illustrating Magneto) and I keep them on a top shelf along with small superhero figurines.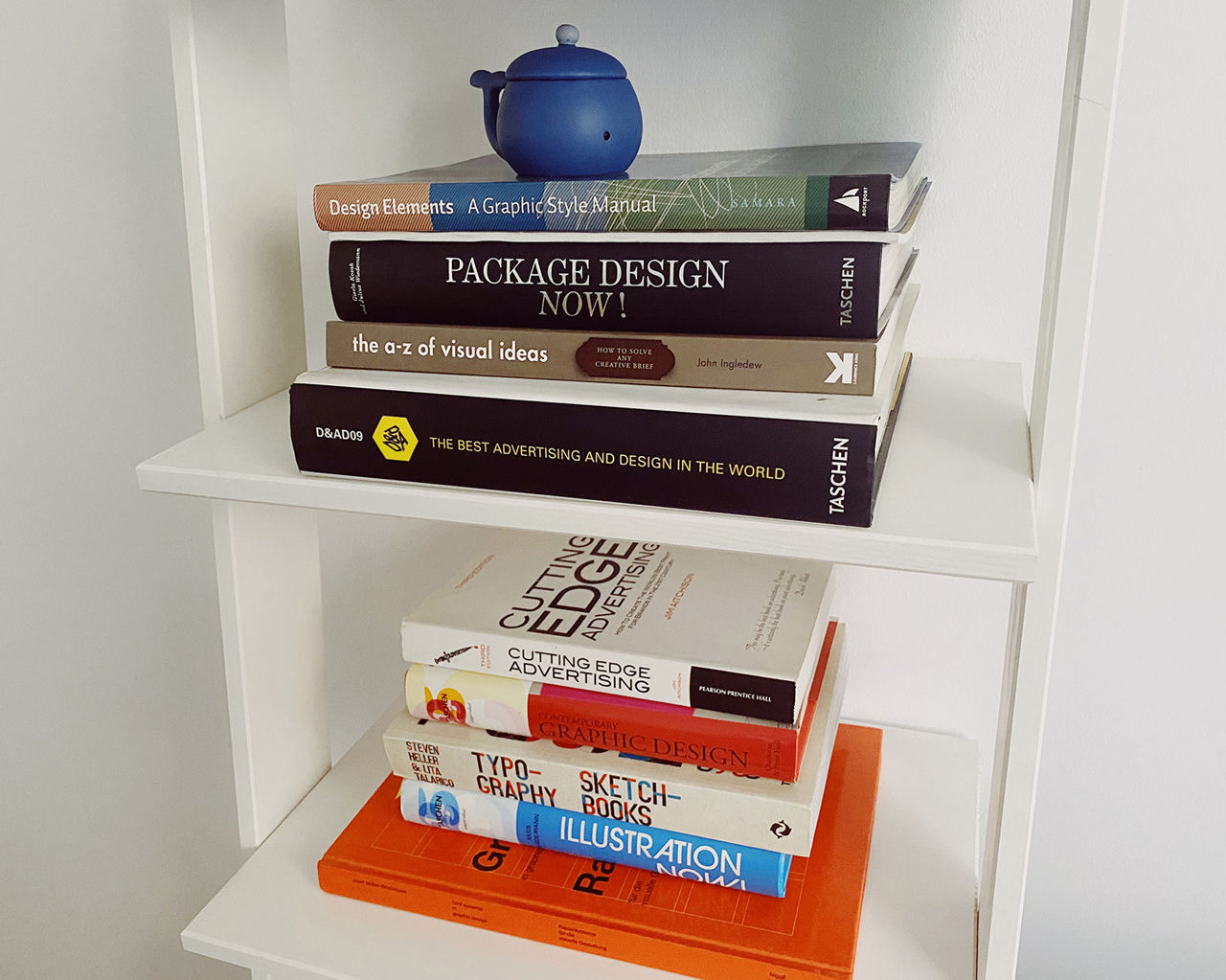 The Graphic Design Books
I'm a book nerd, so I come back to these beauties whenever I lack inspiration or I'm stuck on a layout.
I think of them as timeless and they provide an endless source of inspiration.
Among them is an old D&AD annual which I found fascinating as a young creative.
I've secretly always wondered what kind of work you'd have to do in order to win and get featured in the annual. This year I won my first pencil, so I feel I finally cracked it after all these years and I'm extremely grateful for that.
All in all, I find it refreshing to go old-school and browse through these books instead of searching all over the internet for something to spark my imagination.