Inspiration
Jordan Brady: A few of my favourite things
In the first of a new shots series, we chat to the Superlounge director/partner about some of the items he keeps around his workspace to keep him inspired.
Director, comic, podcaster, stand-up, bootcamp leader and one-time MTV host... There's not a lot in the entertainment field that Jordan Brady hasn't turned his hand to.
The Superlounge director/partner, whose Respect The Process podcast has hosted pretty much every Stateside adland hero in its 6 year history, certainly isn't one to rest on his laurels; whether it's directing feature-length documentaries detailing stand-ups in extraordinary situations, coaching the auteurs of tomorrow in his Commercial Bootcamp or shooting spots for Chrysler, Verizon and more.
We grabbed some time with Brady and asked him to talk us through some of the items he keeps around his Culver City studio to keep him inspired.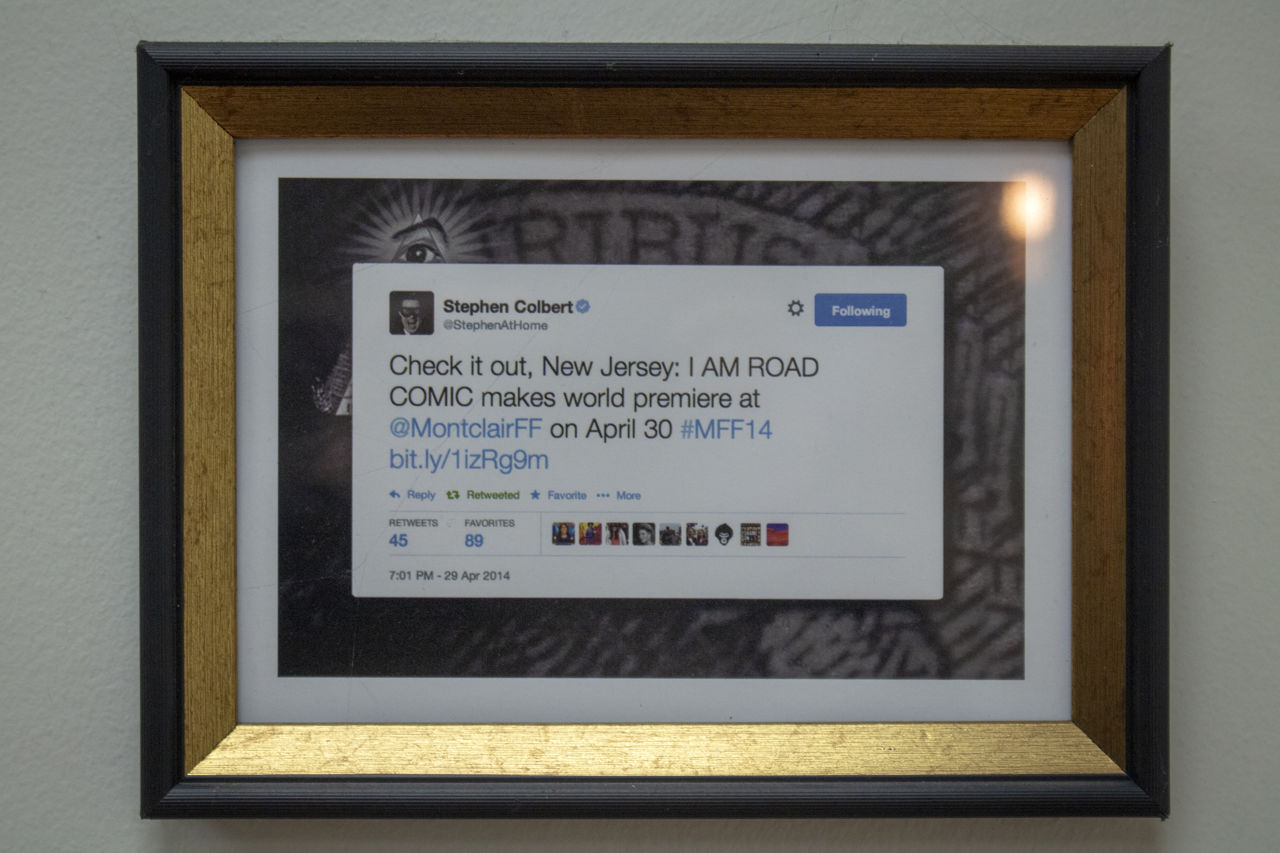 The Tweet
It seems silly to frame a tweet, but Andrew Furtado, Co-Editor of my documentary I Am Road Comic, gifted it to me the right before the film's premiere. It's by comedian Stephen Colbert, who was on the board of a comedy film festival and loved it.
A self-funded, no-budget sequel to "I Am Comic", this film and the tweet, are a reminder to always keep challenging myself. You see, after a club booker saw I Am Comic, he mistakenly asked me to headline a week outside Spokane. I had not really done stand-up comedy in 22 years, so obviously I said yes. The film documents that journey while exploring 'the road'.
Oh and days before my 'gig', a man was tossed out the club onto his head, and he went into a coma. Now that is documentary gold. He's fine now.
After nice Netflix runs, I Am Comic, I Am Road Comic and I Am Battle Comic all live on iTunes and the like.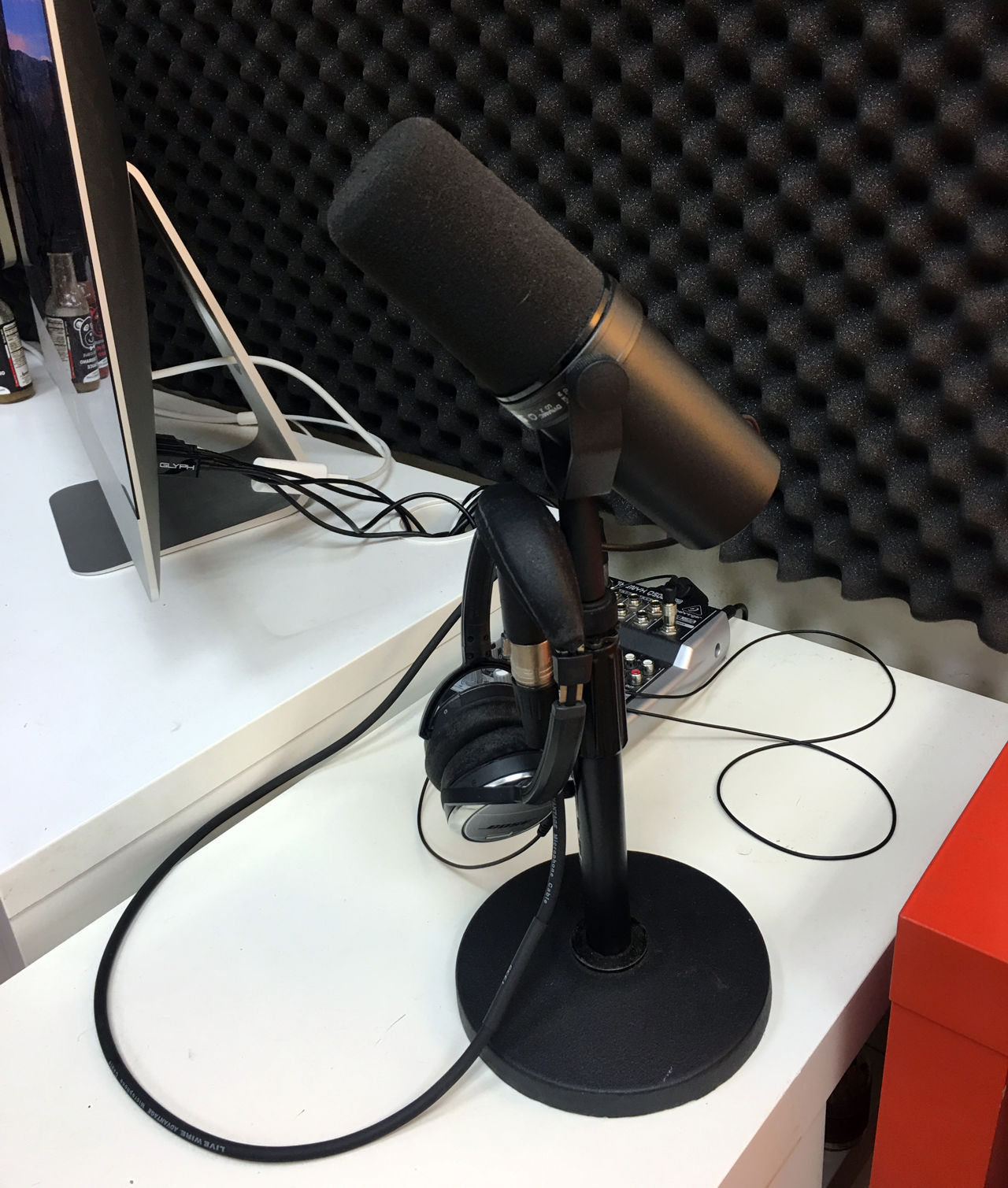 The Mic
I hate losing, so after not wining a big directing gig, I cursed the helmer that won. "Fuck that guy," I fumed, but was suddenly overcome with a fit of laughter. "I don't even know him. Bravo to him." It was a watershed moment, realizing that the competition to win jobs is not personal, it's about who was the best ideas for that gig. It's a competition with oneself to truly explore and present an authentic take on the board. So I decided to reach out to other directors, creatives and technicians in our business, to learn their process.
And if I'm going to go to all that trouble, believe me I am going to record the conversation. This became my podcast on commercial filmmaking, Respect The Process. The mic on my desk reminds me how cool people in our business are. They have dreams, fears and hate losing, just like me.
My son Jake edits for me and we've done over 280 episodes since 2013, it lives on iTunes and the like.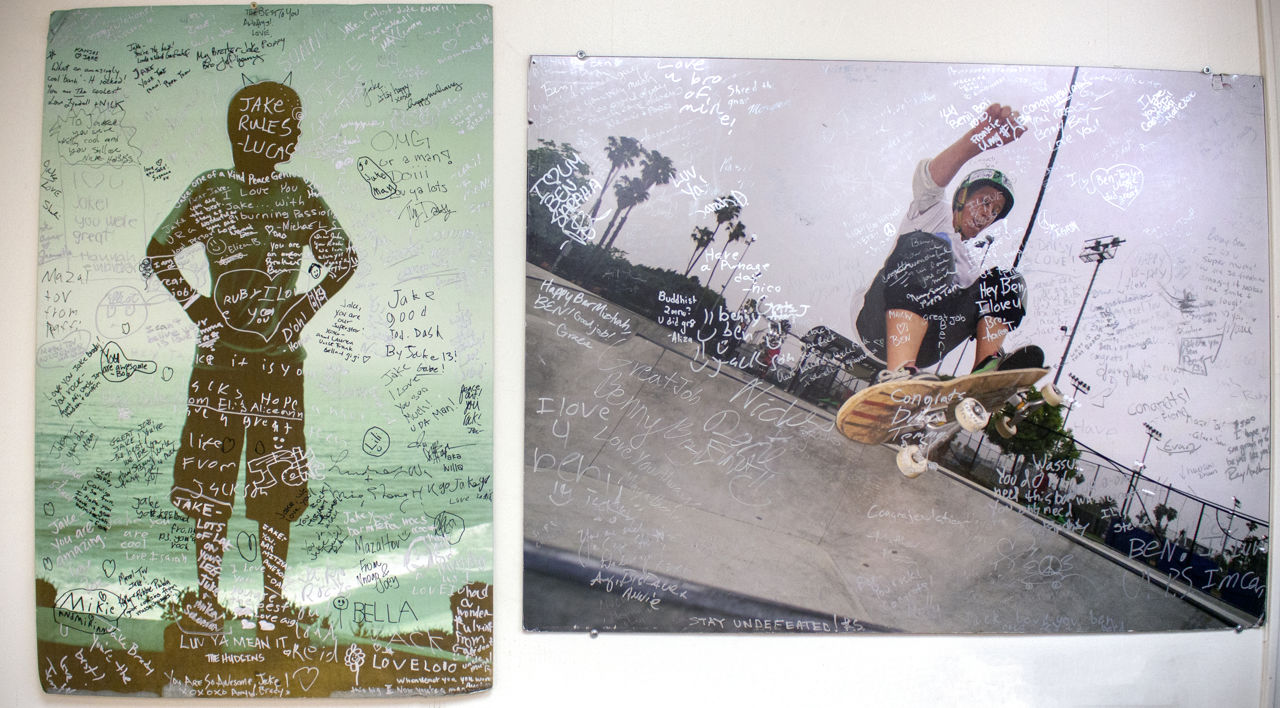 The Boys
My sons' bar mitzvah posters. These remind me of two special days.
The Neutered Cat
The brief from my friends at Northlich for Scooter the Neutered Cat was simply a cat wearing sunglasses and funny song lyrics about being fixed. Immediately my mind went to Shaft and this should be a 'catsploitation' film. This screen grab was framed as a gift.
Scooter made his debut in 2014 and instantly became a smash success. Appearing on HBO's Real Time With Bill Maher and Spike TV's Funniest TV Commercials, Scooter showed the world that we can make a positive difference and create a no-kill nation without showing cats in cages with sad music.
The Portrait
Groundbreaking comedian Phyllis Diller gave me her self-portrait after interviewing her for my first comedy documentary I Am Comic. It inspires me cuz she was a trailblazer back in the male-dominated field of stand-up comedy.

The Red Bull
Artist Justin Jehle painted this for me once I kicked my bad Sugar-Free Red Bull habit. As a young PA, Justin would hand them to me with a warning of how unhealthy they were. Humbled and healthier, I feel his genuine love in this work.

The window to another world
It's better than a window, and looks out to one of my favorite places to go camping with my sons. It's actually a photograph by Tom Lowe.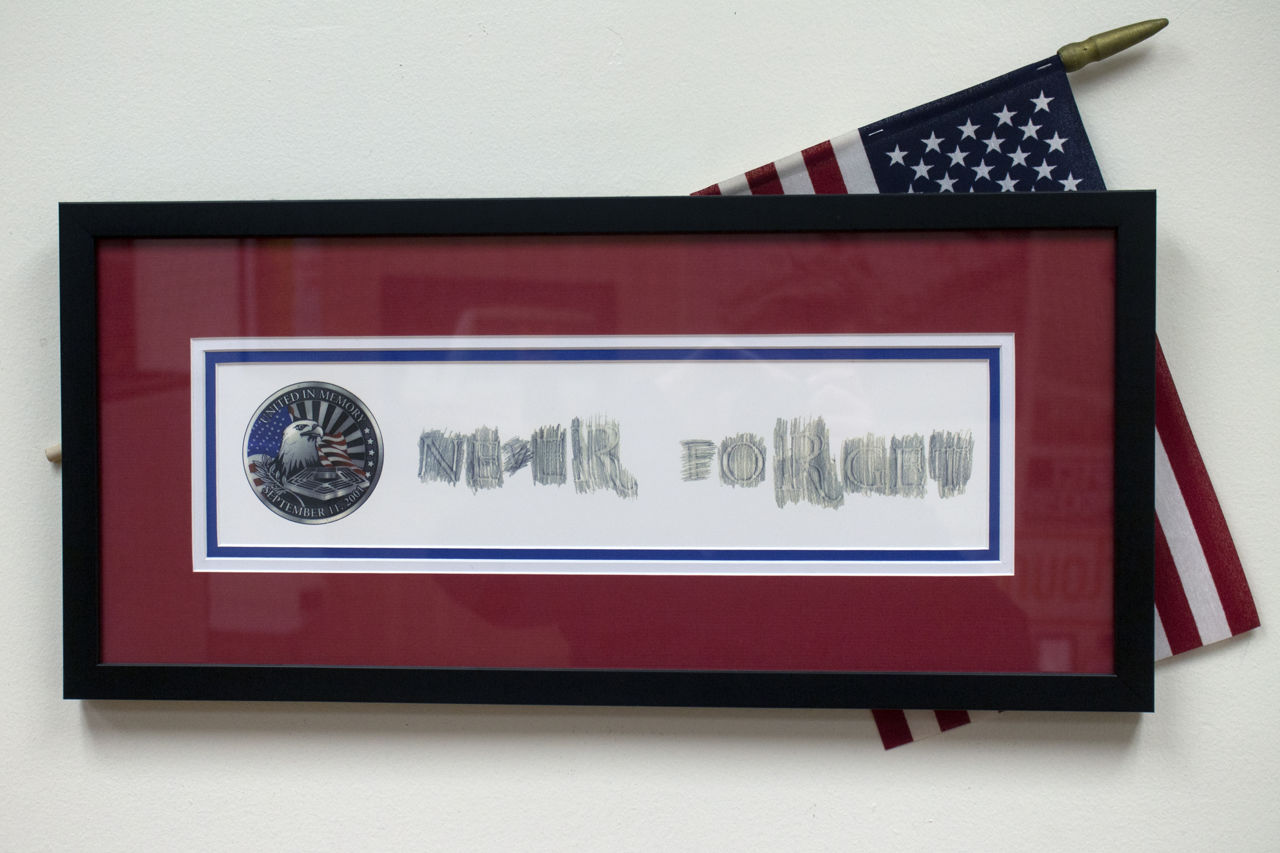 The Etching
Veteran-turned-comedian Robb Will sent me this after seeing my third documentary, "I Am Battle Comic". It's an etching of the Pentagon 9/11 memorial. Robb and I later did a benefit screening for veterans in his hometown of Jamestown, NY. This gracious reminder of that tragedy also reminds me of the power of film to reach people.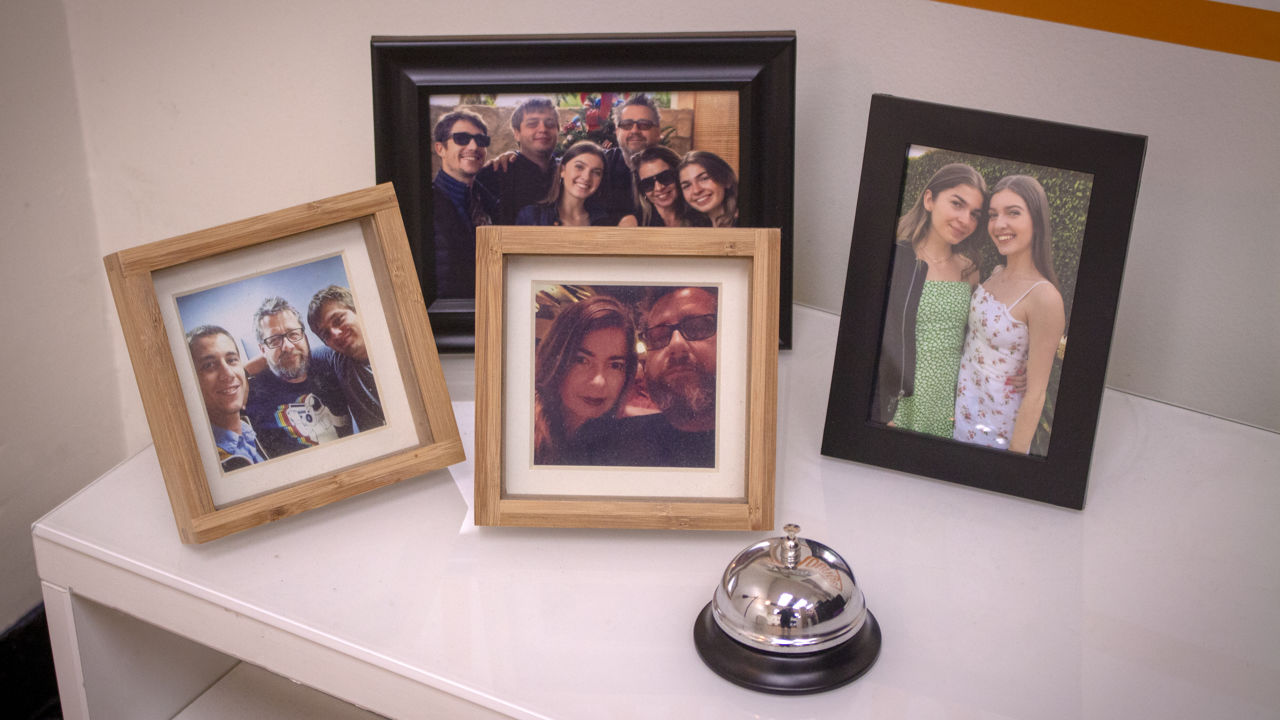 The Family Bell
Family photos keeping it real at work. These faces are what I love more than anything in this world. Being a husband and dad motivates me to work hard creatively, to push the ideas, and logistically to be a smart in my filmmaking.
The bell is something I ring every time a job is awarded. It's next to the family to remind me why I work so hard. Best gig ever.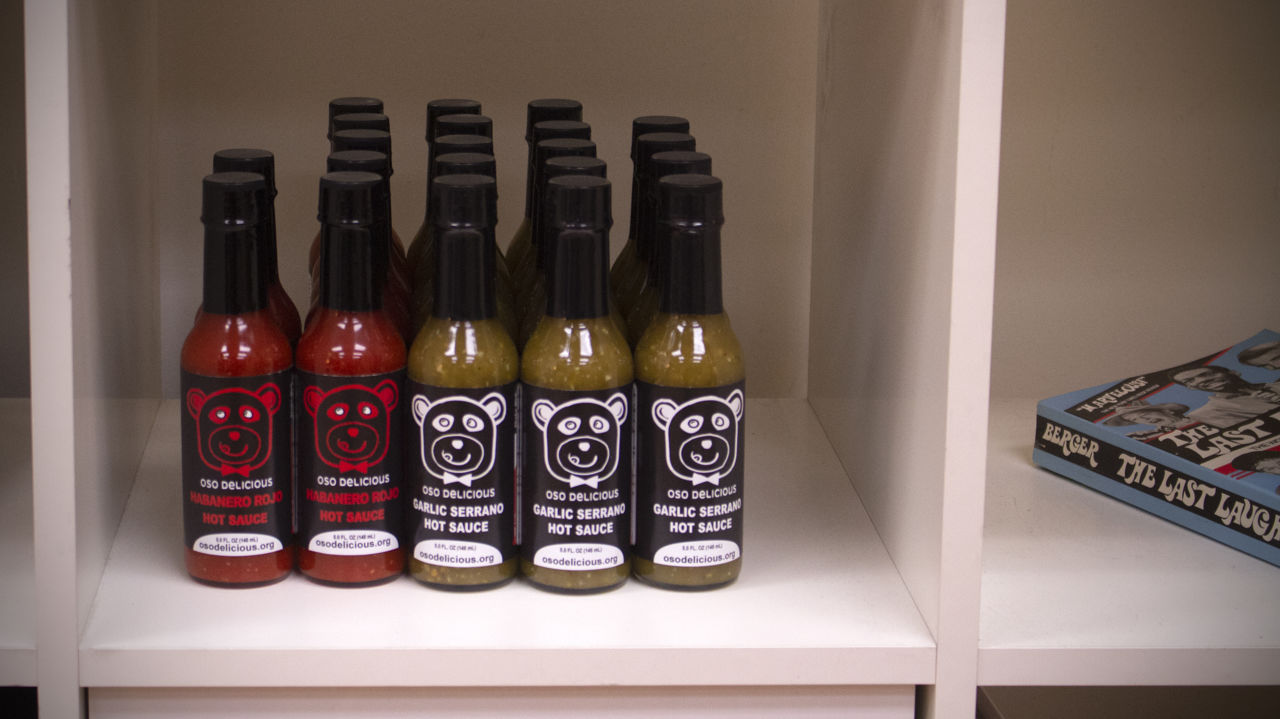 The Hot Sauce
Being a hot sauce impresario has been a dream since childhood, so when son Ben said, "dad you put it on everything, why not make your own?" Oso Delicious Hot Sauce was born. Now I unlimited hot sauce for myself and new schwag to give clients. I mean, how many freaking production company t-shirts and knit beanies can a creative wear?
Both my sons help market and distribute, and it's great excuse to see Jake in the ill-fitting Oso the Bear costume.
We donate $1 per every bottle (sold or gifted) to militaryfamilies.org, a great charity. It's only available at OsoDelicious.org and is not on iTunes.