Craft
Greenpeace tackles a monster problem
In 2018 Greenpeace UK's Rang Tan, shot to fame when it was banned from UK TV screens after being deemed too political by the advertising approval agency. Now Greenpeace is back with another hard-hitting film about the consequences of deforestation.
Unlock full credits and more with a Source + shots membership.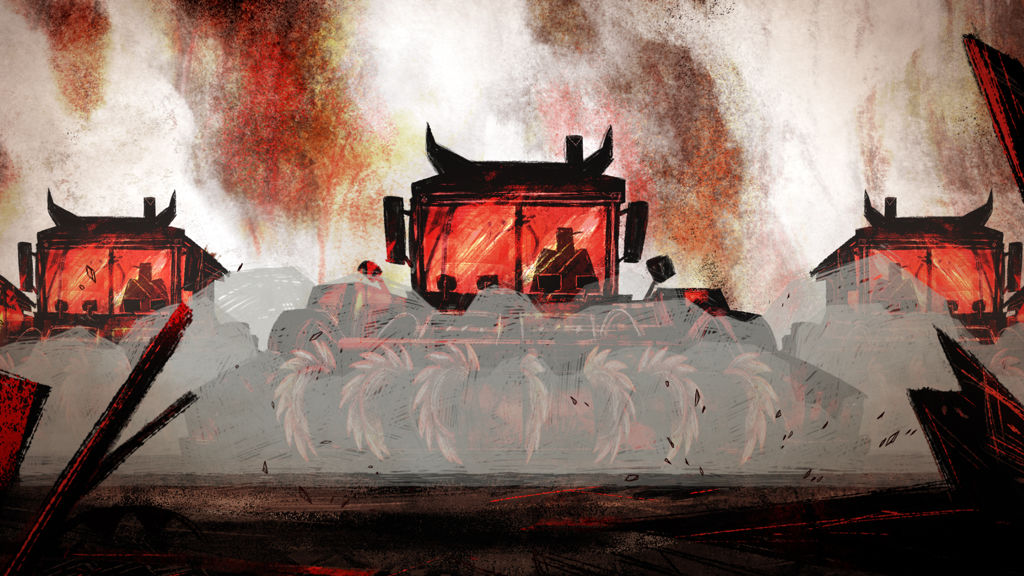 Greenpeace has launched a new campaign, created by Mother London, to shed light on the global consequences of industrial meat production.
Through an animated film called There's a Monster in My Kitchen, produced by the four-time Oscar-nominated Cartoon Saloon - the studio behind the film WolfWalkers - the campaign takes aim at deforestation across South America, bringing it to life through the experience of a displaced jaguar called Jag-wah. In the film Jag-wah, displaced from Brazil's once lush and diverse forests, guides us through the horrors of deforestation. The film tells how the jaguar was forced from his forest home to make way for grazing cattle and animal feed plantations.
A young boy sneaks downstairs for a midnight snack, running into a terrifying monster who tells us all why he is no longer in the forest and, instead, has come to warn the little boy about the monster meat companies destroying his home. Narrated in the style of a nursery rhyme by Brazilian actor Wagner Moura, who played Pablo Escobar in NARCOS, There's a Monster in My Kitchen shows the brutal consequences of industrial meat production. It aims to stimulate individual actions, like switching to plant-based alternatives, and encourage collective activism - highlighted with a scene featuring Sir Paul McCartney - to help influence companies and governments to save the forests.
"The world's forests are truly irreplaceable," said McCartney. "They're home to Indigenous Peoples, amazing wildlife and are vital in our fight against the climate crisis. But, as Greenpeace's animation so powerfully shows, these forests are being cleared at a shocking rate to farm more industrial meat and dairy. This is why reducing our meat is so important. But that alone isn't enough. To solve this problem, we need supermarkets and fast food restaurants to clean up their supply chains and make the switch to less destructive, plant-based alternatives. Our forests – and all our futures – depend on it."
To solve this problem, we need supermarkets and fast food restaurants to clean up their supply chains and make the switch to less destructive, plant-based alternatives.
The project is the first co-directing collaboration between Cartoon Saloon's Tomm Moore and Fabian Erlinghäuser and is a continuation from the WolfWalkers film both in theme and style. The artists took inspiration from indigenous Amazonian art and street artists from the region which connects the viewer to their world and how their everyday consumer choices impact the region, reiterating that we are all connected. The short also features a challenging and complicated scene with a camera fly-through from the Jag-wah's forest, through the burnt and devastated forest back to the kitchen. It required the compositing team to pull many hand drawn elements together to create one seamless shot. This sequence brings together the helpless Jag-wah back to the everyday choices we make in playing our part to reverse this destruction.
"The impact of industrial meat production in South America is so vast and challenging to visualise that we chose to bring it to life through a human story, which makes the issue more relevant to our audience's lives and offers them tangible action for positive change," Ana Balarin, Partner at Mother, added.
Many don't know that the meat and dairy products sat in our refrigerators could be responsible for the fires and chainsaws devastating the Amazon and other important forests.
"There are few more incredible and precious places on earth than rainforests like the Amazon," said Moura, who narrates the English and Portugese language films. "Yet many don't know that the meat and dairy products sat in our refrigerators could be responsible for the fires and chainsaws devastating the Amazon and other important forests. Monster meat companies continue to clear forests at an astonishing rate, all to produce the meat in our kitchens. We need to take action before it's too late. I'm so pleased to be working on this crucially important film with Greenpeace. This fight has never been more urgent. Together we can stand against the industrial meat companies razing our precious forests. I hope this film inspires many more to join our mission to protect forests."