Inspiration
Geej Ower: A Few Of My Favourite Things
The Stink director talks us through items that mean a lot to her, including her dad's camera, a hat that means business and a little porker that's fairly flexible.
Theatrical directors have a special ability to draw performances from their actors, and, as Stink's Geej Ower proves with her work, it's one that, in the right hands, can be transferred masterfully to film.
With a speciality in directing actors and non actors, and getting surprising performances from both, Ower's work often combines different artistic practises. Having worked regularly with the BBC and multiple arts organisations such as the Hayward Gallery at The Southbank Centre, Headlong Theatre Company and West Yorkshire Playhouse, her latest work for Nike saw her shooting in a brain-busting 9:16 ratio, with cracking results.
We caught up with her and learnt about her dad's camera, a hat that means business and a little porker that's fairly flexible.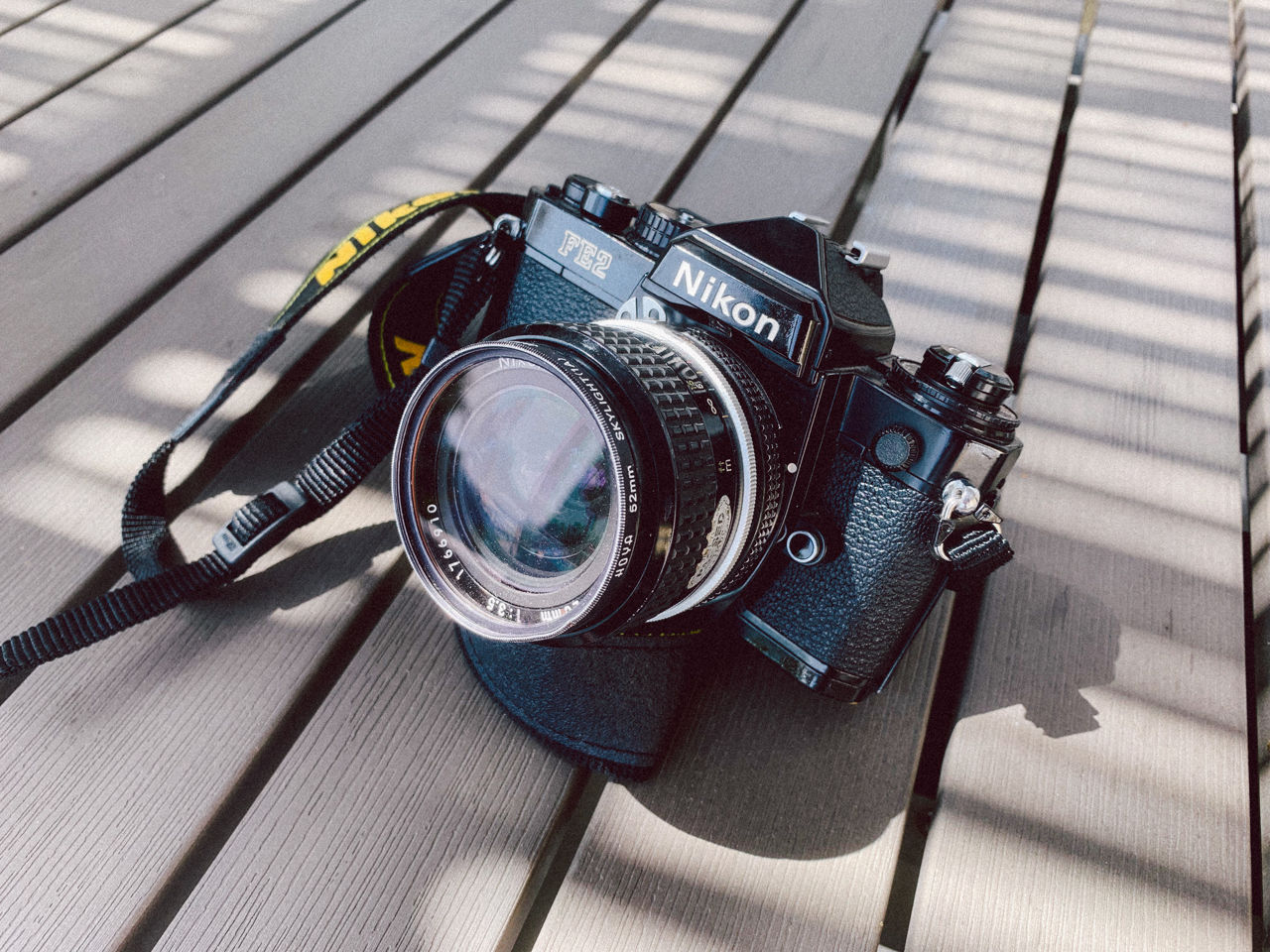 The Dad's Camera
This camera was a fantastic hand me down from my dad when I was around 11 years old. He's an incredible photographer trapped inside a dentist's body, and the person solely responsible for my love of film and photography.
He built a dark room in the far corner of our attic when I was a child with all of his old equipment that he'd had since he was a teenager, and we'd spend hours up there developing photographs together. At the time I was largely taking pictures of my dog Fudge, leaves and buildings.
You know, arty stuff.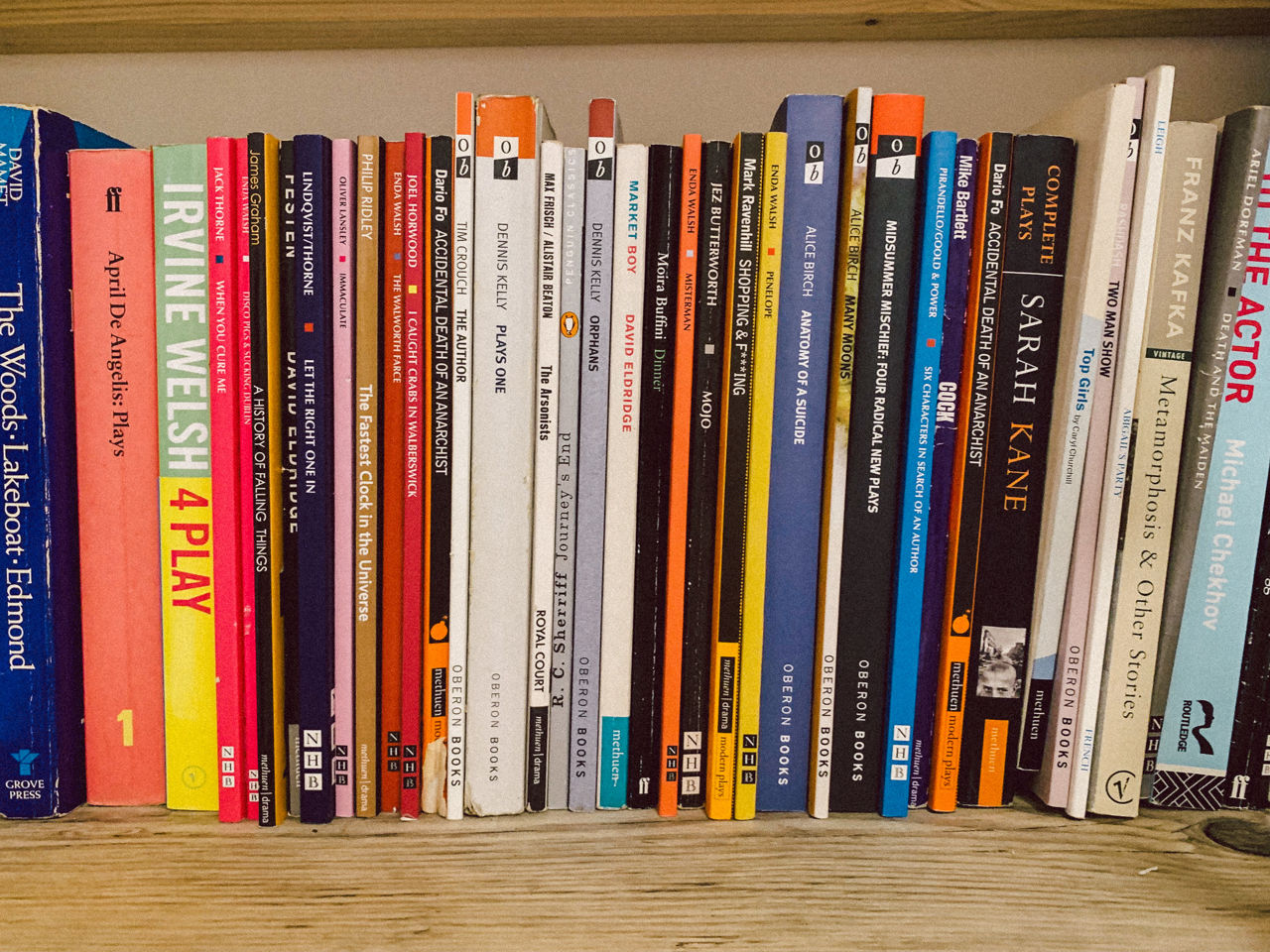 The Collection Of Plays
I studied theatre at University and planned to be a theatre director (and I was for a short while) before I found my way to film. Directing theatre taught me everything I know about storytelling and characters, and those countless hours slogging away in the rehearsal room picking apart the script I now realise were incredibly valuable.
These days, I like to keep a lot of plays within reach, lining my shelves to dip in and out of when in need of inspiration, or just to procrastinate from the treatment I'm meant to be writing.
Spied in this photo is an adaptation of Irvine Welsh's 'Trainspotting', which was the first play I ever directed and is still the most fun I've ever had. Props included toilet bowls filled with chocolate Angel Delight, a giant squirrel costume and a load of real hypodermic needles that my Dad nicked from his dental practice.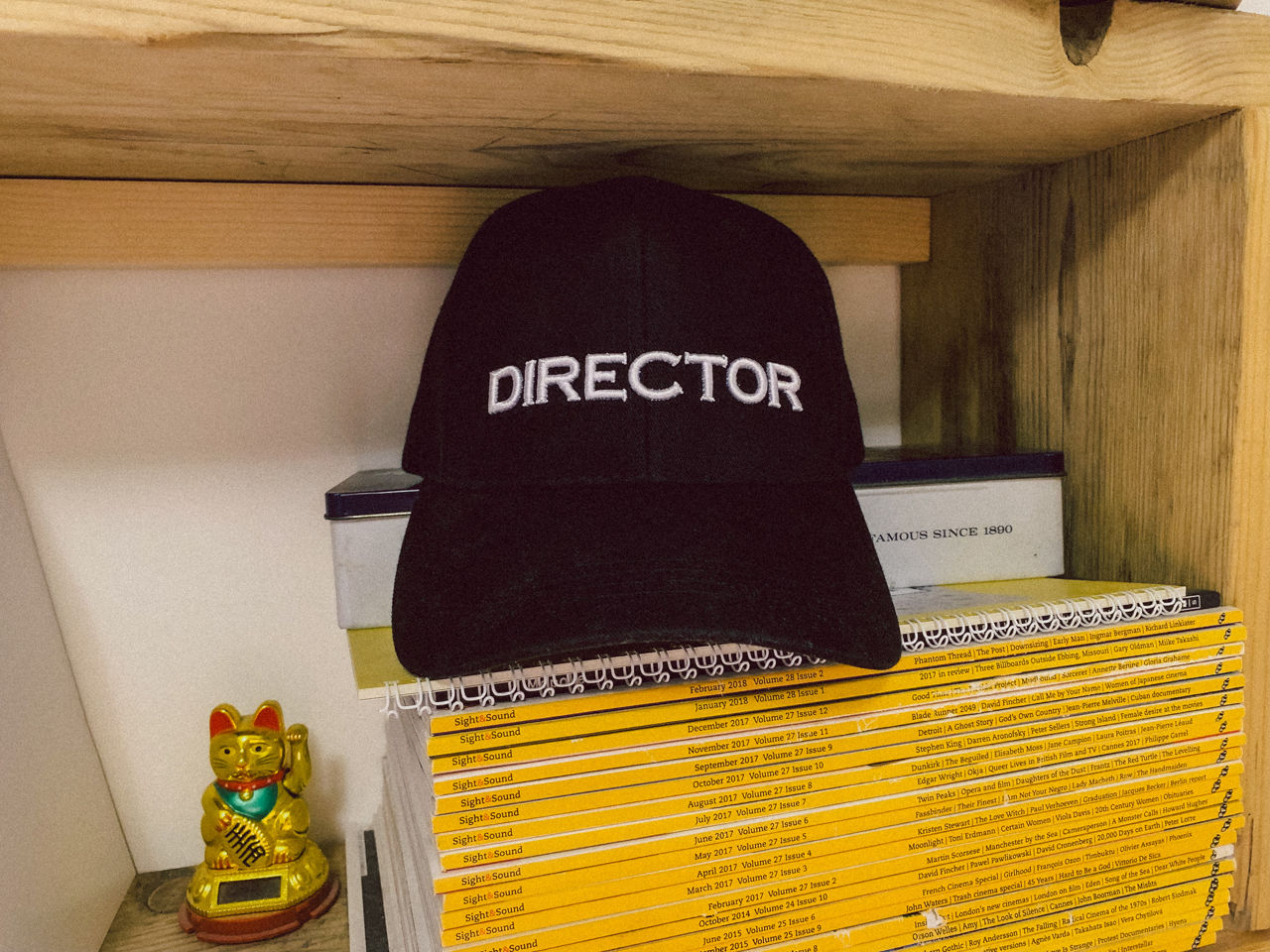 The Very Important Hat
I wear this on every shoot so that people take me seriously.
Not really.
It was a present from my producer when shooting my first commercial in LA. She also bought herself one that said 'Producer'.
Needless to say, they were only worn in the privacy of our Airbnb and during client conference calls.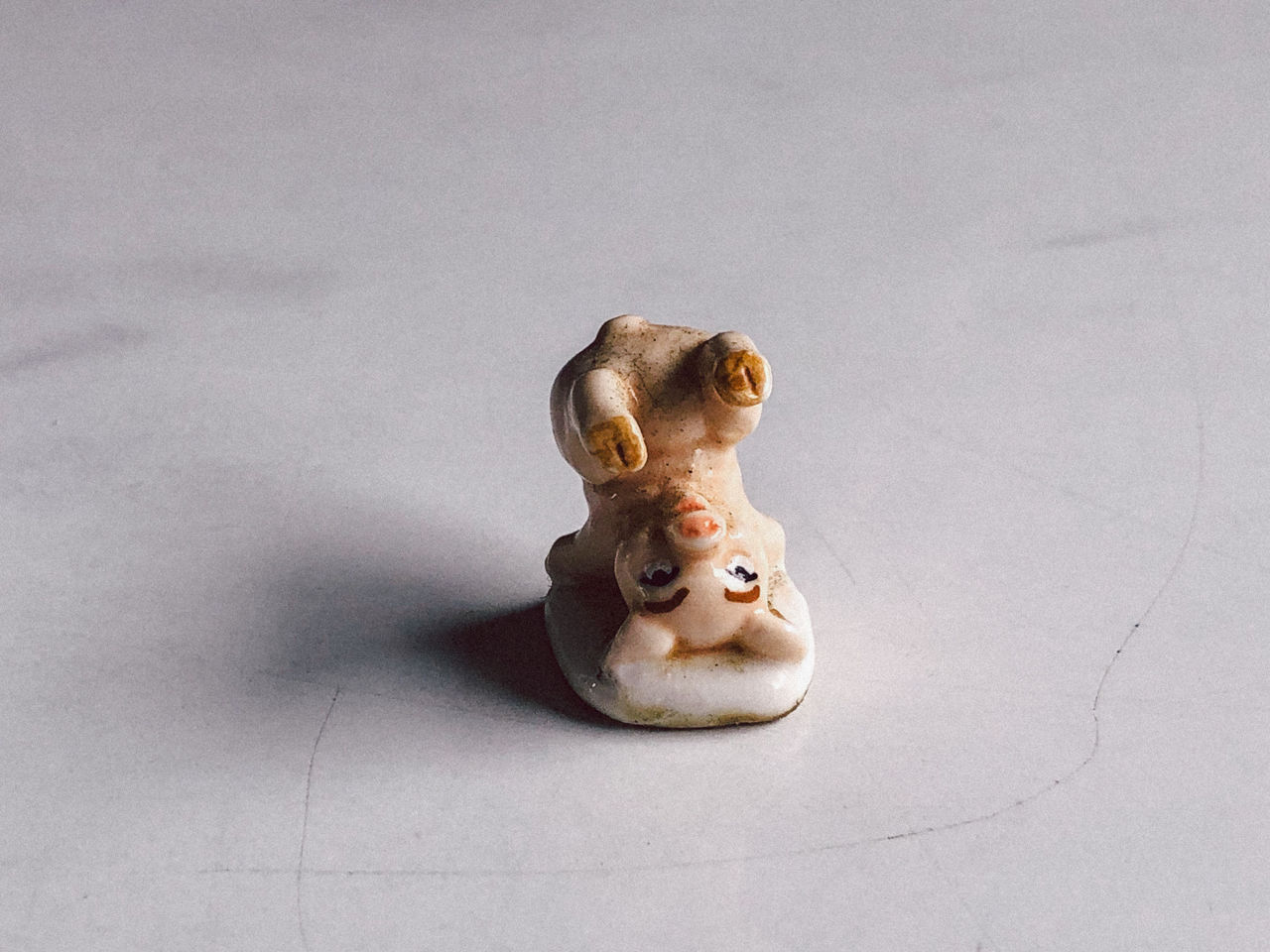 The Tiny Porcelain Pig Doing A Headstand
My uncle used to be a clown in a travelling circus, which is where he and my auntie met. They toured around Northern Europe for years along with my tiny performing cousins, before they finally landed on a plot of land in the south of France - caravans, juggling balls and all. Over time they turned that land into a vegetable farm, which then became their livelihood.
Every year they rear a couple of pigs on the farm who feed off all the old veg, crops and have a wonderful life in organic mud before they get the (very humane) chop. The whole family then spends four days making hundreds of jars of paté, sausages, black pudding, etc, using every single part of the pig and that provides the meat intake for the family for the entire year.
I went out to film a short documentary (called Les Cochons) about this process a couple of years ago and my auntie gave me that wee piggy as a memento when I left. It sits proudly on my windowsill and reminds me of them.
It's also a tiny pig doing a headstand so…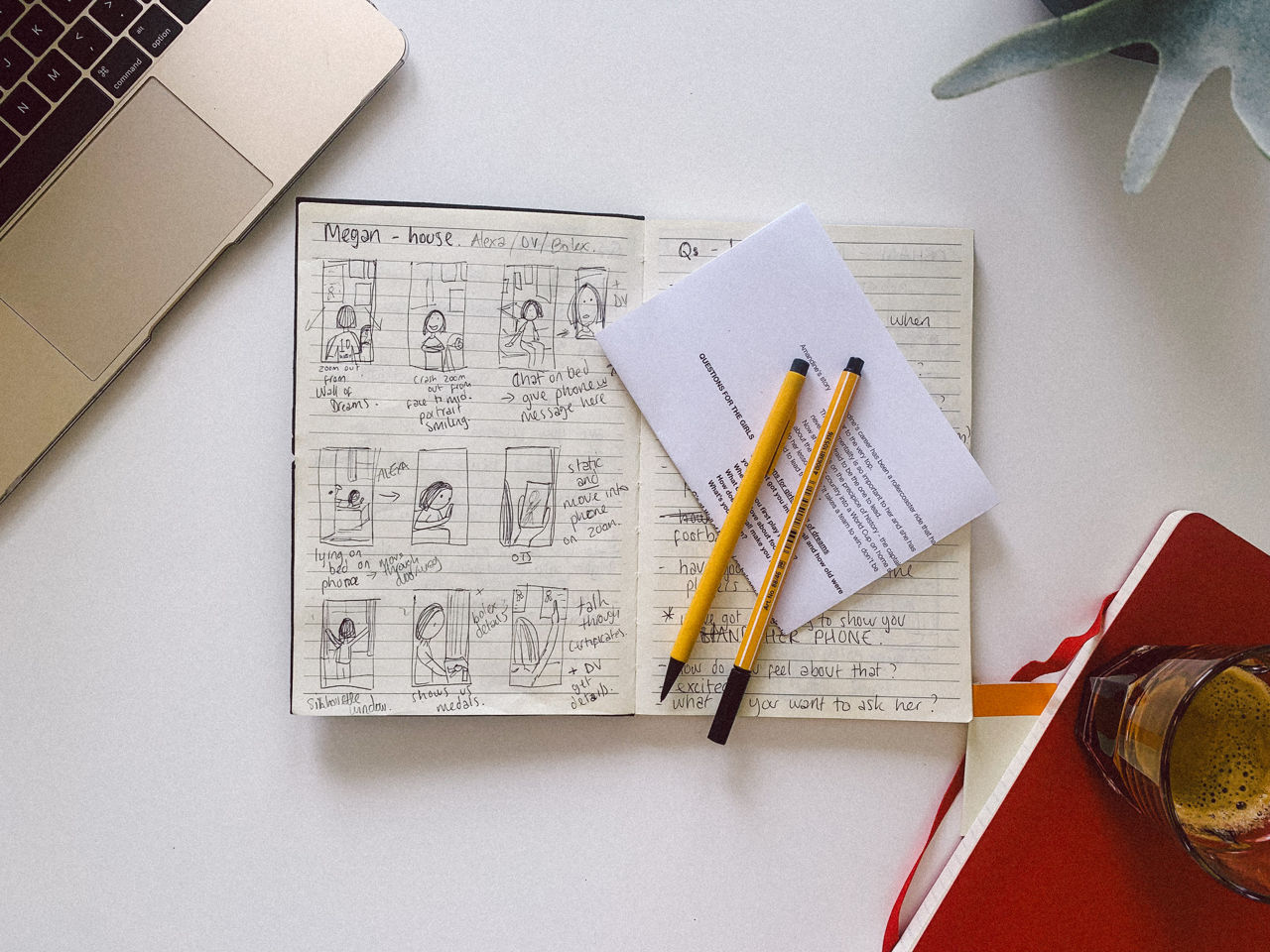 The Notebook
As you can see I'm an incredibly talented storyboard artist and if directing doesn't work out I'm always ready to pick up the pencil for any project you may have big or small, please do get in touch.
I'm sure this belongs to every director - my (current) notebook that I scribble down ideas, thoughts and sketches in - so although not very original it is still one of my favourite things.
This particular set of stunning drawings was for my recent project with Nike, and as you can see we had to frame for 9:16. Anyone else out there who has had to frame for 9:16 will understand the pain.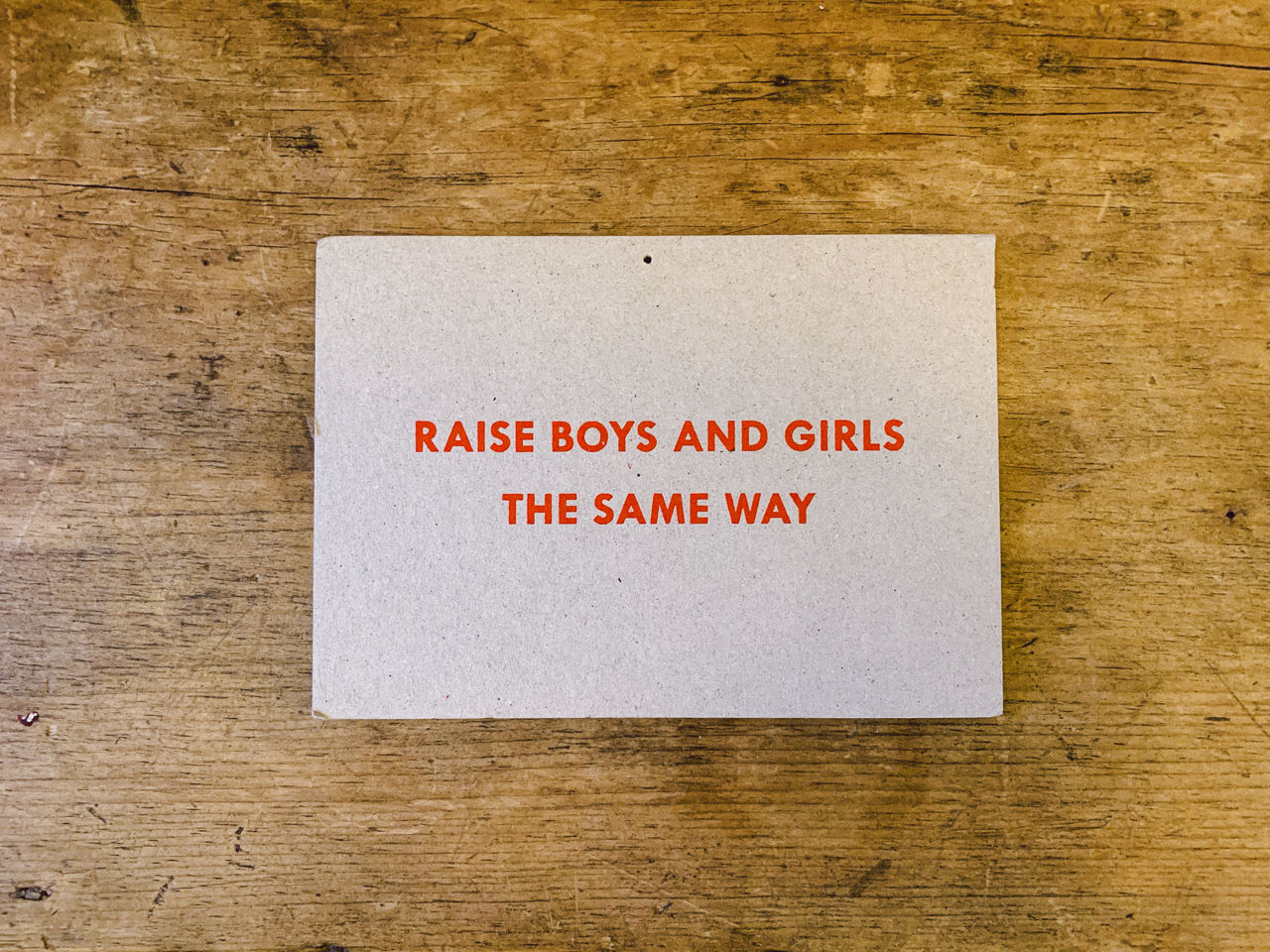 The Raise Boys And Girls The Same Way Art
This sentiment is something I believe in to my core. This is from the artist Jenny Holzer, who's work I saw in an exhibition years ago and although I won't pretend to know her exact intentions with the piece, for me it is a phrase that has remained etched into my mind (and pinned on my wall). I truly think it is the key to change and I always return to it.
The recent series of films I made with Nike in the lead up to the Women's World Cup support this attitude entirely which is why I was so proud to be a part of the campaign. It's very simple - you can't be what you can't see. We have to start making women into the icons we make men so that young girls grow up knowing everything is possible for them too. More visibility will inspire change.