Inspiration
Freddie Waters: A Few Of My Favourite Things
The Outsider signing chats to us about living with a brewer, Chinese TinTin and the magnum opus that is Cool Runnings.
For our latest dive into the minds (and desks) of creative thinkers, we invade the space of Outsider's latest signing, comedy director Freddie Waters.
Honing his skills with a promo to open comedian Jack Whitehall's arena tour, Waters has been making waves by working with a slew of chucklesome individuals (including James Corden, David Walliams and Matt Berry) and directing comedy shorts like the Phil Wang-starring Dim Sum and this month's riotous Luger (one of shots' Best Of May selections).
Running through some of his Favourite Things for us, we hear about living with a brewer, Chinese TinTin and the magnum opus that is Cool Runnings.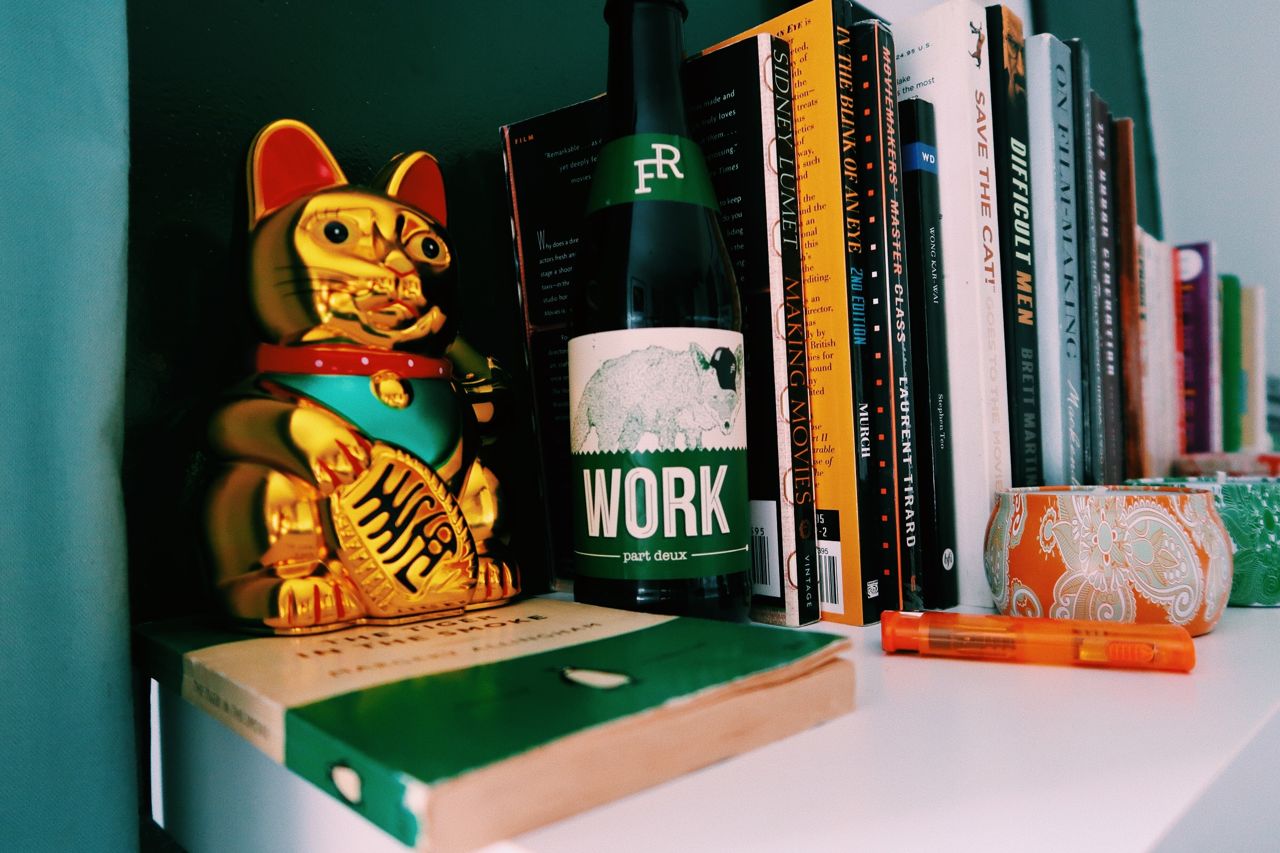 The Pale Ale
In 2015 I lived on Forest Road in Hackney with five pals. When one moved out this weird American guy moved in and started brewing beer in our basement. For a while it fuelled a string of house parties until the pub next door, The Prince Arthur, offered to run it on draft.
Forest Road Brewery and our signature Pale Ale, WORK, were born.
The first 'brand' film I directed was telling the story of how the brewery started, it did the rounds and kick-started my directing career. It also kick-started the brewery and four years on it's now a fully fledged business (for which I can take little credit as since the film I've been focused on directing).
You should try it (as I know this is going out to shots readers) - they even have it in Soho House.
The Posters
My desk is pincered by these four posters. First up is hands down the best film ever made, a film that touches your soul and uses colour so beautifully it makes your eyes water. Move over In The Mood For Love, I'm talking about Cool Runnings. It's pure joy.
In The Mood For Love is not to be confused with the 2005 Jennifer Love Hewitt classic The Truth About Love - a film that I was an art department runner on in the school holidays and ended up playing 'Fidgety Teenager' in. Which, thanks to imdb, I will never forget.
Down By Law is a reminder that you can have the premise of 90s action film (a DJ, a pimp and an Italian tourist wind up in the same prison cell and try to escape) and still make a simple, beautiful and funny character study.
And finally, Arnie. I was about 5 years old when I first saw Terminator 2 and it's fair to say my mind was blown. Then I saw True Lies and realised you could have all the excitement and throw in comedy too, I've never looked back.
If you haven't seen Ercole A New York [Hercules In New York] recently, it's worth a revisit. It has as many laughs as the best of them.

The Green Tea (and black tea straining bottle)
This one is not great on set when you're trying to avoid being perceived as a fussy, pretentious director.
"Builders."
"Builders. Milk, 2 sugars."
"Could I please have some hot water for my green tea? And do you mind putting a dash of cold water in first, the water needs to be around 90 degrees or it burns the Oolong leaves. Thanks."
In China it's very normal to carry tea with you everywhere, different ones depending on your health or the season. In the UK it's like telling someone about your dream or having a top-knot.
What can I say? That slow release caffeine is a saviour.
The Poems by Florence Waters
My sister died at the end of last year. The only solace we've had has been discovering the endless treasures that she left behind, like this type-written poem, The Leak, that we found tucked away in her studio on a scrap of paper. My mum has compiled a selection of her poetry and artwork into a book.
It's hard to articulate how much I have learned from my sister. Not only from her creativity and her writing but she also introduced me to everything I know about the arts. Next to her poetry book you'll see All About Saul Leiter, Roland Barthes's Camera Lucida (I have to admit 80% of this goes over my head) and some Roald Dahl Short Stories, all gifts from her last year.
Gifts would come with personalised notes, quotes and poems on handmade cards. She was a true creative and original. At her funeral a friend read from the inside cover of a notebook she had given him for his 30th. 'This is a book for the pocket, for small writing and ideas of any size.
"Forget safety.
Live where you fear to live.
Destroy your reputation.
Be notorious."
(Rumi)'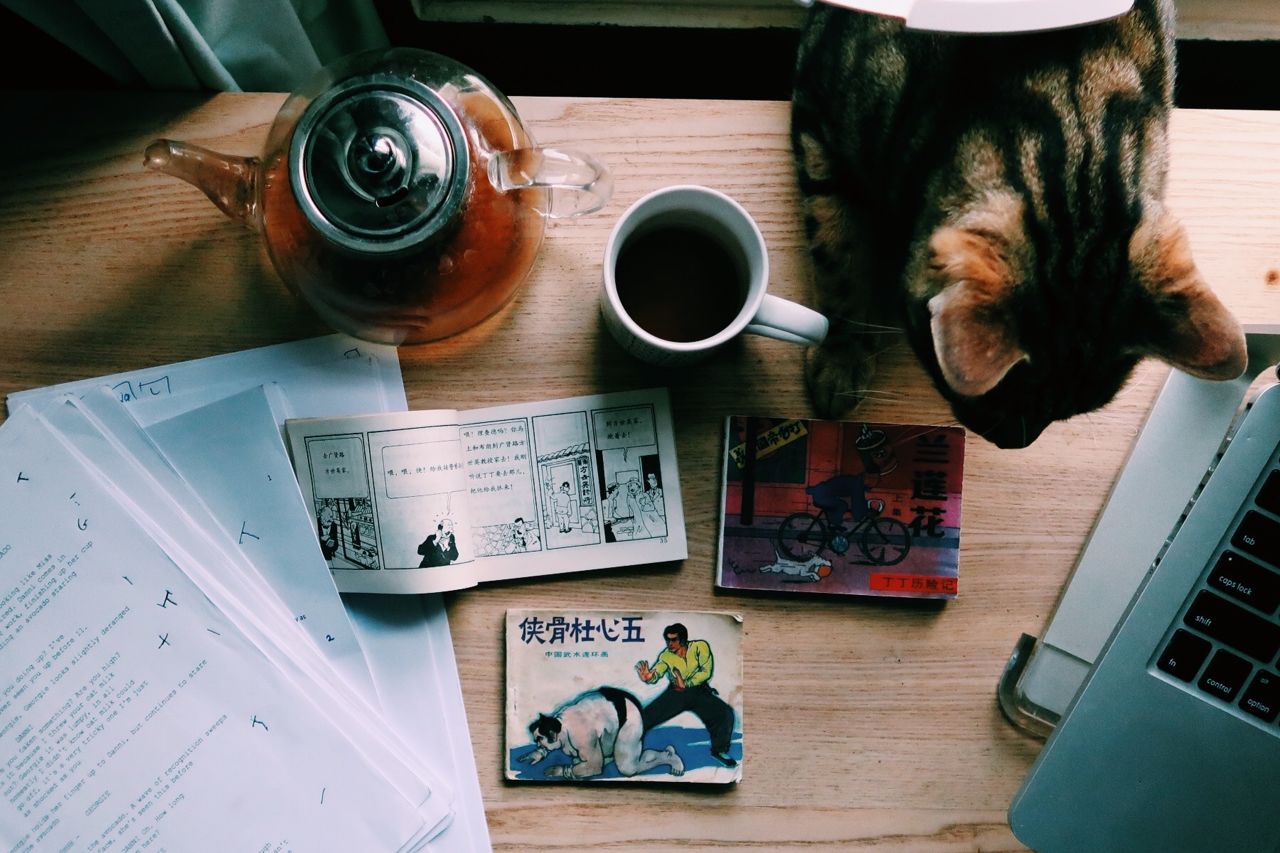 The Chinese Children's Comic Books
I studied Chinese at university and have sadly forgotten most of it since. Turns out Mandarin doesn't come in much use on set. My lack of practise means that all I can really (/barely) read now is these comic books. Yup, that's Chinese Tin Tin on a bike.
I lived in Shanghai for a year and while the language fades, certain things have stuck with me. I love the attitude to health, with the focus on preventing illness rather than taking medicine once it arrives; the attitude towards philosophy over religion; and, last but not least, the attitude to dumplings.
(Sorry about the cat, more on him below).
The Cat - Lopez
My cat (named after the Lisa "Left Eye" from TLC because his sister had one eye) is included by default because he kept placing himself on my desk while I was taking pictures.
He's cute, yes, but also very annoying.
A constant reminder to me that if one minute you can love a cat so much it hurts inside and the next you want to throw him against the wall, why would the creative process, or anything else for that matter, be any different?