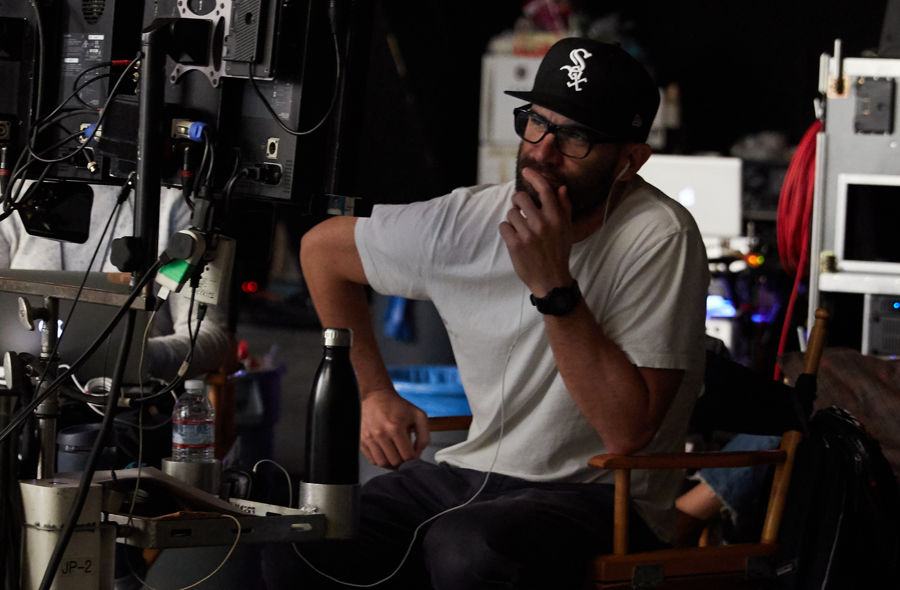 Talent
Benji Weinstein's aiming higher than quarantine comedy
Writer/Director Benji Weinstein is behind the all too real zoom sitcom, Join Meeting, but he has been working with comedy for years. He dives into what makes comedy funny, what makes a joke land, and why it's all so terribly relatable.
We've all been on awkward zoom calls.
What was once an occasional occurrence has now become a literal sign of the times. You log onto the meeting, but...maybe you forgot the password? Maybe it was buried in an email? Your zoom background isn't working, and your kid barges in, and now everyone knows you work from your couch in your pajamas with your cat kneading your face.
Brilliant. So cool. Super fun. Love it.
It's the truth in advertising, more or less, that comedy is there to create a conversation.
Benji Weinstein, working with production company SMUGGLER, sharpened his pen against the digital gaffes showing up on Twitter, Buzzfeed, and on board room walls and set to work. He quickly whipped up a series of shorts that's a heightened Office-like slice of adland, right now. Tackling the awkwardness of working at home, Weinstein has developed a sitcom emblematic of the modem connection. Or modern condition. Whatever.
Join Meeting is a sitcom framed within a zoom call, where an advertising team gets together to discuss clients, ask for ideas, and collaborate remotely. Currently sitting at two 'seasons' with a total of nine episodes, the shorts are hilariously relatable and timely. Sitting down with Weinstein, he reveals that there is currently a series based on this work "in active development with partners."
Interesting, but more so is the fact that Weinstein states that the development isn't focused on zoom as a framework. The future, he says, isn't interested in zoom calls. Zoom calls are too immediate, and the frame style has very little to no staying power, no lasting momentum. It is a cultural moment, but it's not the work of the future. People, he says, are interested in the characters, in their drama, in the single-camera sitcom. The audience doesn't care if there's a fourth wall or not, they just care that it's funny.
Comedy is necessary to cope. Discourse isn't necessarily indicative of movement, but comedy can stick with you.
And that's the point, right? Poking fun at the immediate now. The episodes are deliberately made to be universally relatable. Although the gaffes and situations that come up are sometimes related to the fact that the film is taking place via zoom, Weinstein says that the subject matter itself is removed from COVID discussion on purpose. He goes on, saying that in some of the original drafts there was discussion of the "current climate," but on reflection, he realized that it would be more effective to focus entirely on a satire of the industry. It was more important to focus on adland, rather than dating the entire series in an effort to focus on the issues plaguing 2020.
The jokes, he said, were always pressed up against reality and striking that balance was often difficult, and lessened the impact of the work as a whole. He wanted to unite people on an interpersonal level. People are dying, he said, becoming serious, it's not really something to joke about.
And that's part of comedy, he remarks, telling the truth, having those conversations, relating to each other. That's what comedy is. The personal connection. When you share something that might have been painful in the moment, it can become relatable on reflection, and create that moment of insight and connection between you and your audience. That small trauma can be shared, and the burden lessened. That's the tie that binds us all, that's what makes a joke land, an audience laugh, your partner snort wine at the dinner table. It's the truth in advertising, more or less, that comedy is there to create a conversation. Some things you shouldn't say, even in comedy. We're all living through this together, he says, we can't hide that.
The audience doesn't care if there's a fourth wall or not, they just care that it's funny.
When asked about cancel culture, Weinstein pauses before shrugging. Comedy, he says, isn't an aegis. It can't protect you. Comedy is about being brave and learning about each other. So often cancel culture is a buzzword, thrown around to discredit folks who are already in positions of power. It's rare that anyone who already has a huge audience is truly "canceled." The harm typically comes to the people who are telling hard truths. Bullying, he says, entirely candidly, is bullying. It's usually only funny to other bullies.
We pivot quickly back to zoom calls. Zoom is a framework for the story, but it can't be the story. He mentions that a shortcoming of zoom, and one that makes it a bad solution for the larger, longer problem of comedy in the current world, is that comedy thrives on set. The structure of comedy has been called into question. When you think about direction, about pulling people aside, about adjusting moments, tone, jokes, it all comes crashing down when you put a remote distance between folks. Zoom and remote work is a total deconstruction of the process, and it keenly affects comedy. What's a joke without an audience?
The future isn't interested in zoom calls.
It seems like you're back at the starting line, he says. Like you're so used to running a race, and now you're pushed back to the line. You're kind of stuck there, but you have to remember what it took for you to get to that line anyway, in the first place. You've trained, you've studied, you've practiced, you've won other races. And while you might be held back now, you're just waiting for the chance to run again.
Weinstein has thought a lot about what comedy means at this moment. Does comedy have an obligation to comment on the moment, to comment on the larger scope? Possibly. He mentions again that the original thought behind Join Meeting was more focused on the present. But he says that it felt stale fast. Comedy, he says, is necessary to cope. Discourse isn't necessarily indicative of movement, but comedy can stick with you.
Losing comedy, he says, thinking about it a little more, is akin to losing hope. There has to be a climate of hope. Because comedy must be true, must echo truth and a deeply human connection within all of us, it is always about something. It always has a point. Comedy, he says, smirking a little, is always a serious business.