Inspiration
Aleks Kingo: A Few Of My Favourite Things
The TinyGiant director takes us through the rainbow of trinkets, keepsakes and cheeky awards that help her creativity flow.
London-based, Lithuania-born director and photographer Aleks Kingo is known for her humorous films and playful images, blending the dark comedy of her native country with her adopted home's sarcasm.
Armed with a degree in photography, styling, and art direction from the University of Arts London, the TinyGiant director has an eye for the absurd, something that is evident in the colourful and cute choices for her A Few Of My Favourite Things.
The Most Talented Artist Award
This award is a prop from my first short film, Ode To Procrastination, which I just directed.
It is a story about a girl who procrastinates when trying to write a film. And yes, I totally came up with the idea when procrastinating while trying to work on something else.
It's very personal and quite meta, and I can't wait for it to come together early this year!
The award is featured in a scene where the character gets carried away by her thoughts, dreaming about her future and all the glory her unwritten film will bring her.
She then proceeds to worry about peaking too early.
The film featured three awards, and all had quite absurd names: The Most Talented Artist, Best Original Idea, and Creative Of The Century.
I kept the Talented Artist one, and it serves as a lovely reminder to not get ahead of myself when I get carried away with thoughts.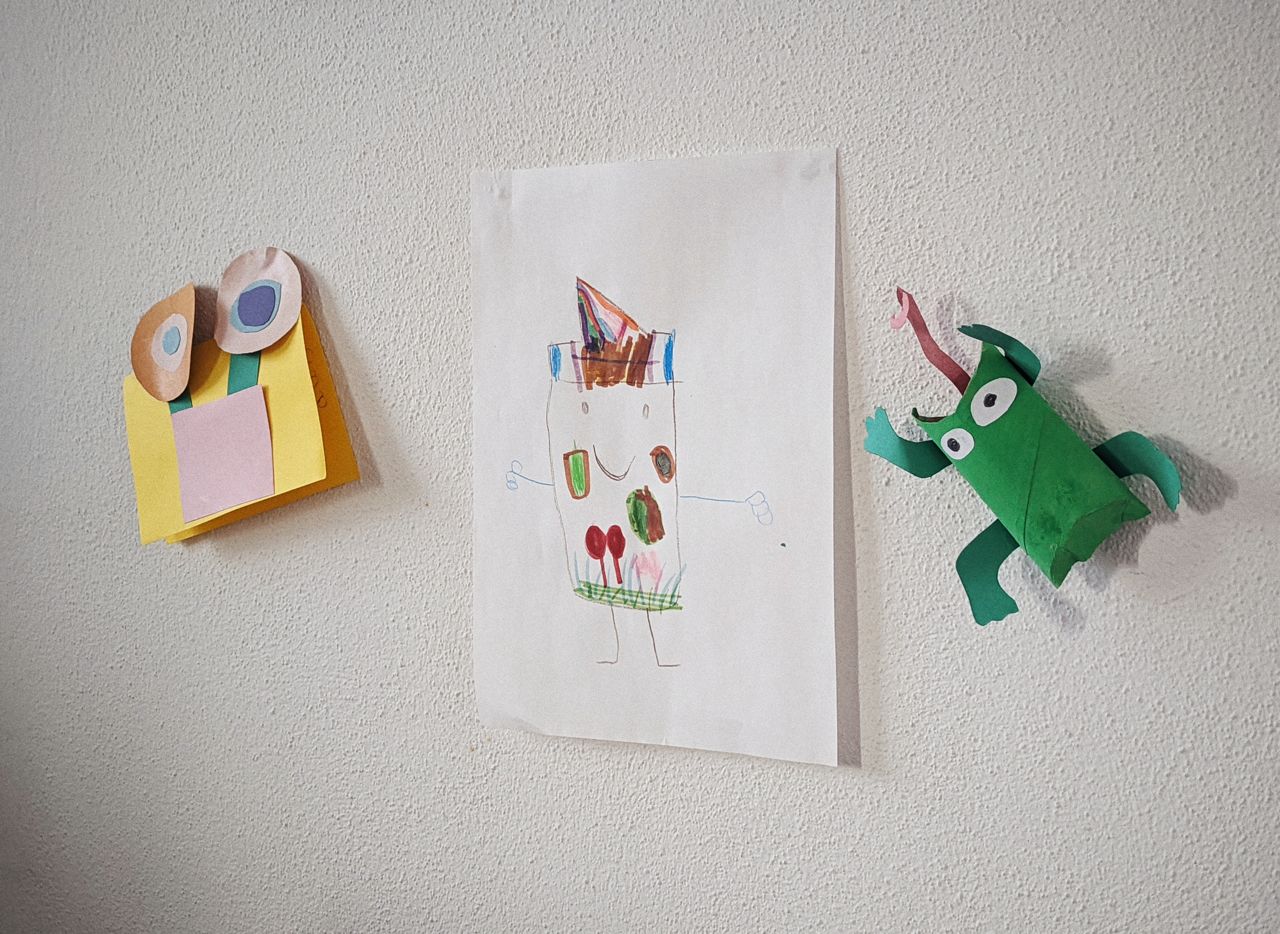 The Art
I have a six-year-old son named Leon.
Being a mother and a creative is honestly the best thing ever!
But it is sometimes hard to find balance, and it also means that I am in a constant state of missing out on both worlds.
The other day my child told me off for working too late! But he also became really interested in what I do in the last few months, peeking at my work, making (usually very surreal) suggestions for creative ideas, and even having a little go writing a script in Final Draft.
He also started bringing me arts and crafts to blue tac over my desk, so it's 'more fun for me to work.'
Those change all the time, but the current curated collection includes my Mother's Day card, Mister Crayon, and the Loo Roll Frog.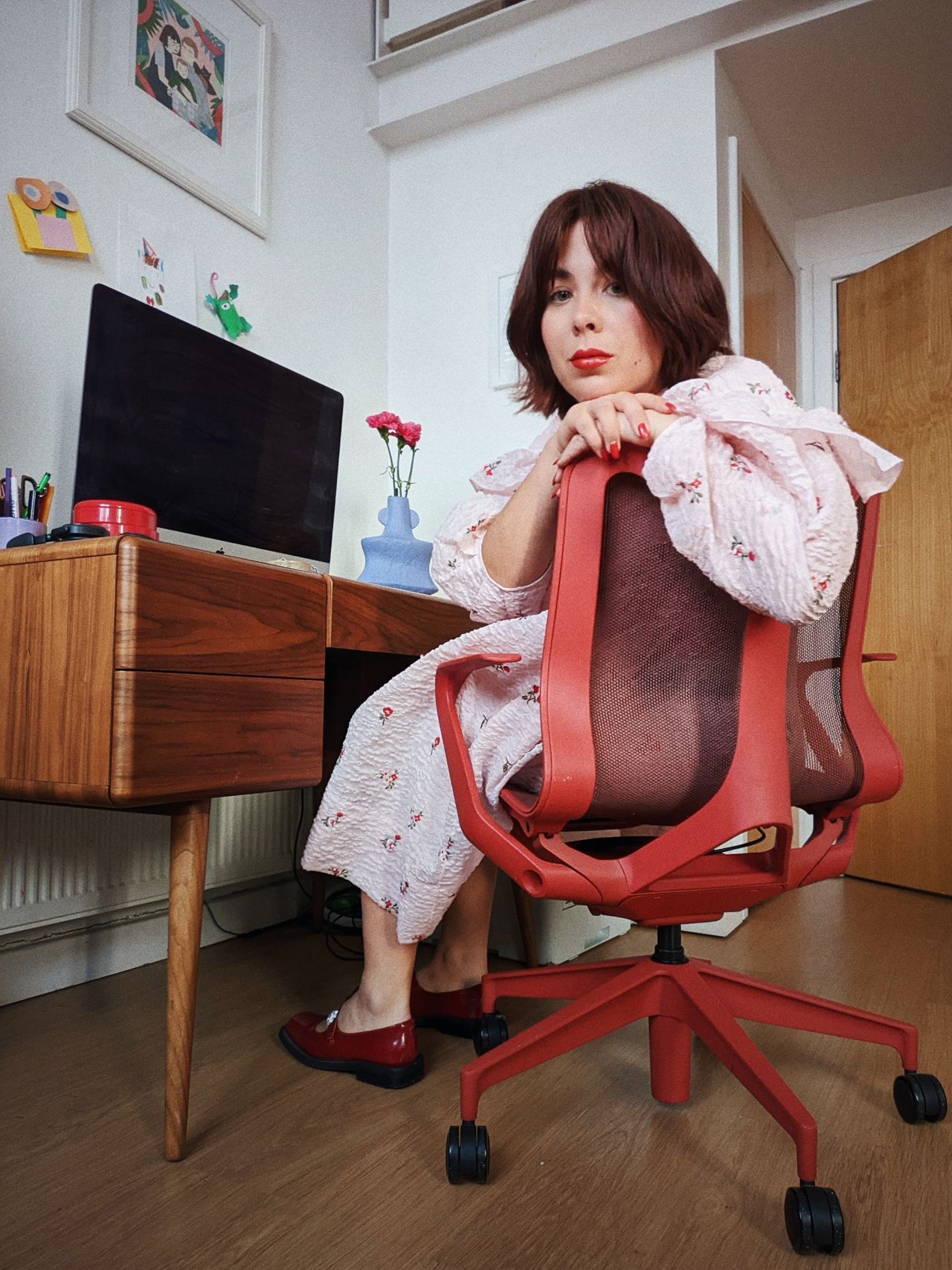 The Red Desk Chair
For years, I refused to invest in a proper desk chair because (quoting my younger self here) 'they didn't fit the aesthetic.'
But when the pandemic hit, I spent a good chunk of time directing commercials remotely.
I had just signed with Tinygiant, but since I live in London, I could not go to the US due to border restrictions.
Remote directing was a peculiar, yet fun, thing to do for everyone – except for my lower back.
After my lovely EP Veronica saw me directing while lying flat on the floor, she sent me the Rolls-Royce of office chairs!
It serves as a good merry-go-round for Leon, too.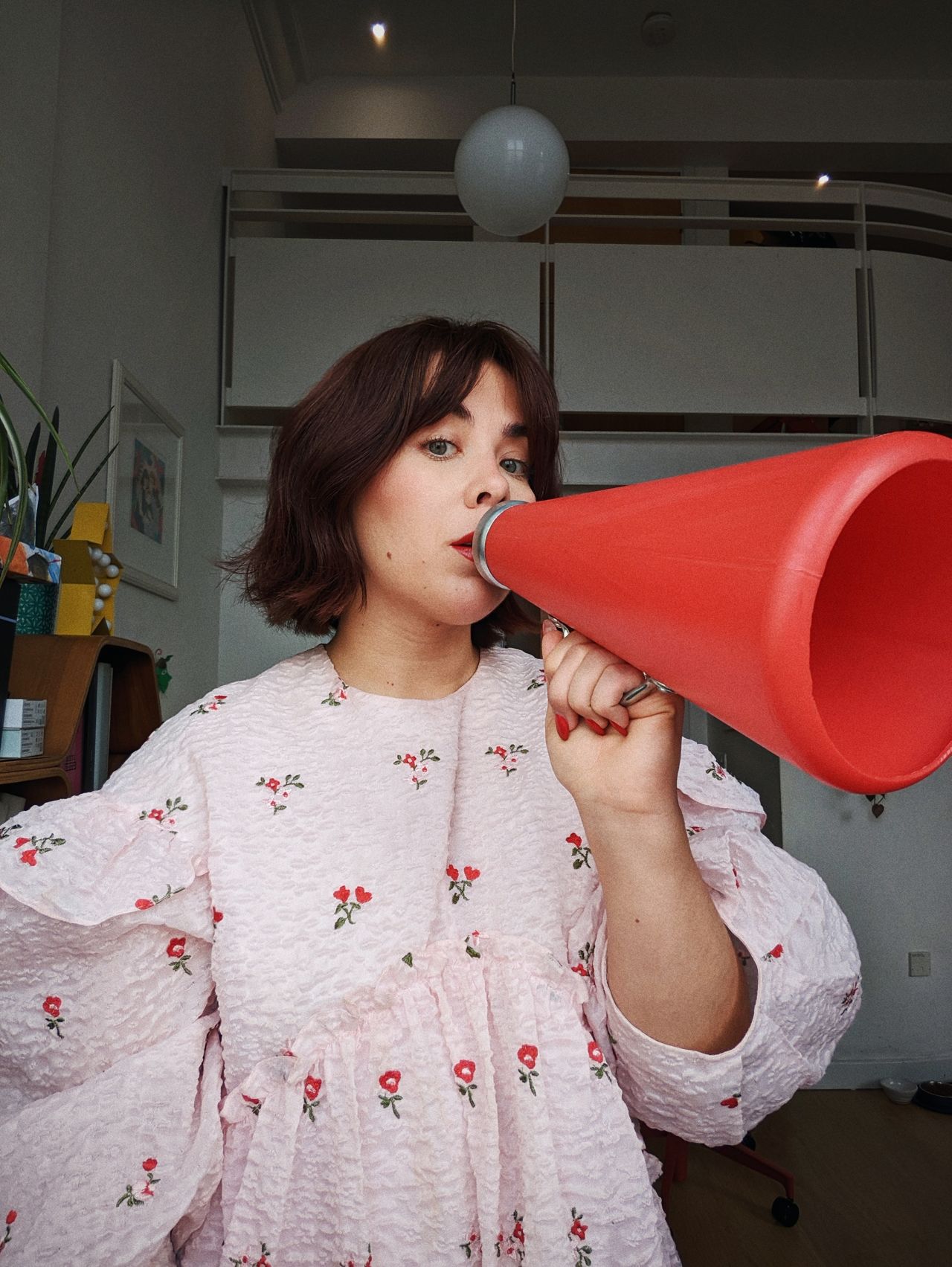 The Megaphone
This megaphone was used during a photoshoot in New York, which I did with Tinygiant EPs, Veronica and Sara.
The shoot was organized to celebrate the launch of Tinygiant's new website and brand identity and was also a way for me to meet everyone.
The shoot depicted the wonderful organized equilibrium of a film production, with a bit of glam, of course.
I took the megaphone home as a joke but actually ended up using it quite a lot on set.
It looks wonderfully cartoonish, so it is a wonderful talking point, and it also actually prevents me from speaking too loudly on set.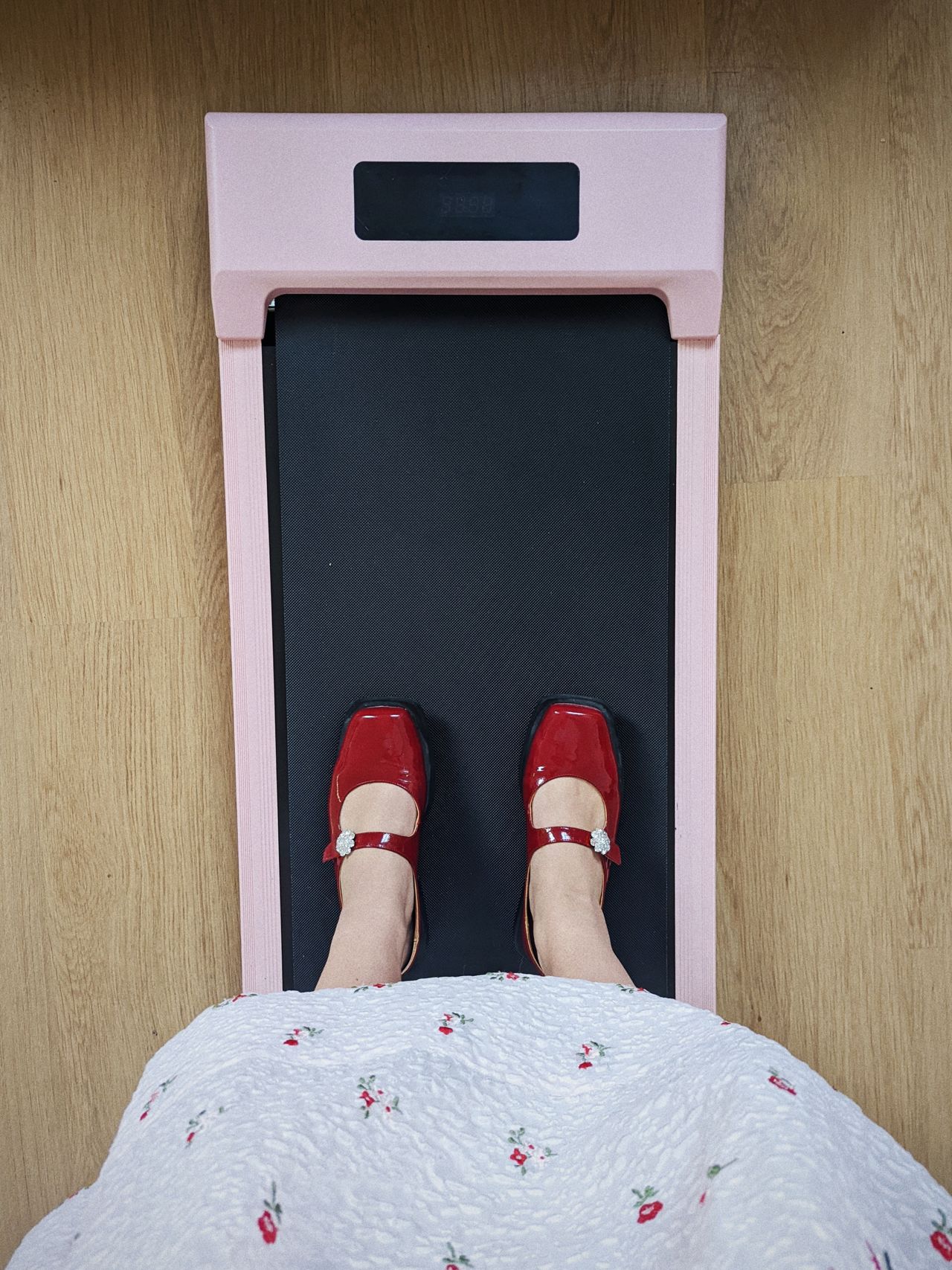 The Pink Treadmill
Yet another item from my short, Ode To Procrastination. '
A brisk walk is good for productivity' is what my character says in one of the scenes, and it's something I can relate to very deeply; whenever I am stressed or overwhelmed with work, I either go for a walk or have a nap.
Both clear the head very well, and, at this point, I have learned that it's part of the process for me.
I am low-key considering getting one of those fancy standing desks to be able to both walk and work at the same time.
I also love that the treadmill is pink - because of course it is!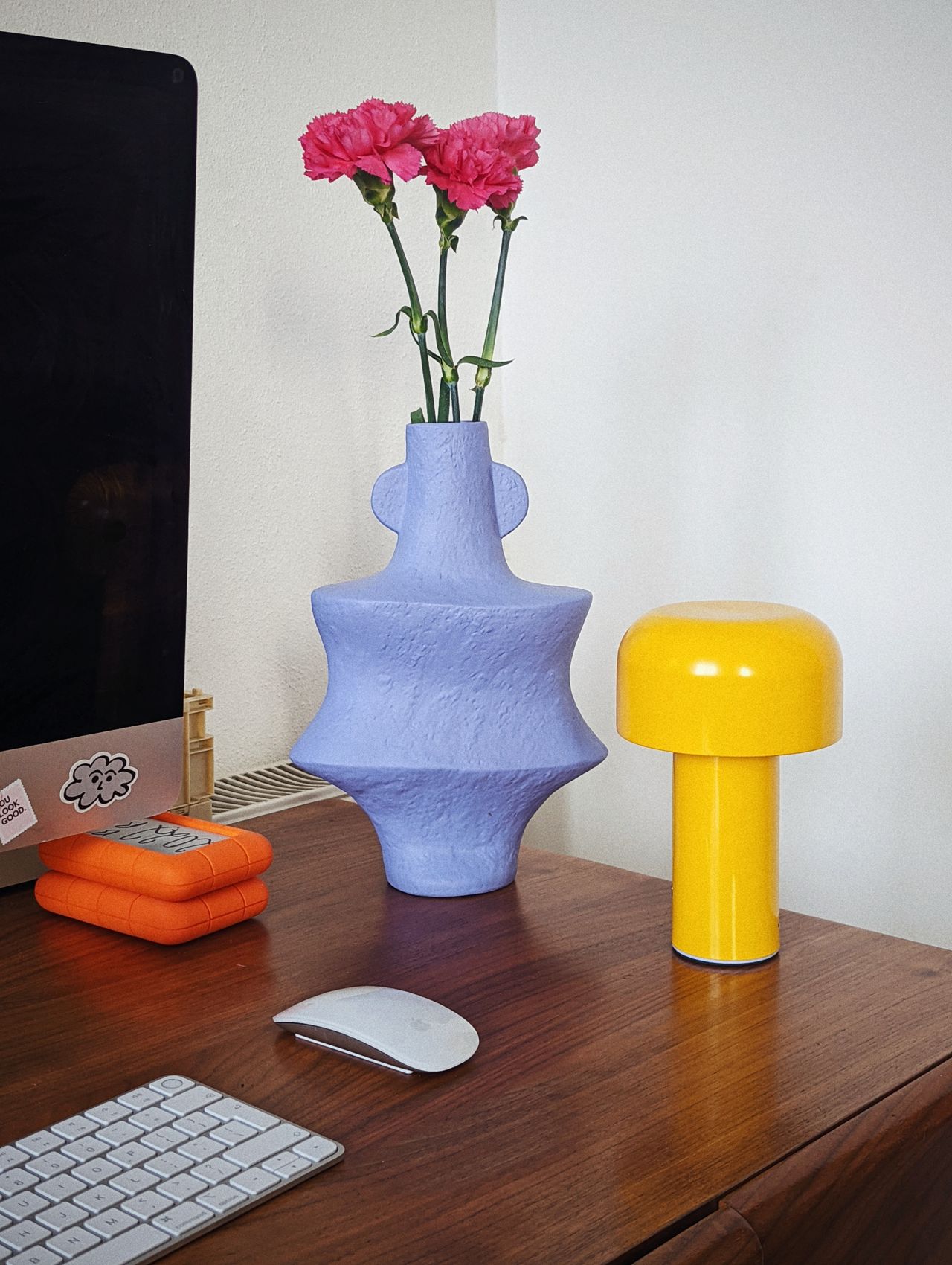 The Blue Vase
To be honest, most of my furniture and accessories in the house are from shoots at this point.
Talk about merging the artist and the art!
Throughout the years, I have been influenced by my own work so much that, at this point, I simply wish I lived in my own sets and dressed in what my talent is wearing.
At least, most of the time, I am able to sneak an item or two home.
This vase is from our Shoprunner shoot, which was filmed last summer.
I love how sculptural and, at the same time, impractical it is.