Inspiration
Ross Taylor: A Few Of My Favourite Things
Iris Creative Director (and keen curiosity collector) Ross Taylor talks us through some of the delights that fill his home workspace.
We always like to feature people in Favourite Things who enjoy a knick-knack or two, but this might be the first occasion where such an obsession is the subject's side-hustle.
Iris Creative Director Ross Taylor clearly has an eye for the awesome and adorable, so here are a few of his faves in his own words:
"Like so many over the last year, my home has become my workspace.
"I never sit in the same space on consecutive days and generally float from room to room, changing my scenery and inspiration throughout the week. Fortunately, my house is a visual wonderland of stimulus due to my obsession for curiosities and passion for designing homewares of my own.
"I work in advertising as a Creative Director, but five years ago I started an interior and homewares business with my partner called The Curious Department – wallpapers, art prints, fine bone china and cushions, lots of cushions! They're all designed by myself, and produced in the UK by my partner Chris.
"I see my home as a physical extension of my personality, but also a space of inspiration. It makes total sense to me to work from such an environment, and despite the challenges of the last year and a half, I have loved adapting my home for work life. So this is a small window into the wonderfully shiny world of my favourite things."
The Cabinet of Curiosities
This cabinet was the source of inspiration for my side hustle: The Curious Department.
I picked it up at a junkyard for £100 and filled it with precious objects of sentimental value. Most are gifts which I have received from friends.
The showstopper in the cabinet is my collection of 1920's vanity cases. I find them so fascinating, like an adult 'Polly Pocket', everything has its own little section and compartment – glorious design.
The Cabinet of Curiosities is the start to my day. I switch on the light inside as part of a morning ritual that makes me feel like my space is coming to life.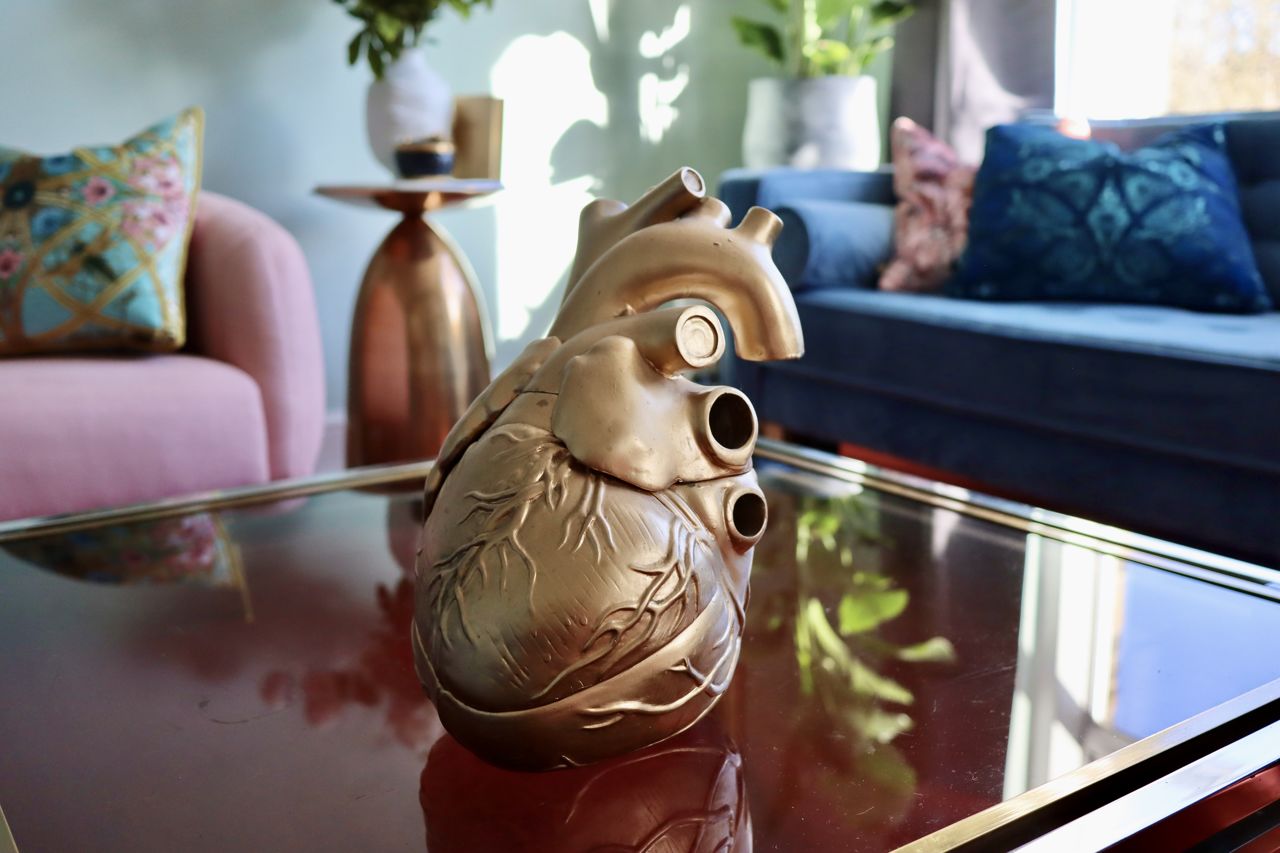 The Little Boots Golden Heart
They say that every home has a heart, well this is mine. Proudly sat in my lounge center stage, this golden oversized, anatomically correct heart is a statement piece. I love 'one-of-a-kinds' and objects with one-of-a-kind stories attached too.
This was the heart used in the Little Boots music video for Earthquake (debuted at no.84 in the UK) – it was painted gold on set but in post-production it was made to look silver. I love the strange unexplained detail that gold just wasn't working and the director insisted that is must be a silver heart, it couldn't possibly work if it was gold. The director got his way, and to the expense of the production partner, it was retrospectively made silver in post-production!
A creative victory some might say, but a powerful reminder to commit to your vision – if you want that oversized anatomical heart silver, then you have it silver!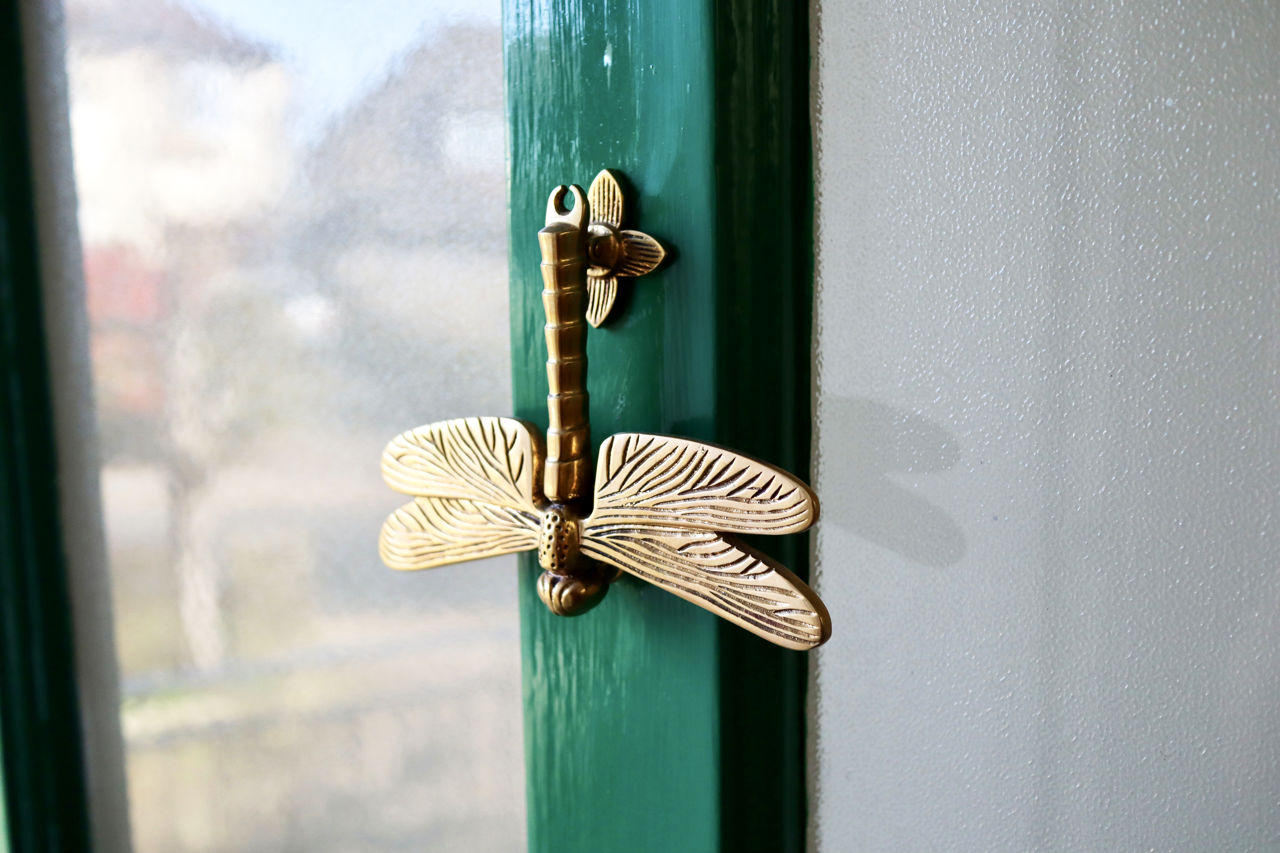 The Magic Dragonfly Door Knocker
June 2020, in the midst of the pandemic, my partner and I saw a house online. We went to see it once knowing we couldn't afford it. We absolutely fell in love with this Victorian fixer-upper. I soon found myself OBSESSED, it was all I could think about, I just had to think of a way to make it happen. My solution; I went and bought the door knocker for the house that we hadn't even offered on. It sounds silly, but I really believe in the power of manifestation.
Having an object that represented this goal of ours was incredibly useful. It kept our focus and kept us visualising the dream. Six months later, with some financial jiggery-pokery, we moved into our forever home. This is a picture of the preemptively purchased knocker which now sits in its rightful place, on the door of our new pad!
I think there is a valuable lesson in the door knocker. Manifest, commit to the dream and it will happen.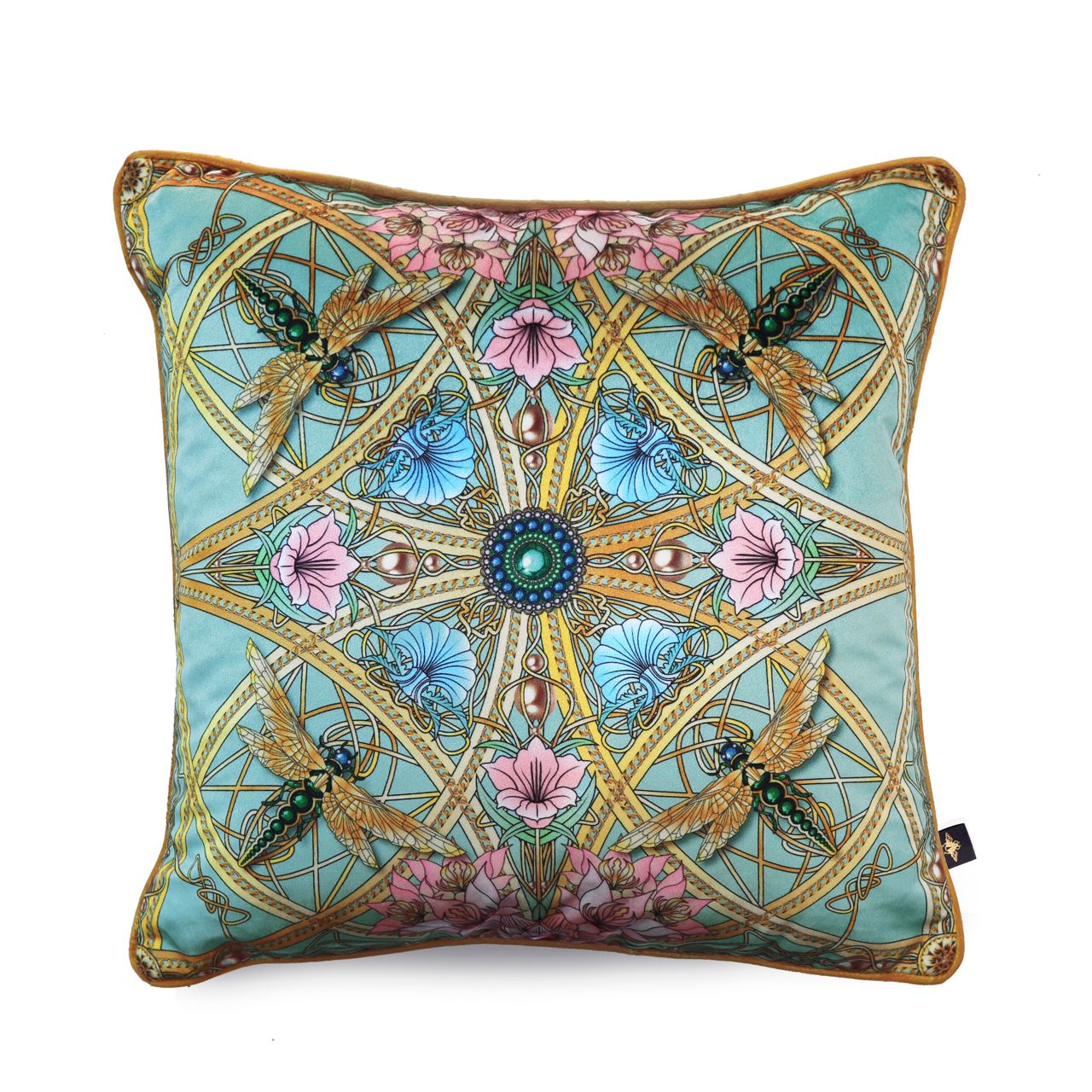 The Zellandine Aqua Cushion
Perhaps my favourite design that I've produced for my side hustle The Curious Department. The design itself is part of our 'Heirloom' collection, which curiously is all about the value and emotion that we imbue into inanimate objects.
This plump velvet number is the culmination of five years hard work. Five years honing my skills as a fabric/pattern designer, 5 years of failed attempts printing on luxury velvet. But without failure, we can't learn to improve. And improve we did.
This cushion has sold out twice and is shipped all over the world. But best of all the quality meets my vision, I feel proud to sell it. It's humbling to think that there's part of my imagination in homes across the globe.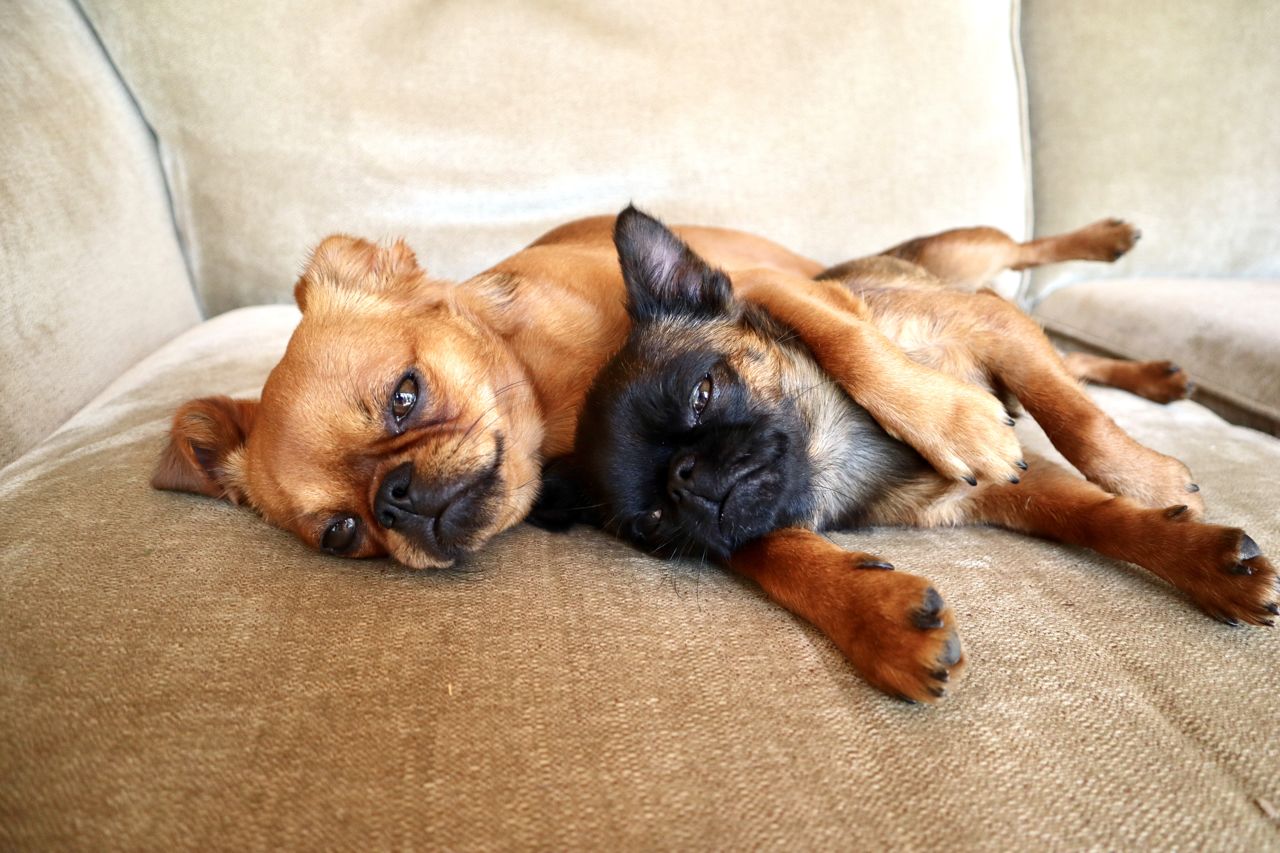 The Precious Pooches: Gloria & Tina
These funny little faces belong to a breed known as Brussels Griffon.
The long-haired form was actually George Lucas's inspiration for the Ewok's.
Small but with massive personalities G&T have been the highlight of my day for the past two years. Loving and kind they spend most of the day cuddling. Trained to use cat flaps these little love nuggets enjoy running around the garden followed by a good snuggle fest.
They also enjoy stealing hearts with just one look.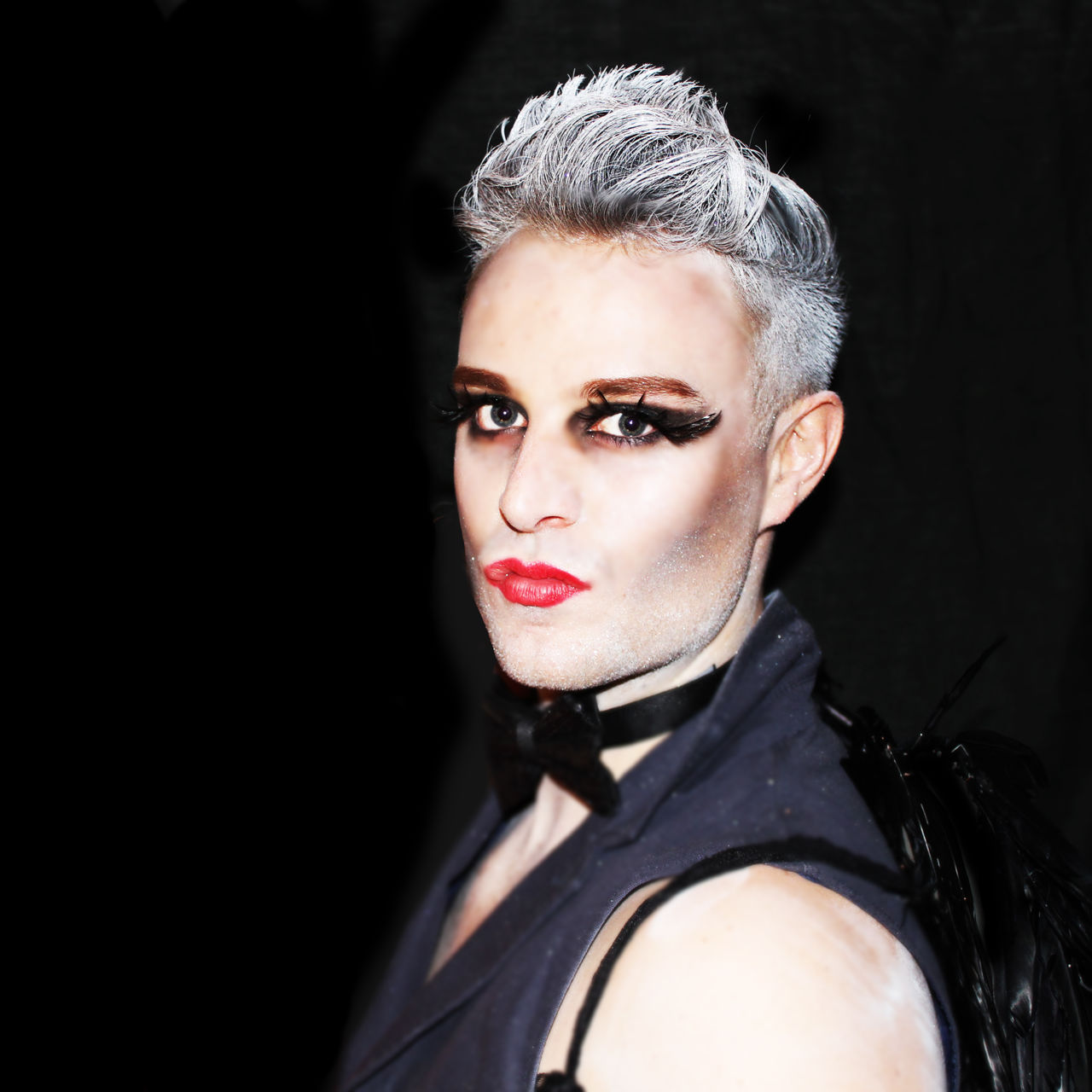 The Drag Queen Vampire
My birthday falls around Halloween, so every couple of years I like to host what has fondly become known as 'The Glampire Ball'. The perfect excuse to dress fabulously and celebrate. In 2015 my best friend came to stay, she sat me down on the edge of my bathtub and commanded me to stay still for one hour!
Her surprise gift to me was drag makeup!
Throughout the process, I had not been allowed to look at myself. When the hour was up there was a big reveal – I was shocked! She transformed me into a sparkling long-lashed glitter demon.
I was introduced to a hidden side of myself - but the best thing about it was that it was empowering and an incredible lesson in leaving my comfort zone in the name of self-growth.