Inspiration
Oscar Marmelstein: A Few Of My Favourite Things
Ambassadors' head of editing and director shows us his action figures, award shelf and (most importantly) husky pal Kiro.
We're not going to lie, if you include a dog on your list of Favourite Things when telling us about your workspace, you're automatically in our good books.
For Oscar Marmelstein, Ambassadors' head of editing, his husky Kiro isn't just top of the list, he's also potentially the greatest header image we've ever had.
As for Marmelstein, with editing work including the Cannes Gold Lion-winning Batman campaign for Warchild and an already-flourishing foray into directing, with spots for Uber Eats, McDonald's and the Dutch lottery under his belt, the items he keeps around himself to get the creative juices flowing vary from snazzy snowboards (a reminder of freedom!) to custom action figures.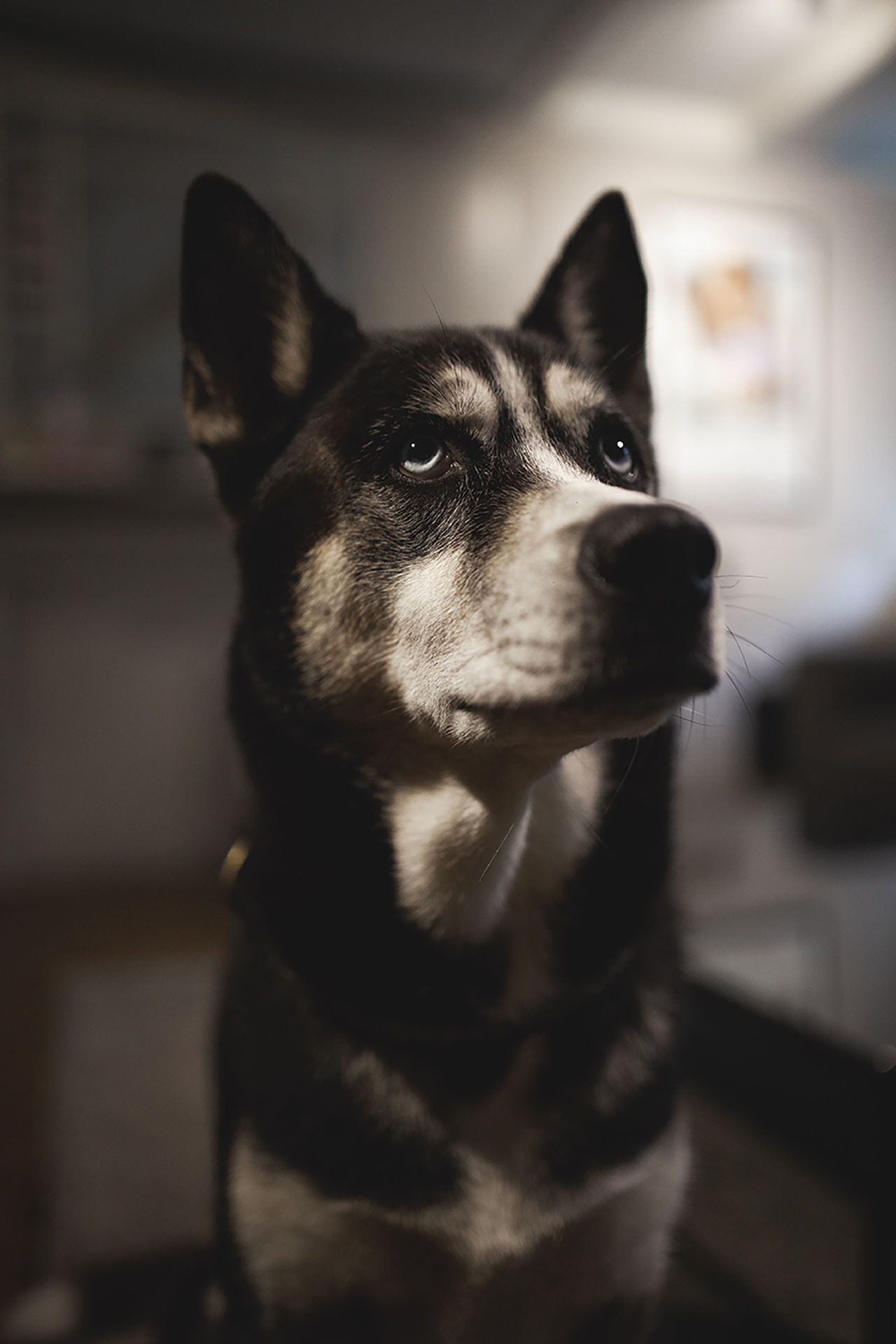 The Dog
I've taken Kiro into my suite ever since he was a little puppy.
For a husky, he's such a lazy dog but it's really nice and comforting to keep him around.
Now eight years later he joins me at Ambassadors less often, but when he does he can mainly be found in our Herengracht studio's kitchen.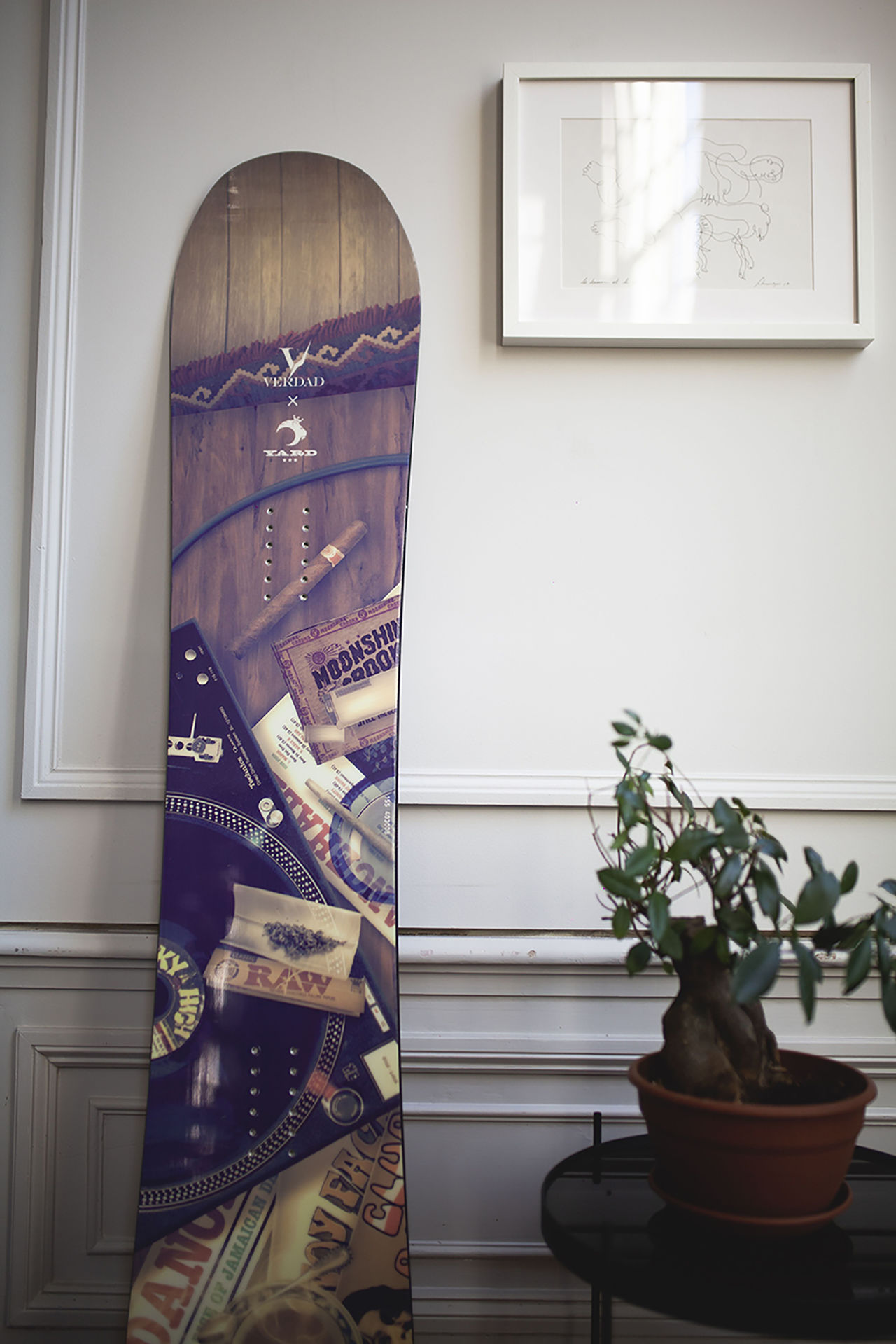 The Board
I got into snowboarding when I was young, and my passion for editing and filming all came from snowboarding.
I used to watch snowboard videos on VHS tapes daily and rewatch my favourite parts over and over.
I still try to go snowboarding and other board sports as much as possible.
This board designed by my good friend Jeroen Peter is a daily reminder to keep inspired by the things you love to do. The feeling of freedom and creativity is endless.
The mountains are calling.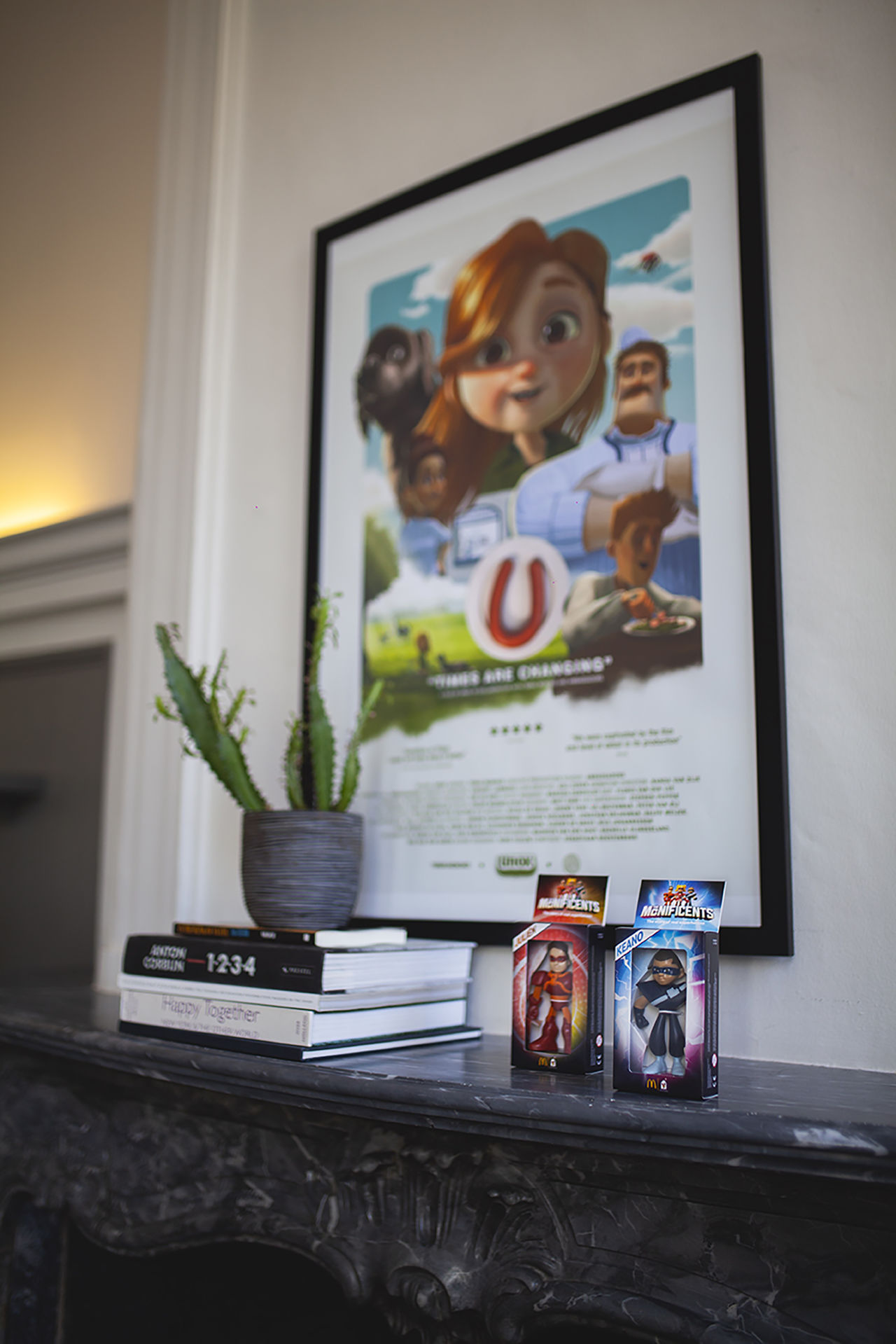 The Poster and Action Figures
Since I became part of the creative team at Ambassadors I've fallen in love with animation. Being involved in the early process of creating storyboards and layouts means you can shape every pixel to be in honour of the story and the brand, and see your concept come to life.
These are souvenirs from two of our recent projects, that I luckily got to hoard away in my suite.
The movie poster is something we made for fun for an ad with Unox, a Dutch sausage producer owned by Unilever and who were looking to market their growing vegetarian range. In the spot, a little girl replaces a sausage for a vegetarian one without anybody noticing except for her dad the butcher. The catchphrase is really on point since times are indeed changing.
The McNificent action figures are from Happy Meal toys that Ambassadors designed, based on three children who gain a kind of superpower by having their families closeby at a Ronald McDonald House during sickness and hard times.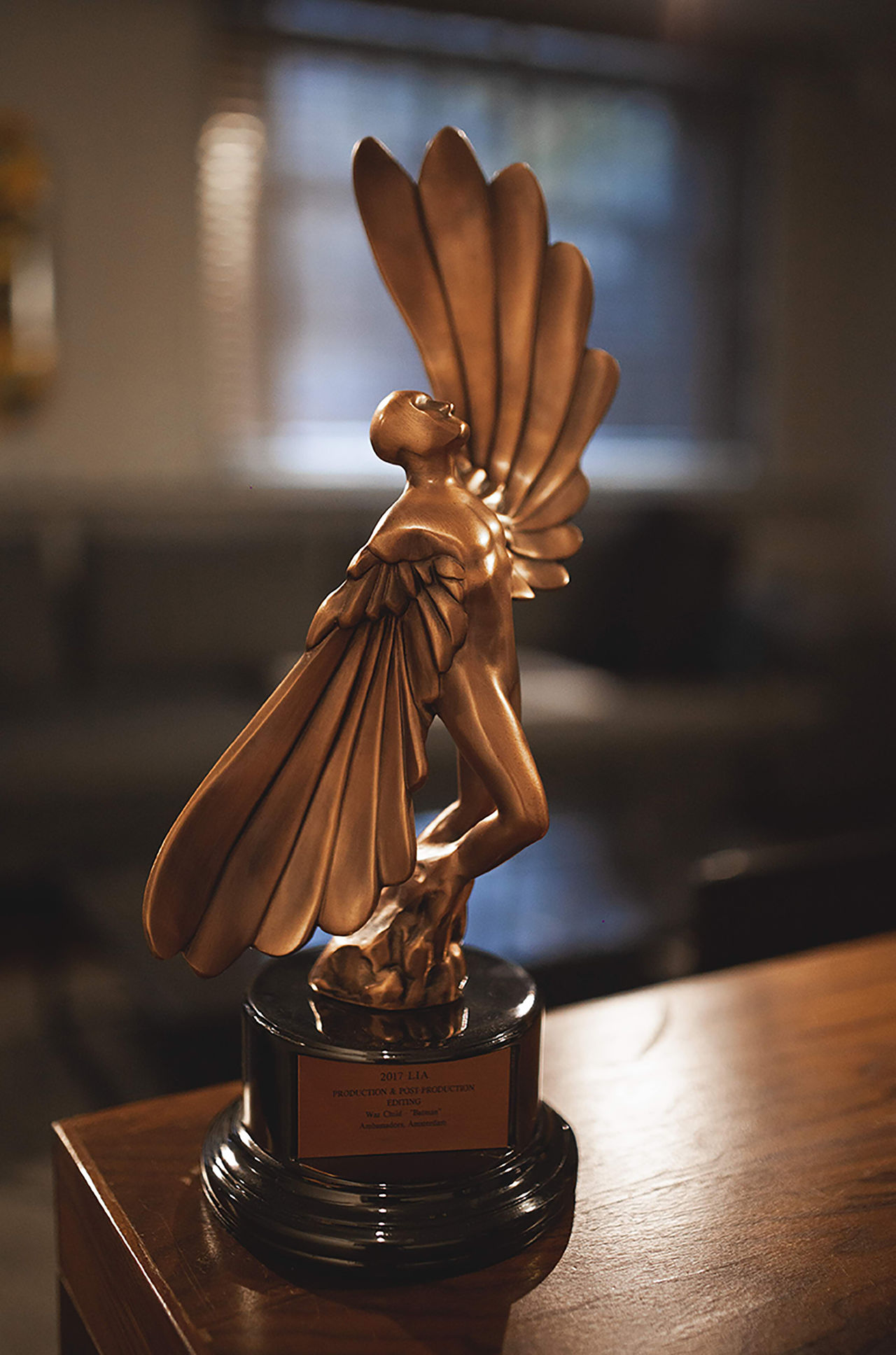 The Award
Batman for Warchild is a story about a young kid in a refugee camp who is playing with Batman.
After some time they are forced to flee and we see that Batman is actually the kid's father.
For some children, fantasy is the only way to escape reality.
Editing this with the director Jeroen Mol was a super humbling experience and we were all stoked to see the film had an affect on people.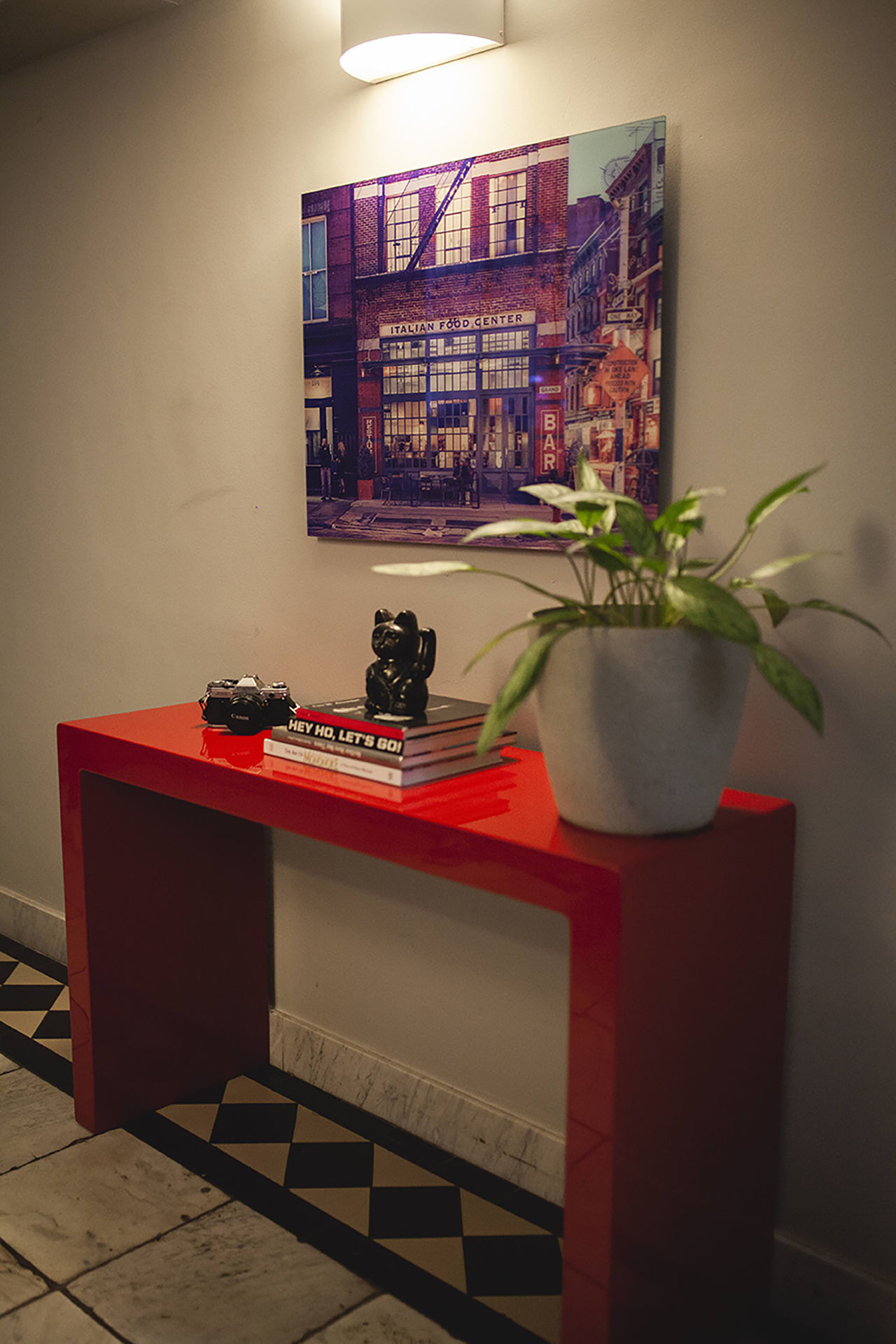 The Picture
I bought this photograph last year during my first directing job in New York.
This picture shot by Franck Bohbot has a special place for me and my wife because it was an early date spot for us back in 2013.
Since Ambassadors opened shop in NY I feel like I have a connection to the city, which is pretty cool.
It now lives in the Ambassadors Herengracht hallway between my editing suite and Kiro's kitchen.