Craft
How The Corner pulled off an epic mission for Enterprise
From skydiving to stunt co-ordinators and sarnies which failed to impress Gerard Butler, creative directors Tom Prendergast and Joe Stamp take us behind the scenes on their new campaign.

Today, London agency The Corner dropped a blockbuster campaign on us from a great height - 20,000 feet, to be exact, as none other than Hollywood heavyweight Gerard Butler took a sky-dive into his rental car.

Playing on the tagline 'whatever the mission', Enterprise's latest campaign mixes action and comedy in two epic spots directed by Smuggler's Guy Shelmerdine, which follow Butler's attempts to hire a car in some pretty hair-raising situations.
Greg Powell, best known for his work on The Avengers, Bond and the Bourne films, was brought in to coordinate the actor's stunts, which included leaping off a bridge... onto a pallet of frozen fish. Ah, how the mighty have fallen.
Below, Creative Directors Tom Prendergast and Joe Stamp tell us how they pulled off their mission.

The car rental category isn't exactly renowned for brilliant creative work - what was the brief from the client and how did you come up with the idea for the campaign?

Joe Stamp: Enterprise is the biggest car rental company in the UK, the brief was to show their scale. But the idea came from the truth that whenever you rent a vehicle, you're on a mission. Moving house, going to a meeting, a weekend away, whatever. They can help you on these missions better than anyone else. Once we had that, we just needed to bring the missions to life.
It was important to us that these ads are more than action movie pastiches. We wanted them to crash back down to earth, literally.

Why did you choose Gerard Butler? Did you consider anyone else?
JS: Butler was the first name on the first script for the idea. Of course, there were others we talked about. But Butler is unique. Action yet comedy. Hard yet soft. We're big fans. We couldn't beat him.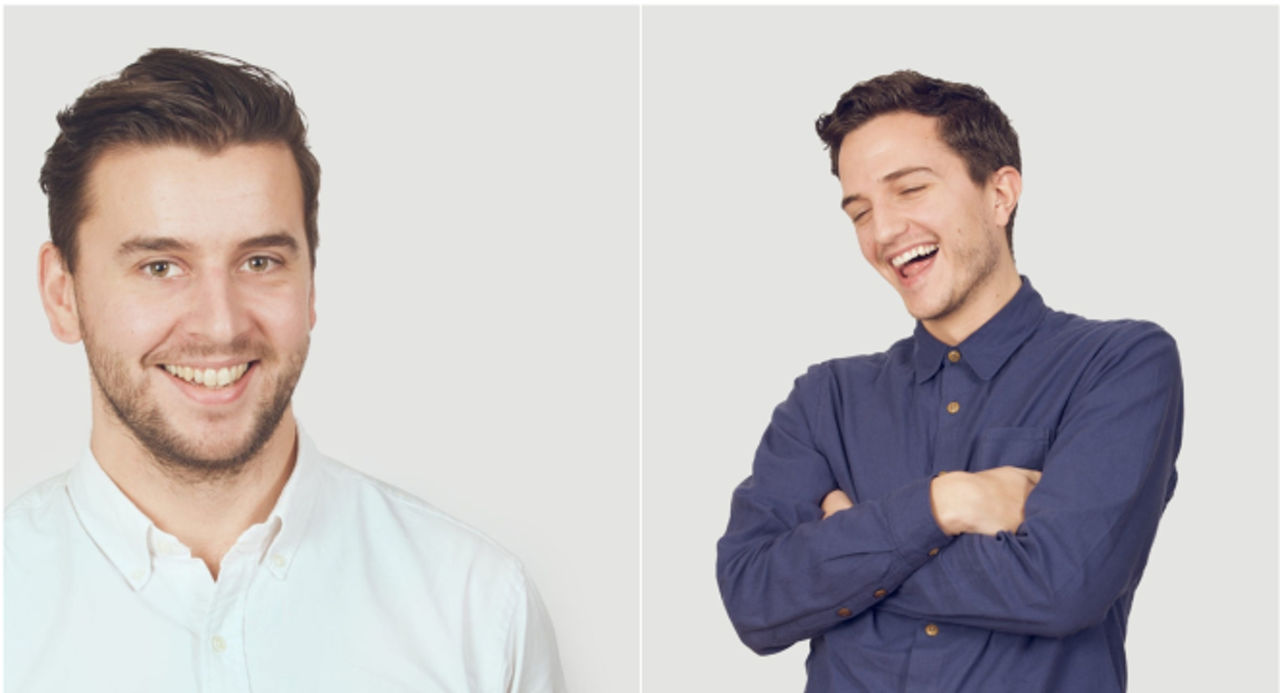 Above: The Corner's Tom Prendergast (left) and Joe Stamp
And why was Guy Shelmerdine the right director for the job?
JS: We didn't want to fall into the trap of going with an out-and-out action director, we wanted someone who could get that comic relief for us. And Guy's always got one eye on a laugh. He also helped build a great relationship with Gerard and managed to get so much out of him.
The stunts, for which you brought in award-winning stunt coordinator Greg Powell, are pretty impressive - did Butler do all of his own stunts? How much was CG vs in-camera?

Tom Prendergast: There's very little CG in Paparazzi, GB did all his own stunts. He wasn't supposed to, he wanted to, and no one could stand in his way. Particularly his agent, who couldn't watch as he slid down an outdoor escalator rail in basically pyjamas. Skydive was a different story. The convertible crash landing scene involved a massive crane as well as a stuntman.
Above: behind the scenes images from the campaign, courtesy of The Corner.
Tell us a bit about the shoot - any amusing anecdotes to share?
TP: In the first scene, Butler's leaving a London cafe eating a sarnie. Joe and I thought it was the perfect moment to introduce the world to something else we've been working on, the 'Butler Butty'. A jumbo scotch egg in a bap, with Daddies sauce. It was going well until GB tasted it, calling it "fucking disgusting".
We particularly liked the end of Paparazzi when Butler tries (and fails) to break the car window with his elbow - how important was it to undercut action with comedy?

TP: It was important to us that these ads are more than action movie pastiches. We wanted them to crash back down to earth, literally in the case of Skydive. We didn't want a perfect, Bond type character. Sometimes in the real world, where Enterprise exists, you jump off a bridge and land on a pallet of frozen fish, that's just the way it is.