Inspiration
Fred Rowson: A Few Of My Favourite Things
The Blink director talks us through a few of the things he needs around him in order to get his creative juices flowing, including an aural-tickling Japanese postcard, a bounty of books on the paranormal and more ties than you can shake a neck at.
It's safe to say that Fred Rowson oozes style - from the impeccably art-directed looks of his shorts, music vids and commercials, to the tie-and-quiff combo of his on-set flair.
Therefore, it was only fitting that, shortly after his Pride film moved people to tears with its rendition of the history of Stonewall and his first movie has been picked up for the BBC and BFI iFeatures scheme, we at shots should dive into the Blink director's studio space, to find out what he likes to keep around himself whilst dreaming up ideas.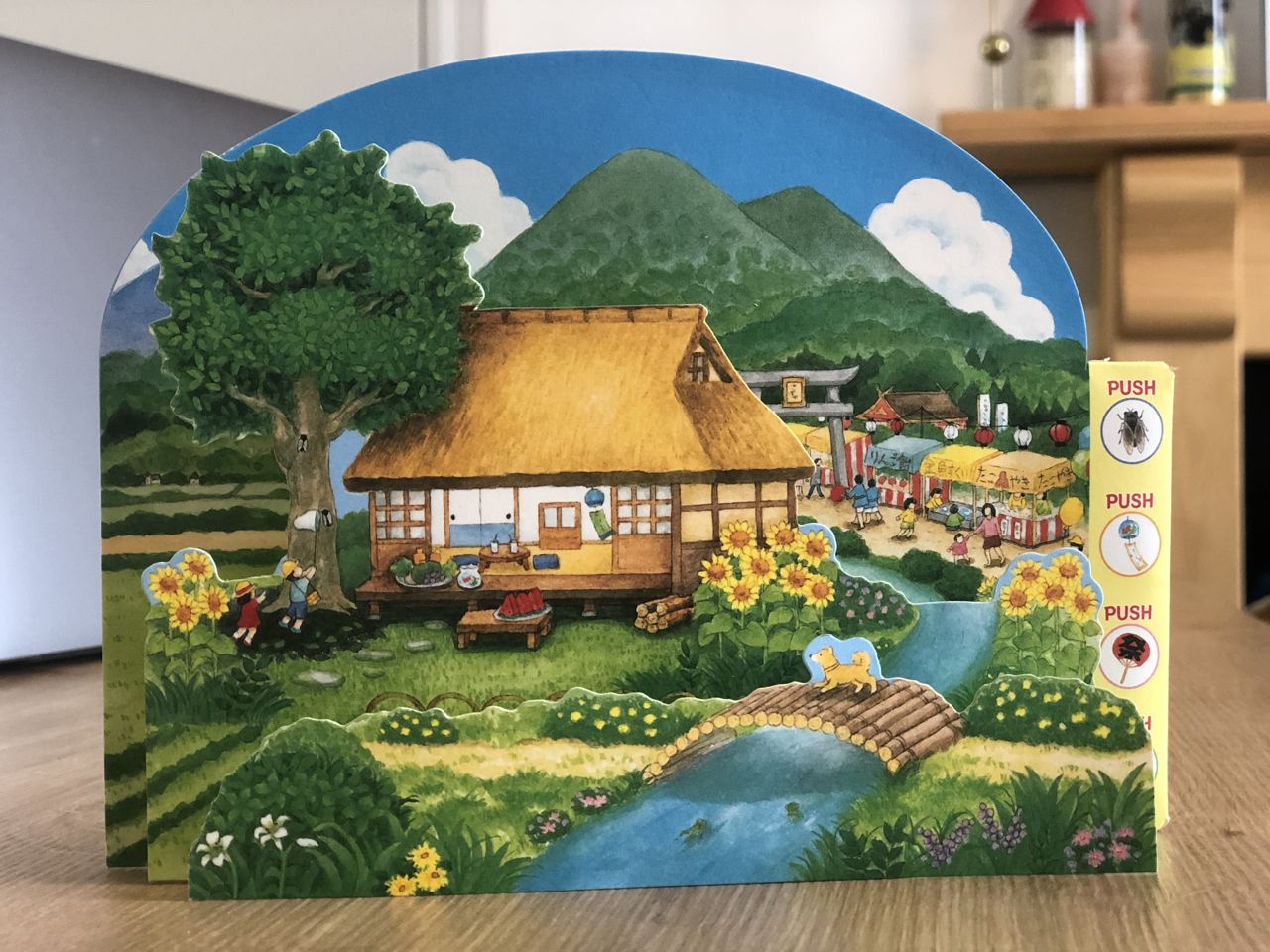 The Japanese Postcard
A pop up postcard which I picked up in Tokyu Hands, in Shibuya. It's a classic rural Japanese summer scene, with a market in the background, children catching bugs, a dog running over little wooden bridge, a torii in the background, and some watermelon slices in front of a little seating area with tatami mats.
What makes it particularly special are the little buttons down the side, each of which play sound effects. The top button has cicadas screaming, the second one down has wind chimes, the third has a tune played on flute and taiko drums, the final one is the sound of the stream, with frogs croaking.
It's made with real care, and is shockingly transporting.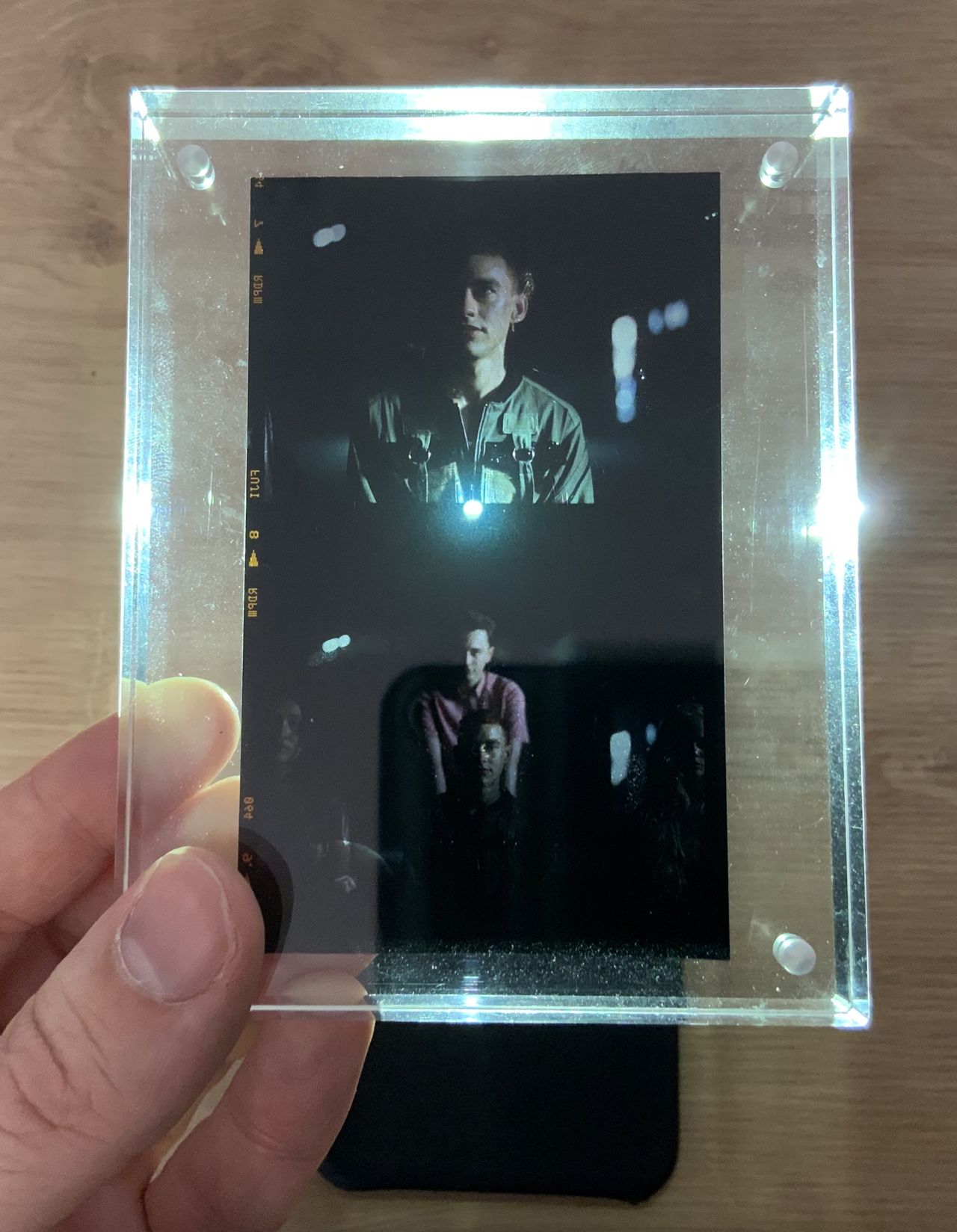 The Palo Santo Contact Print
Keeping a close eye on me is this little framed set of two large format contact prints, taken by my regular cinematographer and collaborator, Jaime Feliu-Torres.
They're from the set of a short film which we shot in Thailand for the band Years & Years.
This was in an abandoned factory, surrounded by the jungle, where we were nearly attacked first by a monitor lizard, then a snake.
Apart from being a beautifully atmospheric shot of Olly (and a slightly mad one of me, in the background), it's a nice reminder of how far Jaime and I have come – we first worked together 11 years ago, when he'd just finished pulling focus and I'd never directed anything, or even been on set before.
From shooting my first short in a river in Catford, all the way to a ruined corner of Bangkok – it's been quite a journey!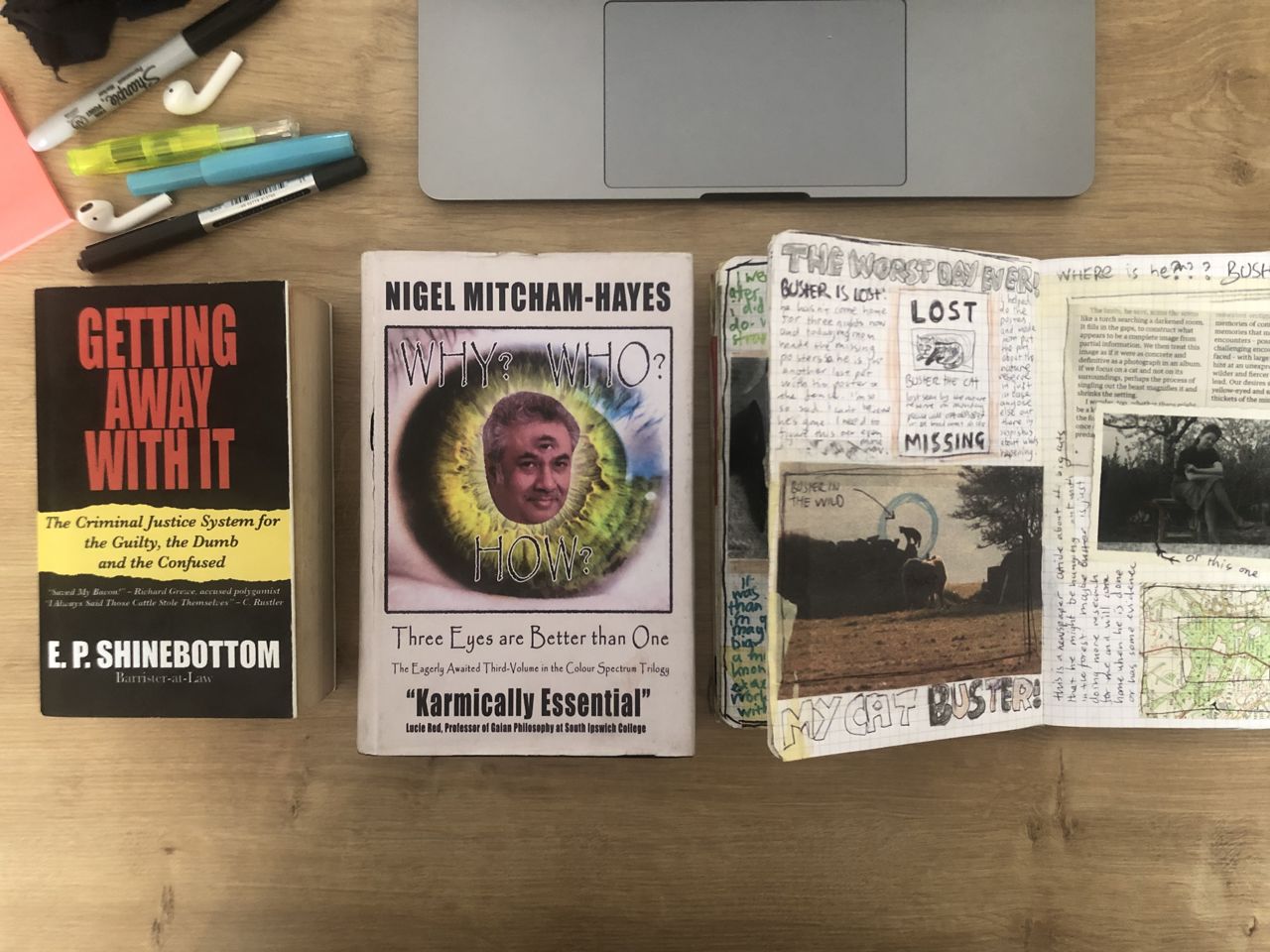 The Fake Books
I've gotten into the habit of including fake books in many of my films. This stretches all the way back to that aforementioned first short, on the river in Catford.
Some of them have genuine pages which you can read – for close ups, I guess - and others are just fake covers.
I can't bear to throw any of them away.
Assorted titles are: Getting Away With It by E.P. Shinebottom, The Eyes of the Sphinx are Watching Us All by Nigel Mitcham Hayes, and In the Lonely Hour: An Older Woman's Guide to Self Pleasure by Virginia Hardstaff, PhD.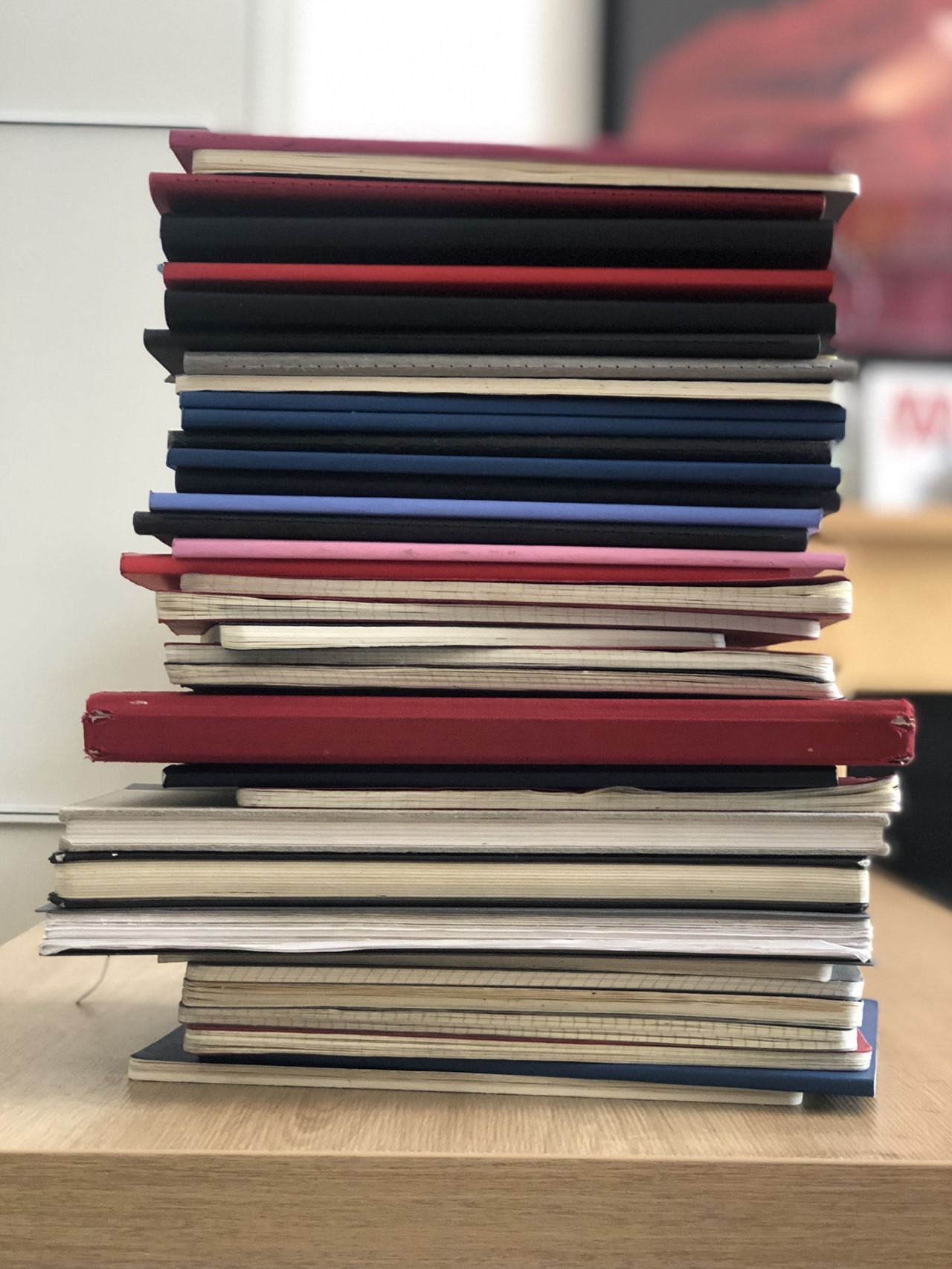 The Uni Ball Eye Pen and Notebooks
Another thing I can't bear to throw away is a giant pile of notebooks, which goes back all the way to my A-Levels (whole pile not pictured).
I do all of my writing by hand, always with a black, thin-line Uni-Ball Eye pen.
There's something about writing by hand which is like having a conversation with myself – typing just doesn't get my brain working in the same way!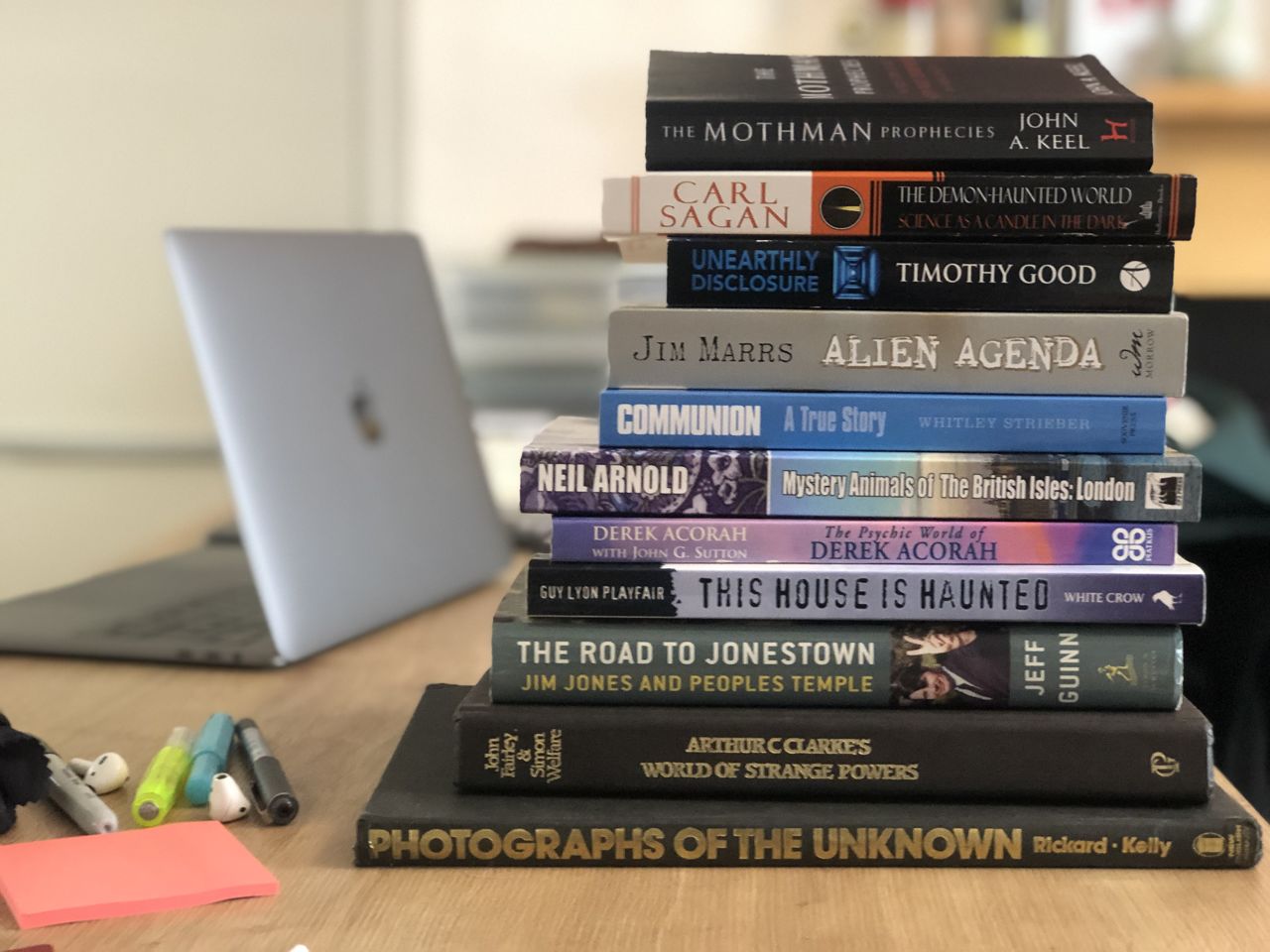 The Books On The Paranormal
There are a lot of books – fiction and non-fiction – within arm's reach when I'm working, but the ones that I go for most often are my collection of paranormal literature.
These range from a cultural history of ghosts, to non-fiction writing about cults and sects, to books about alien abduction (this section has grown, recently – it's the subject of the feature I'm currently developing) to scientific studies of bigfoot, to my favourite one of all, a book called Imponderable, which combines an archival history all of these things in one place.
It was a gift.
The Collection Of Ties
I always wear a tie on set. Always.
Even if it's boiling hot, or if I'm shooting on a farm and am completely hidden under overalls.
I guess it has become a superstition – that I have to do it every time I shoot – but I think it's nice to make an effort.
These are some of my favourites.