Talent
Cinematic visuals with a disruptive edge? Better call Sau
Greatcoat Films' Newham-born director Sau Ali has built a solid portfolio within six short months in the business, including music videos for artists including Henny Knightz and Raptum, as well as branded content for Samsung, New Balance and Vice. Here he tells shots how short-form filmmaking can nurture a blockbuster spirit.
How did you get into directing? What drew you to film?
My journey was the same cliche entrance; through a combination of loving motion pictures in general and sitting in front of the TV for five hours flicking through multiple channels.
Specifically, I was drawn to cheesy, existential car commercials that would appear during the breaks.
Looking at it now, I see I was impressed by film's ability to immerse me, and what started off as a basic need to understand how it did, turned into an obsession with creating it.'
You started in music videos. What do you think that experience taught you about short-form storytelling? How has it influenced your later work?
Music videos taught me rhythm, style and compression.
The rhythm that is needed to excitingly carry a story, the bold style that's needed to make it stand out and the skill and intention of compressing that all into a very short space of time.
This is so beneficial when it comes to commercial work.'
Above: Some of Ali's vibrant promos.
How would you describe your filmmaking style? What is your unique viewpoint?
'I like to pick 'in-between' moments and explode them.
Exploring existential themes that rely on unique characters and a presentation that's always slightly above reality.'
Booking commercial work is obviously different to independent films and music videos. What was the steepest learning curve and how did you work your way through it?
It is different. A good different!
I think finding the balance between telling compelling or personal stories and meeting the multiple goals of a brand/client was one of the recent learning curves for me.
I just started asking and listening more to what the client wanted and that's where the silver lining is - creative problem solving that, once accepted, leads to a perfect balance.
Unlock full credits and more with a Source + shots membership.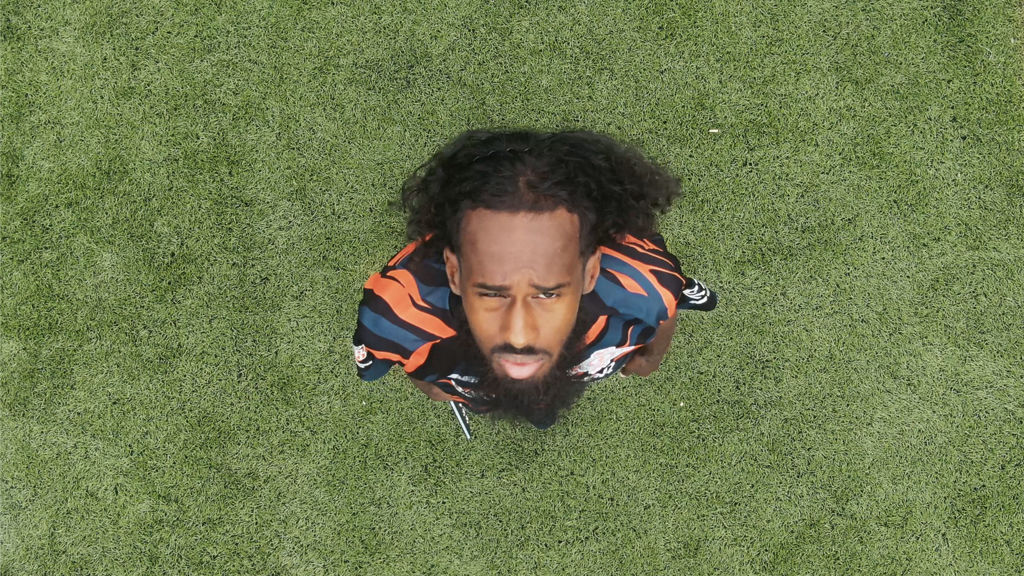 Above: Ali's entertaining branded doc for Samsung, aiming to empower Sunday league teams to become champions of creativity and tech.
Is there a genre that you haven't experimented with yet? What would you like to try?
Dance. I'd like to flip the genre on its head with the right opportunity.
I'd also like to direct an anthology of short films (which I'm currently working on).
Do you have any direct influences/inspirations? Whose career would you most like to follow?
Charlie Brooker, Roman Gavras and Spike Lee to name a few.
East London is a major inspiration - career-wise let's just see what happens.