Inspiration
Amy Nicholson: A Few Of My Favourite Things
The former Creative Director shares the knick-knacks and trinkets she's gleaned from her award-winning documentary and commercial filmmaking career.
Angry dogs, classic skates, a handy exit route; the eclectic career of Raucous Content director Amy Nicholson is matched by her equally eclectic Favourite Things.
Having pivoted to documentary and commercial filmmaking, the former Creative Director has weaponised her unique comedic stylings, seeing her pick up awards and work with companies such as Amazon, Google, eBay, McDonald's and Jimmy John's.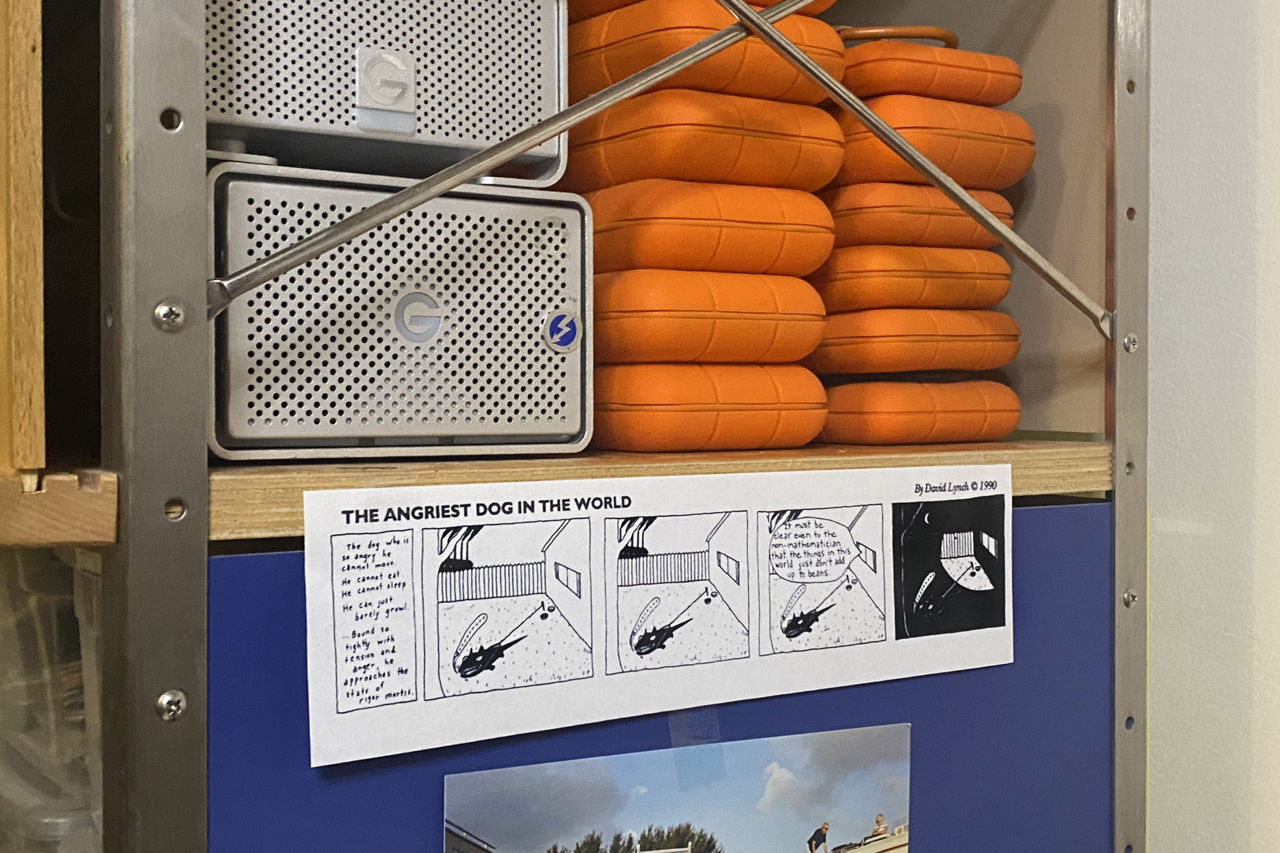 The Angriest Dog In The World
When I first got out of art school, I moved back to my hometown of Baltimore and this hilarious David Lynch cartoon always ran in the local paper.
It's really not even about the dog at all, which is why I think it's so funny.
I keep it next to my desk to remind me to wriggle around when I've been hunched over the computer for too long; before I forget to eat or sleep, and I approach the state of rigor mortis!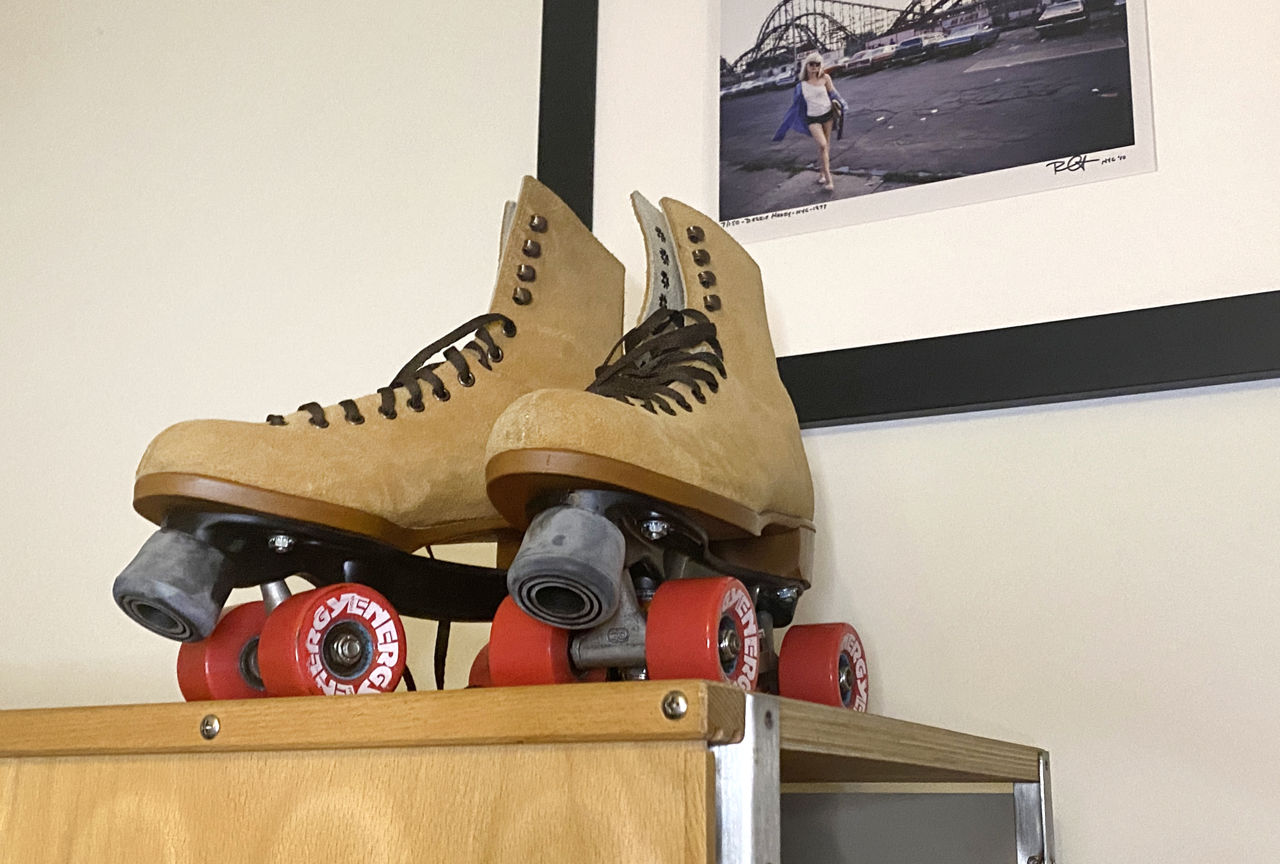 The Skates
During the pandemic, I ordered a pair of classic roller skates.
I figured we were all staring death in the face anyhoo, why not have some fun and break my neck?
Before the skates arrived, I was attempting to learn to dance like Beyoncé, and spent an inordinate amount of time trying to follow the choreography on YouTube.
My new rabbit hole of all rabbit holes is watching skate crew videos.
If your treatment's late, you now know why.
The best crews are in the south.
I might have to move to Atlanta.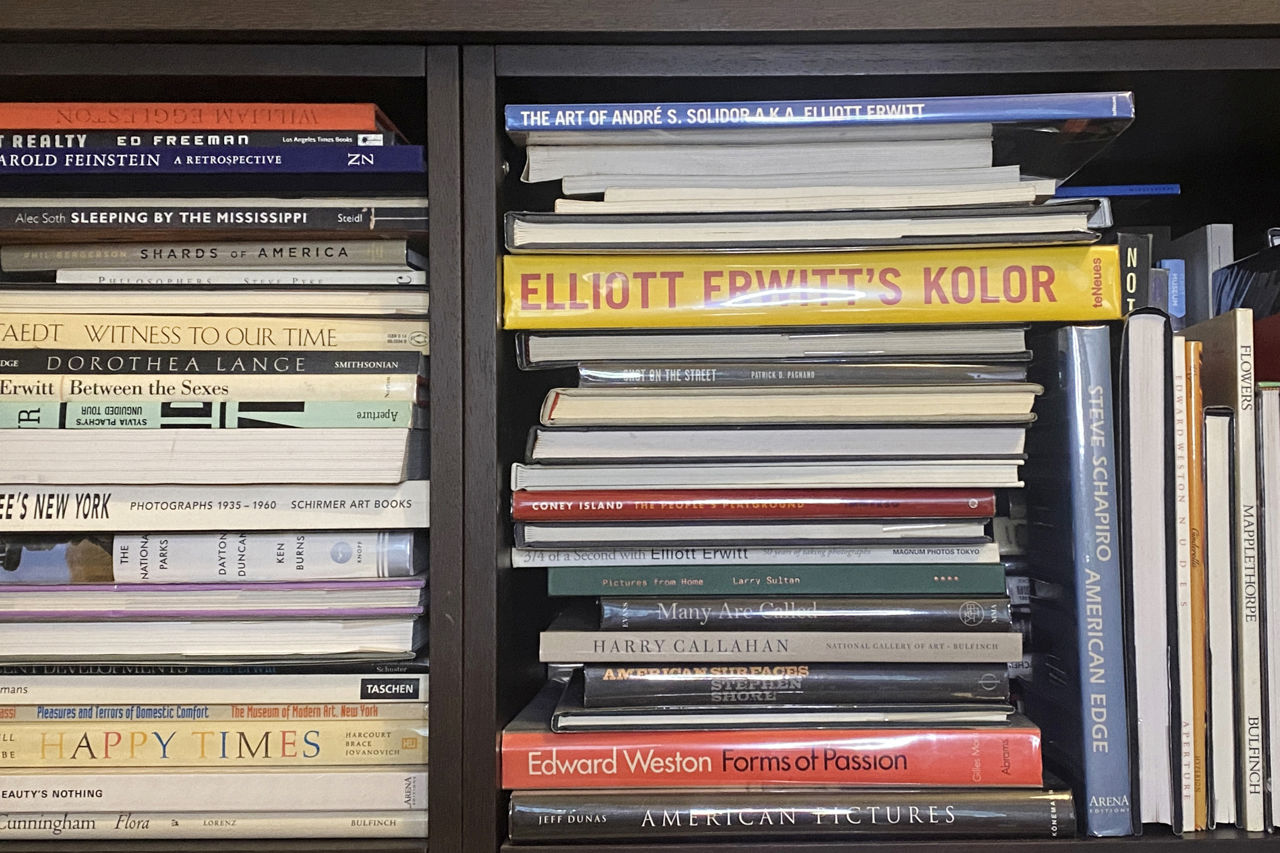 The Photobooks
I've been collecting them for decades so there are hundreds.
It's a real problem.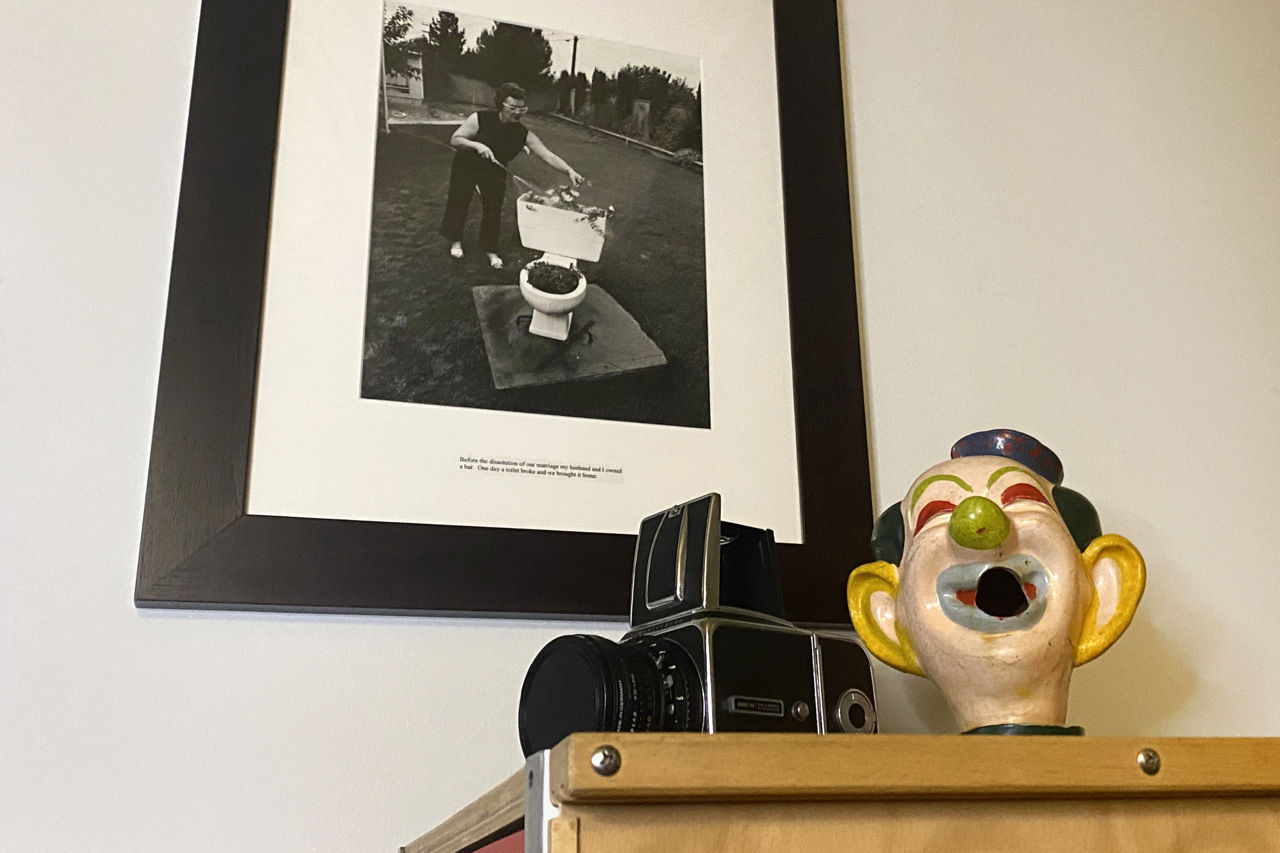 The Print
Bill Owens is one of my favourite photographers of all time.
He's my hero.
He knows how to barge into ordinary lives and capture how infinitely interesting they are.
The caption here reads, "Before the dissolution of our marriage my husband and I owned a bar. One day a toilet broke and we brought it home."
I am saving up to get another one.
It's a kid dressed as a cardboard robot for Halloween.
The caption reads, "Last year I got 4 pounds of candy: 72 Jelly beans, 67 Candy Corns, 26 Tootsie Rolls, 18 Tootsie Pops, 21 liquorice sticks, 15 Jaw breakers, 14 bubble gums, 11 packs of gum, 10 Baby Ruth bars, 11 Hershey bars, 4 Peter Paul Mounds bars, 3 Sugar Daddies, 3 popcorn balls, 3 Milky Way bars, 2 bags of cookies, 2 salt water taffy, and a candy apple. It took me three days and I ate everything."
Genius.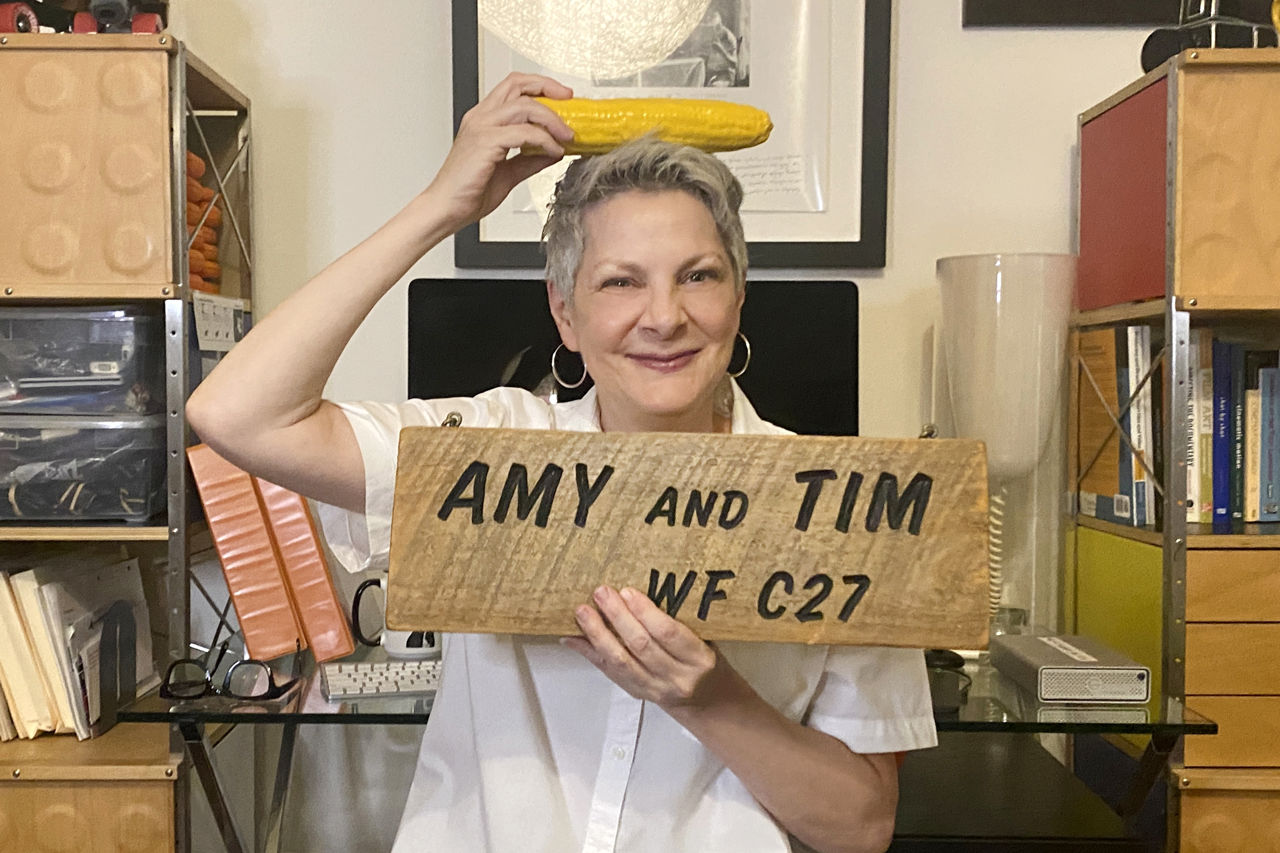 The Film Mementos
The sign was carved by my Dad (who can also be seen carving a cat's headstone in my short, Pickle).
It's an artefact from my latest feature doc, Happy Campers (in post-production).
The film takes place in a rough-around-the-edges summer colony for working-class families.
During filming, my husband and I hunkered into a 23-foot Coachmen camper with a leaky roof and questionable septic.
The sign hung on the side of my 'production shed' - which also housed a couple of lawn chairs, a weed whacker, many gallons of Rustoleum, and the occasional raccoon.
The faux corn was stolen from a display in Coney Island during the making of my feature, Zipper.
It was gifted to me by one of the protagonists.
I love how it's painted to mimic being coated in melted butter.
I have a ton of other great stuff, but I live in a shoe, so it's all in storage.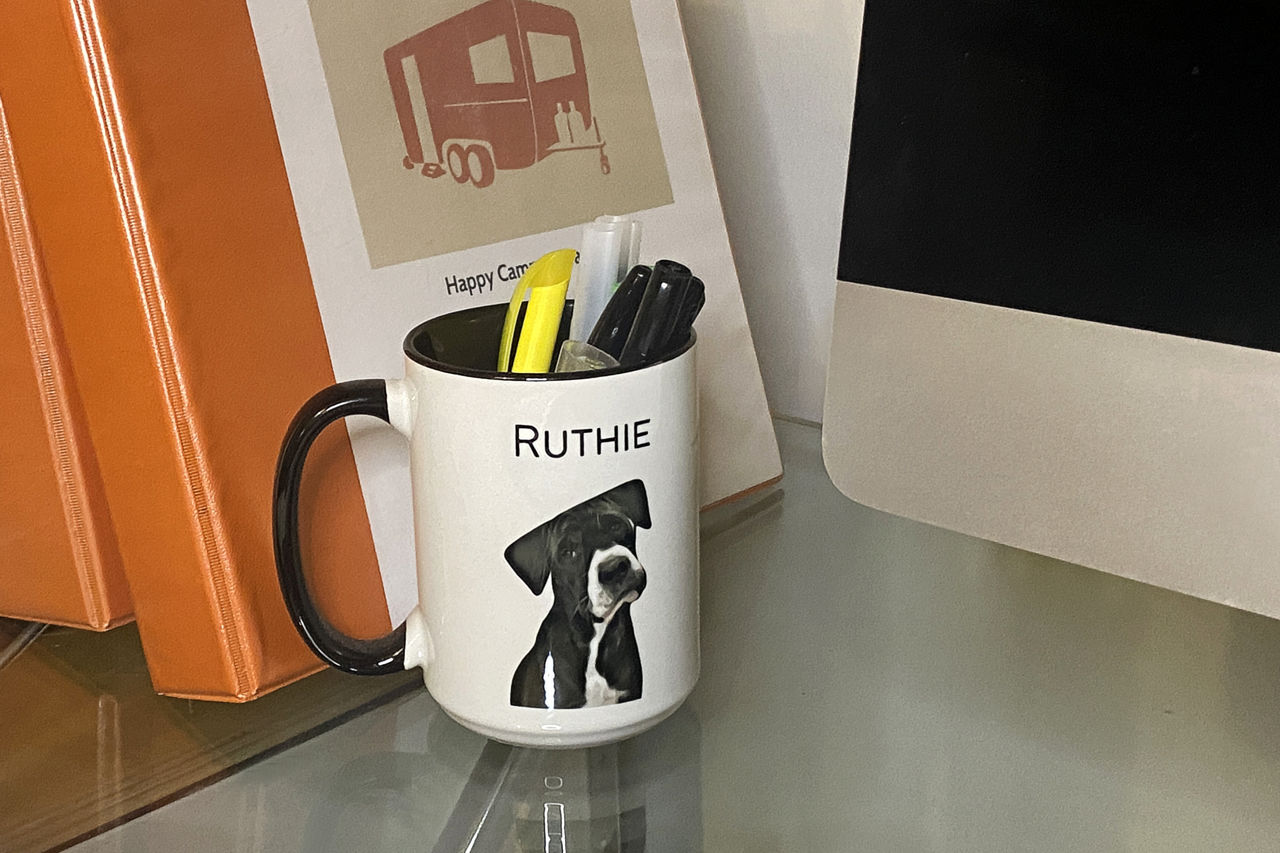 The Mug
Ruthie belongs to my long-time collaborator, John Young, and his family.
Sometimes I pay my editing bills in Ruthiesitting, so we're pals.
I'm not quite sure how she took the photo or paid for it, but she gave me this mug for Christmas.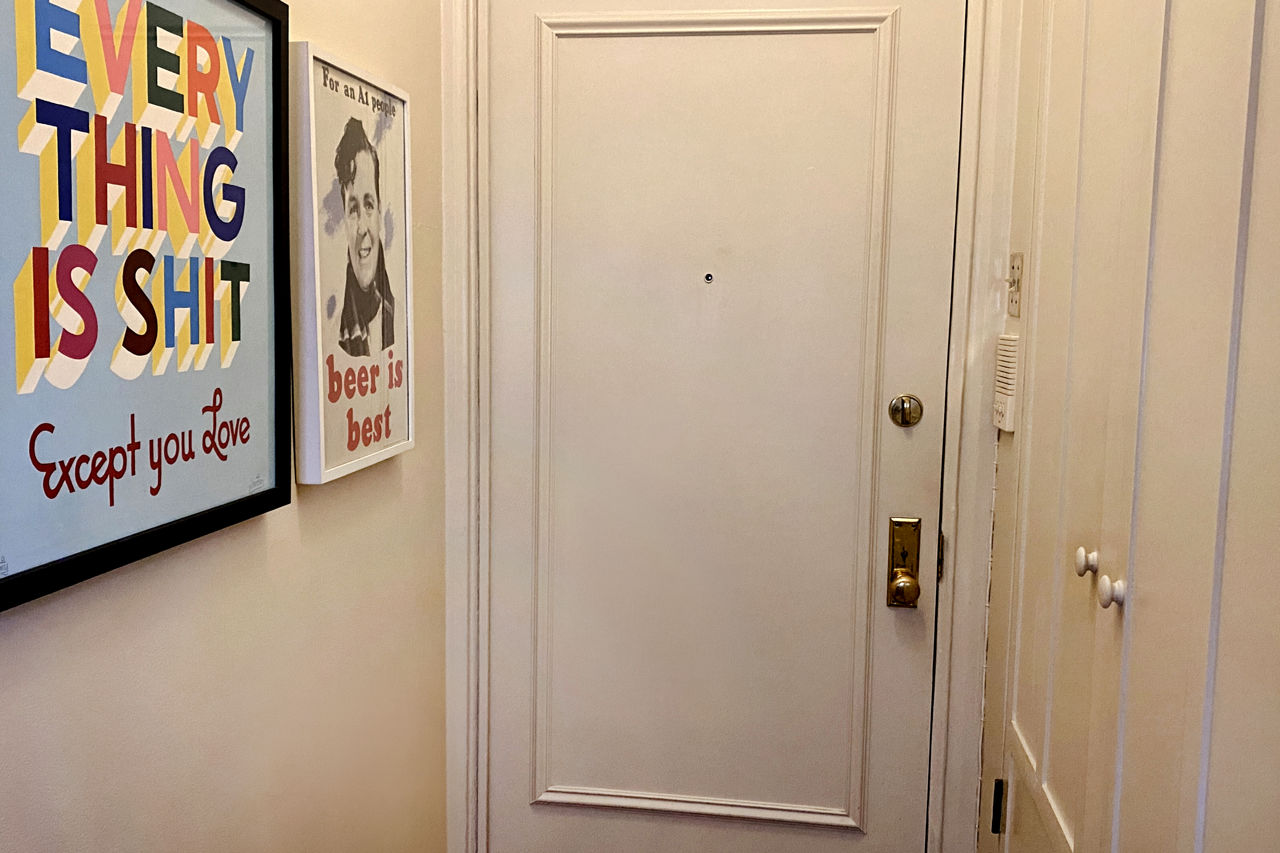 The Door
I love leaving.
Heading out to research a film idea, flying off to a shoot, dragging dive gear to the far reaches of the earth, driving across the country or up the coast of Mozambique, staying in hoofy resorts or sketchy motels or a hut in Rangiroa - it's all good.
I get excited to go to the CVS on the corner.
You never know what you're gonna see.
All of the scenarios in my short, Irony, were based on the ridiculous things I've witnessed (or overheard) just walking around New York.
The world is a ludicrous and highly entertaining place, and I like being out there in it.