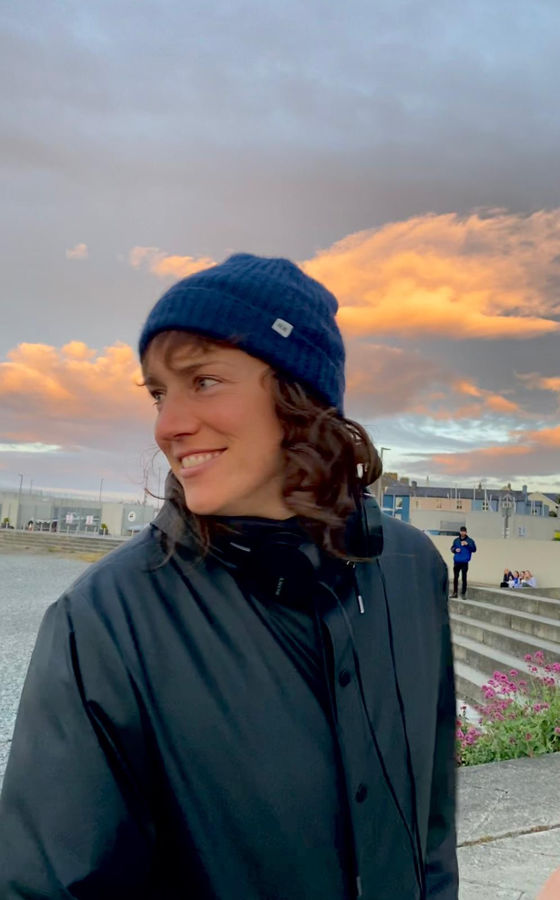 Inspiration
Alicia MacDonald: A Few Of My Favourite Things
JOJX and Missing Link Films director Alicia MacDonald is well-skilled at bringing the chortles in her short-form work, but, as is evidenced in this run-through of the items that top-up her creativity, the laughs are not confined to the screen.
Alicia Macdonald is no stranger to laughs, with comedic shorts, TV shows and commercials under her filmic belt; and she certainly finds the funny in the items selected for this week's Favourite Things.
Starting her production career as a director's assistant to the likes of Mike Leigh, Kevin Macdonald (no relation), James McTeigue and Justin Kurzel, Macdonald's career has seen her create a comedy-drama regarding OCD, tell The Uncomfortable Truth about sex and conjure rage over Domestic Policy.
Her selection of items that keep her creatively inspired includes a cheesy reminder of the miracle of life and a pilfered portrait of smooching skulls.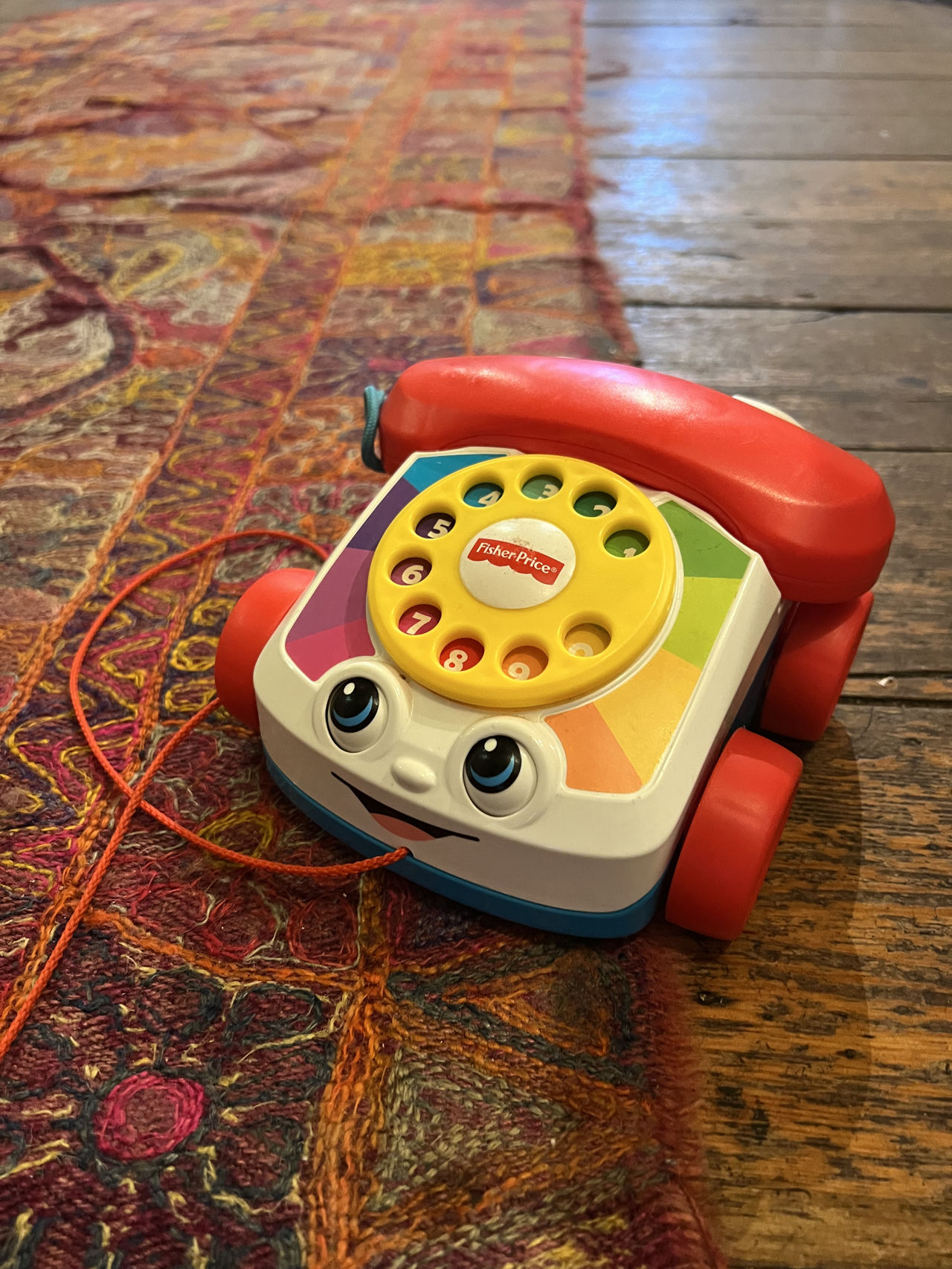 The Business Phone
I know we're not meant to include tech as a 'fave thing,' but this business phone really is essential - it's always helpfully left in my bag by my excellent 3-year-old housemate.
I should flag that this child is not mine - I live in what's essentially a commune with my pals and their two children.
The other kid is a sanguine 7-month-old short fella who is the best person to road-test gags on.
I've talked loftily about moving out and getting my own filmmaker abode full of obscure Hitchcock posters and dusty old super 8's but economic crisis, impending dystopia, yada yada…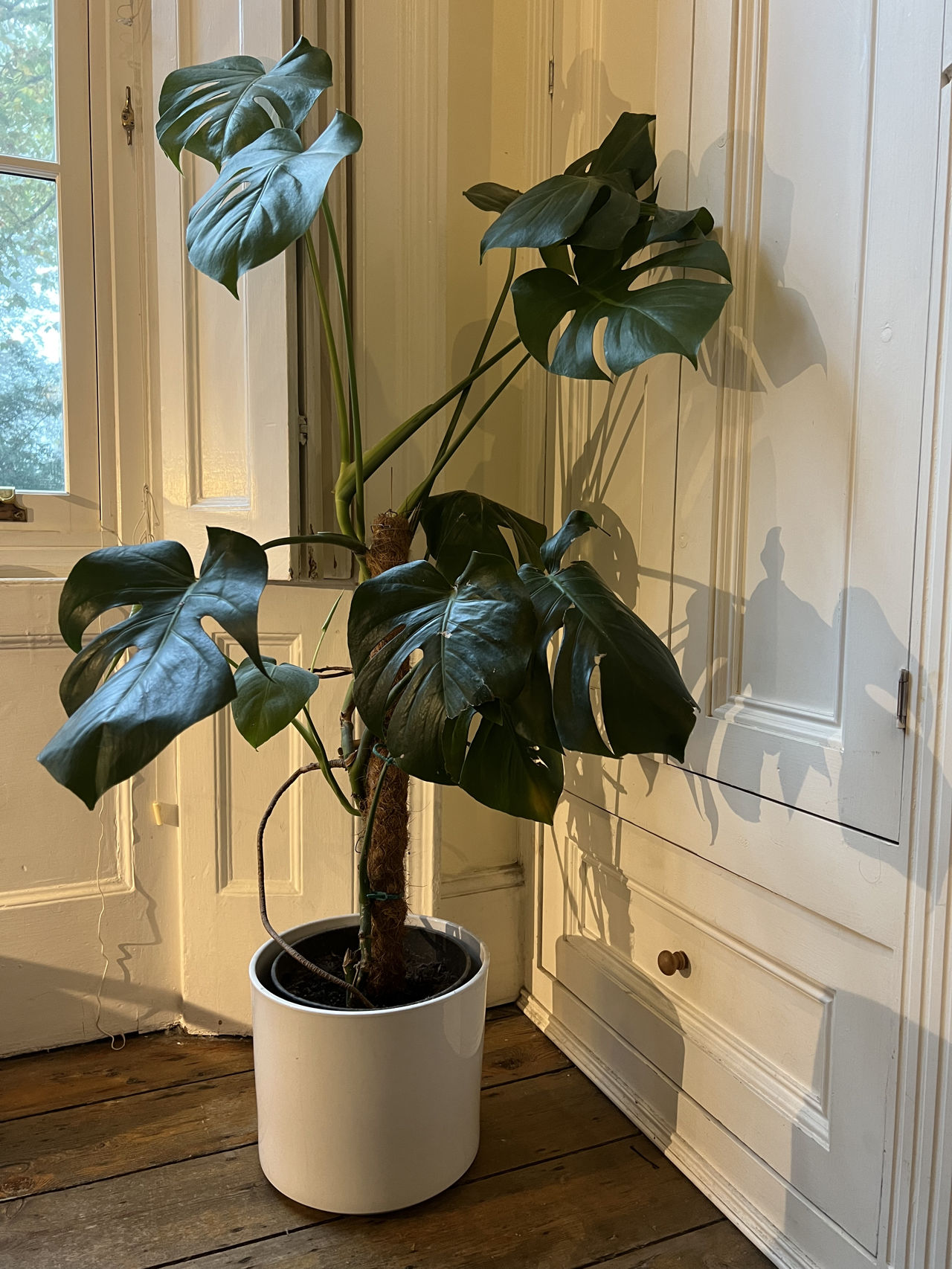 The Cheese Plant
A mate gave me her plant after she gained a cat - apparently, cats are allergic to the point of death to cheese plants, so I generously took on the shrub.
It's a goddamn miracle this thing is still alive.
And not in a fun 'I KILL EVERYTHING, I'M SUCH A KLUTZ' kinda way, but in a genuinely baffled as to the power of nature kinda way.
Like, this thing lives in a crumbly corner of my bedroom with very little sunlight or San Pellegrino, and she's doubled in size since I took her in.
And, like, why is that brown shoot bit growing BACK INTO the pot? Why does it think that's a good plan? What's gonna happen there? Fascinating.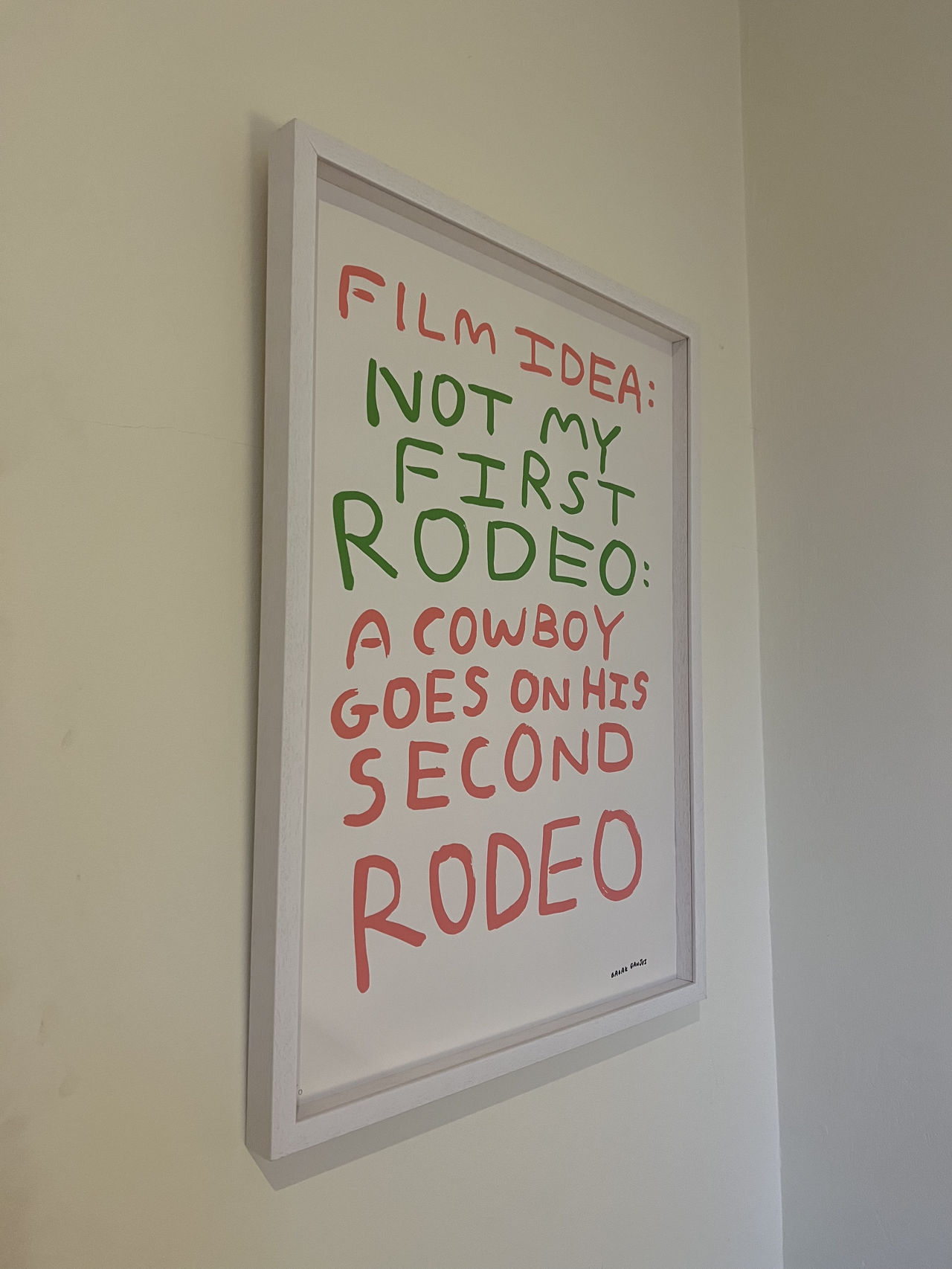 The Film Idea
My peerless pals Helen and Tom gave me this pic as a thank-you for marrying them.
I was the celebrant at their wedding, which was wildly overwhelming and the biggest honour.
We all had such a jolly ol' day - they're still married, and I take full credit for that.
I've always loved the artist (Babak Ganjei), and there is a special place in my heart for puns and dry desert jokes, so I was absolutely thrilled when this pitched up in a bow on my doorstep.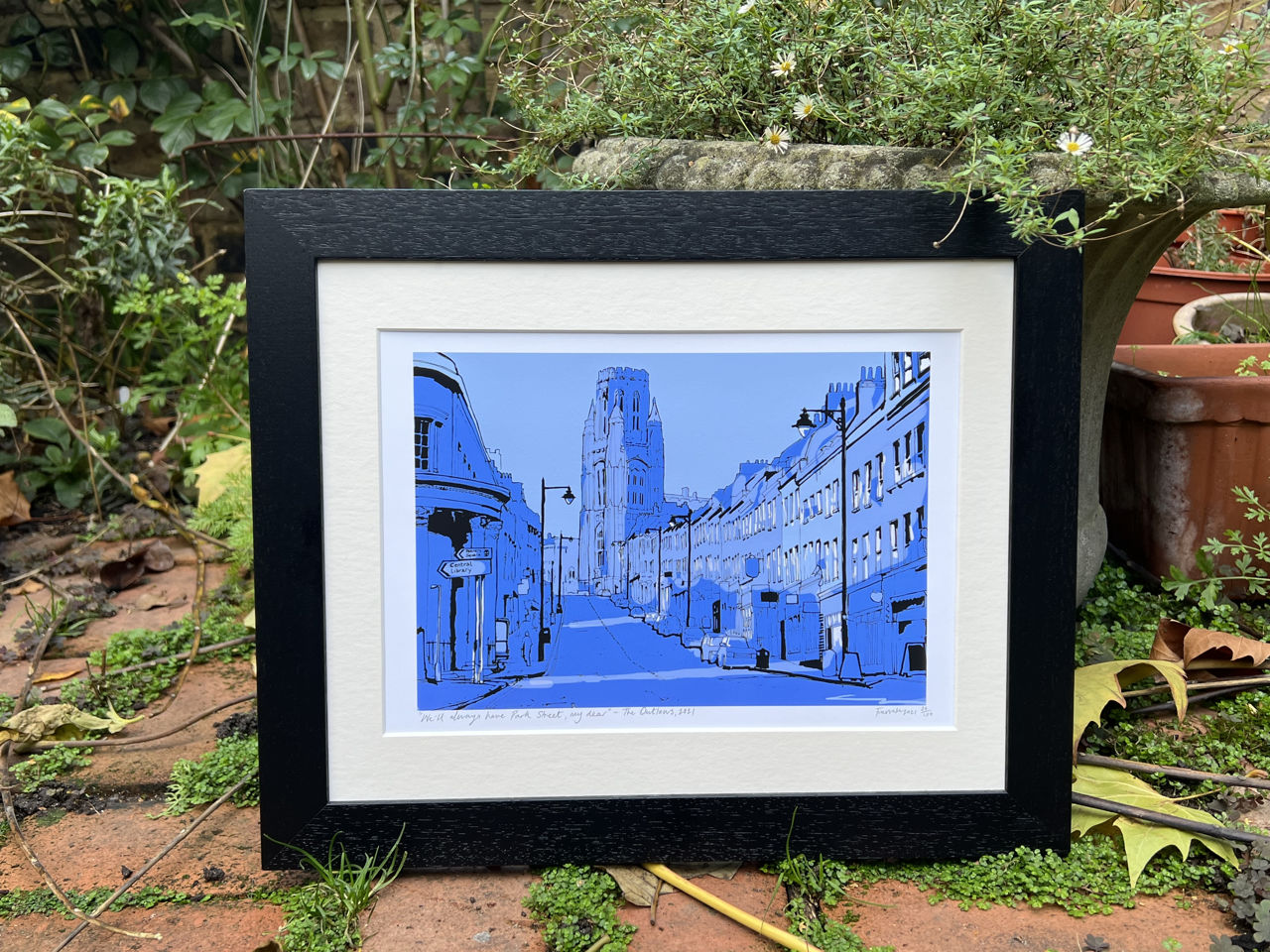 Park Street
'We'll always have Park Street, darling' are the wry words written in the corner of this painting (it normally sits on my bedside table, but I wasn't happy with the light, so stuck it in the damp garden).
It was my wrap-gift from glorious actress Jessica Gunning (if you're a director and ever get the opportunity to work with her, DO IT), who plays Diane in The Outlaws.
Park Street is situated on a hill in Bristol and is a particularly busy road, and was the location of a particularly trying night shoot with Jess and Stephen Merchant. Everything that could've gone wrong did go wrong.
I remember wearily wondering at 2 am - when it was starting to rain, and coffee was barely hitting the sides anymore - how the deuce we were going to get through.
But Jess texted me from the top of the hill (I am sure she could see me at the bottom, all but clawing at my own face) and essentially said, "it's all gonna be okay, and isn't this fun?!" A most excellent woman.
As ever, it was okay and it was fun (this really is the best job in the world), and our brilliant crew made it work.
Still, there are a few who fondly think of that godforsaken night as our very own Apocalypse Now.
The Dogs
My dogs keep me sane.
Jaffa and Doggie are incomparable canine companions who always pitch up under my feet just when I need them - in the middle of the kitchen floor, on the stairs, in my bed.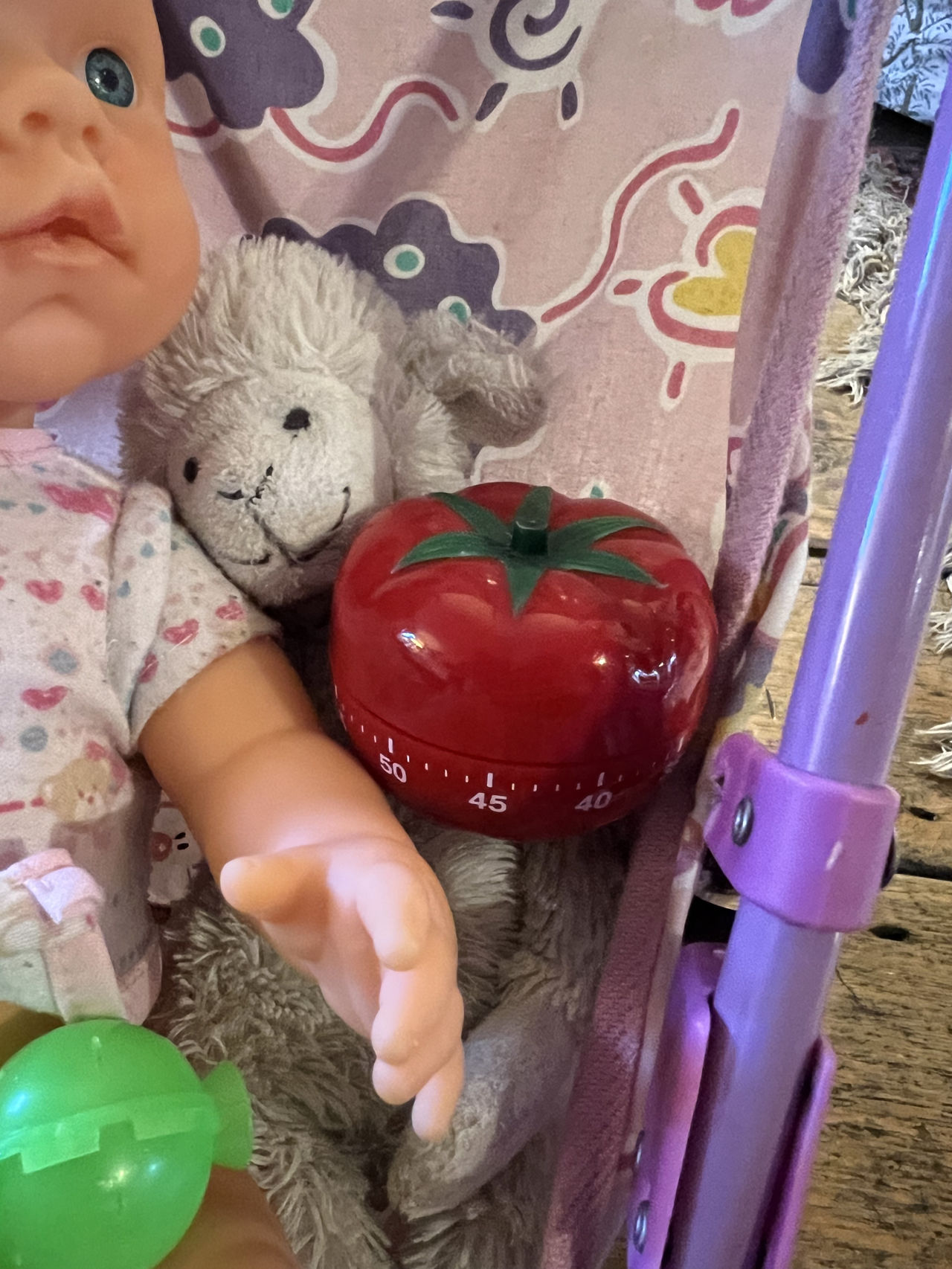 The Tomato Timer
The Pomodoro Technique is a super 80's 'time management method' that claims people work most efficiently in 25-minute bursts.
A friend gave me this tomatoey timer to encourage said efficiency, but I've only used it a couple of times.
Mainly because it's been commandeered by the baby who likes to drool on it and/or inadvertently set the buzzer to go off at random times.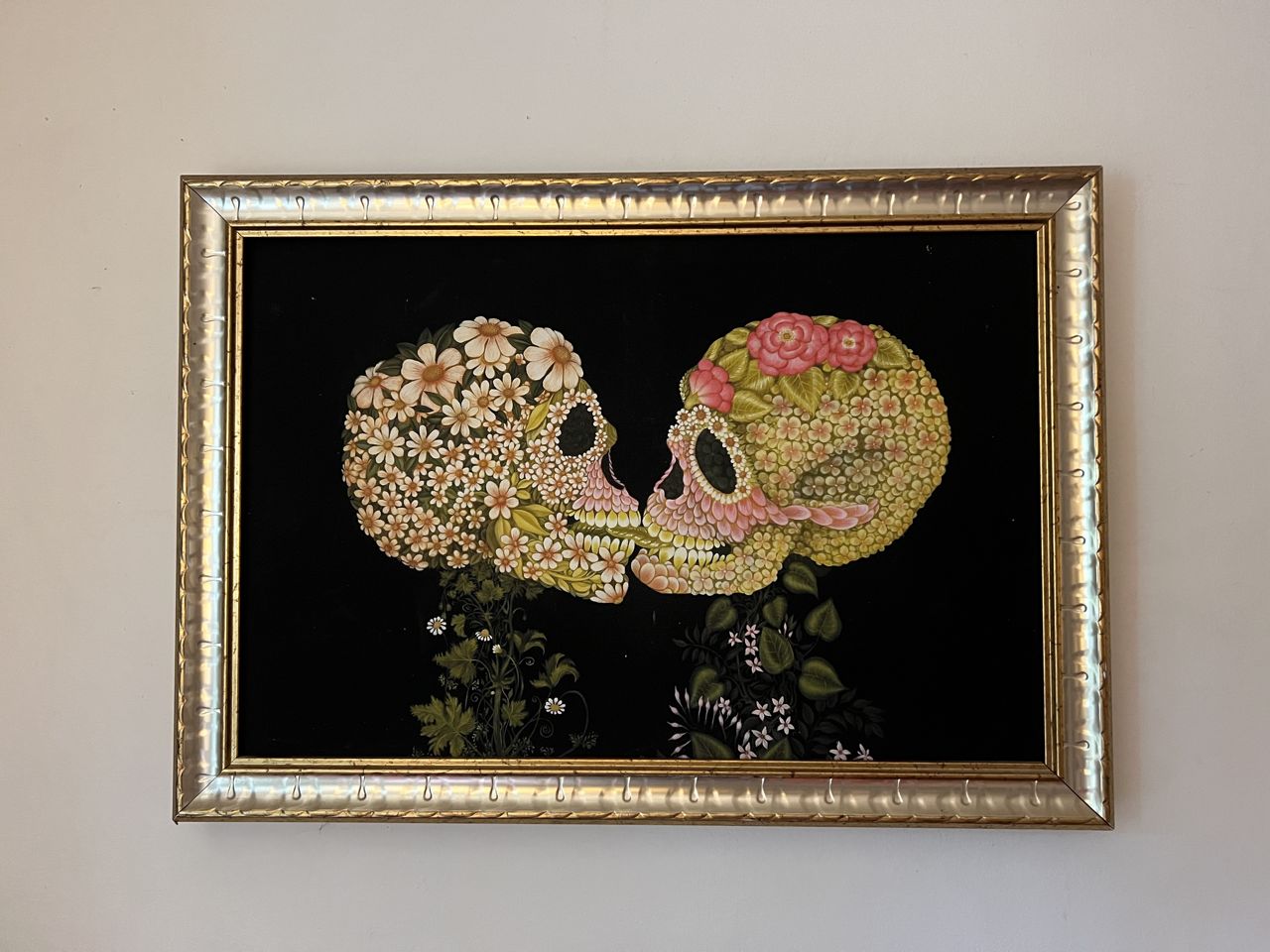 The Skulls
I pilfered this picture from a set in Mexico when I was an assistant back in the business end of 2014.
I think everything on my walls is either gifted or stolen from a set somewhere.
I loved this print (Eternal Lovers by Tino Rodriguez) in its decadent frame and had coveted it for weeks while we were filming.
As luck would have it, at the end of the last shoot day, there was a power cut, and in the murky gloom, I deftly nabbed it off the wall - very Thomas Crowne Affair. (I think the production designer was gonna give it to me anyway, but art theft is so much more fun and sassy)