Unlock full credits and more with a Source + shots membership.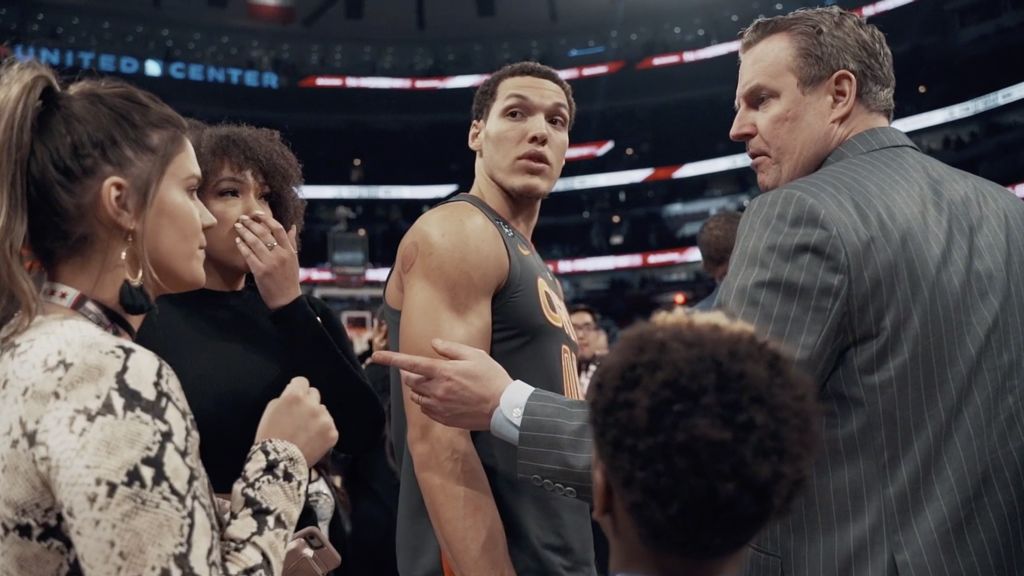 Multi-hyphenate director, editor, filmographer, and producer, Aaron Chapman of Washington Square Films, captures youthful optimism and determination as he follows Aaron Gordon's slam-dunk matchup.

Most of Mr. 50 follows Gordon; his life, his day-to-day, his travels, and his practice sessions. Gordon has an overwhelmingly young perspective as he's faced with a minor disappointment while also enjoying a celebrated sports career. He is, in fairness, twenty-five. His cheeriness is endearing, and we see him fairly isolated, alone in a big house, alone on the court, removed from the camaraderie of his basketball team and support of family or friends. He's a tall man, but he feels smaller in the film, as if Chapman is trying to emphasize who he is, underneath all the tattoos and accolades.
The moment where we see Gordon going for the 2020 dunks are intercut with clips from his practice sessions, showing all the times that he missed, slipped, or didn't get his feet under him. He scores, and the judges award him not one perfect 50, but two in a row. We don't see what the competition does (it's not about them) but we do see Gordon's face the moment it's announced that he's not the winner.
The moral is clear; after every loss, get back up. The shibboleth is driven home later in the film when Chapman sits down with Gordon and asks, point-blank, how it feels to lose. Mr. 50 is unerringly optimistic, pushing the narrative that Gordon was robbed of a win. The camera never strays away from Gordon, not even showing the dunks from other contestants. We believe him, completely, because we have no other option. Maybe that's how Gordon feels as well.