Inspiration
A week in the life of shots
Ever wondered what the editorial team get up to at Cannes, other than racing up & down the Croisette and hosting the best party of the week? Well, wonder no more...
Monday
Selena Schleh, Deputy Editor: Starting the week off right with the annual R/GA press dinner, in a restaurant far, far away from the madding crowds of lanyard-sporting adfolk. Epic views, Instagrammable desserts, free-flowing champagne and great company (oh hey, [Little Black Book Editor-in-Chief] Laura Swinton...)
It's all downhill from here, I fear.
Tuesday
Daniel Huntley, News Editor / Social Media Manager: An engrossing day spent discussing emerging directing talent with the Young Director Award jury. We were confined to the cosy basement setting of the JW Marriott, but I was lucky enough to have a surprise encounter with iconic rapper Nas!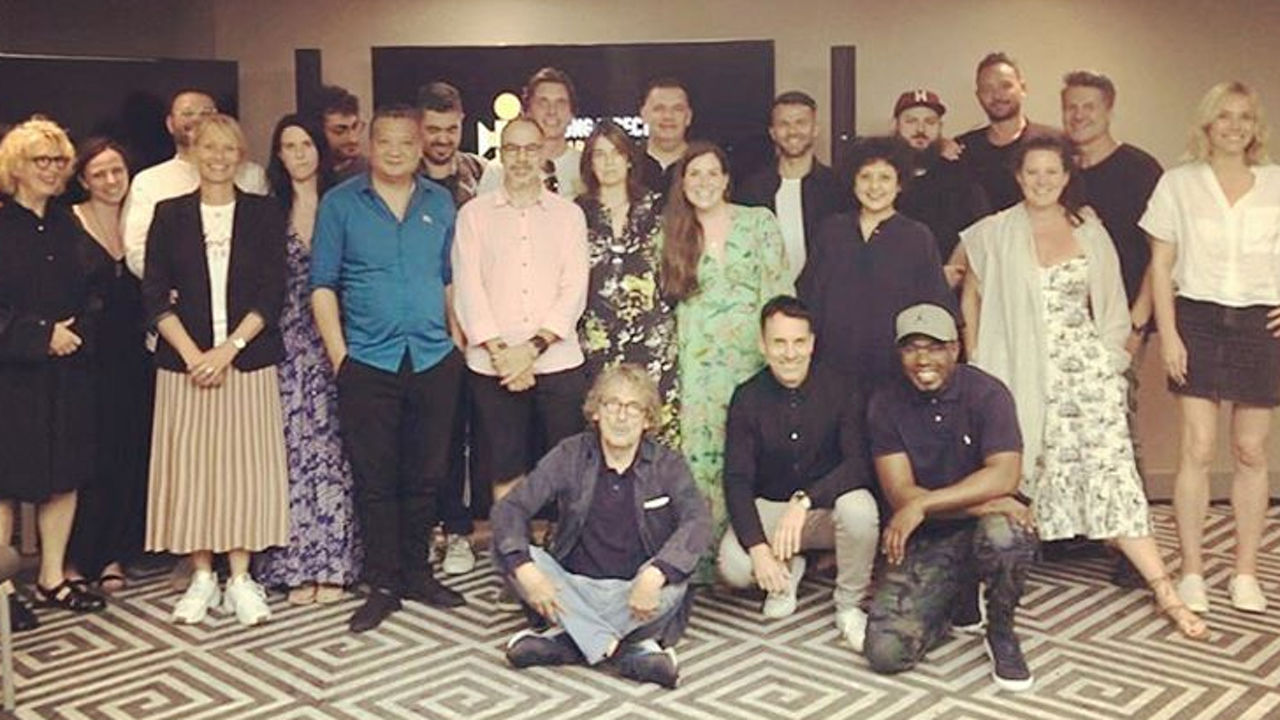 Selena Schleh, Deputy Editor: Another escape from the hordes on the Croisette today, thanks to the lovely folk at Q Department and m ss ng p eces, who brought together a clutch of inspiring women working in tech for their Mad Women lunch at Hotel du Cap. Along with the Whispering Angel and Aperol spritzes, the conversation flowed, but when it did dry up, well, at least there was some decent reading material in the form of our Cannes special issue...
Back at the Palais, it was time for a trundle round the basement gallery showcasing all the shortlisted work, including this contentious but effective recruitment campaign for the British Army.
Wednesday
Daniel Huntley, News Editor / Social Media Manager: Spent some time watching F1 icon David Coulthard and Red Bull team boss Christian Horner chat about how Red Bull has changed the face of F1 through creativity, diversity and innovation, one lucky audience member also found a gold envelope under his seat with an all access paid for trip to a Grand Prix of their choice, great stuff!!
Followed by the Alkemy X yacht party with Jamie aboard the 'DEVOCEAN', where we sampled the wonderful food spread and had a slew of engaging convos with 'techbros' from LA. There was even a minor celeb spotting of Gary Vaynerchuk from Vayner X to finish it all off before heading out to dinner and MMMM party!
Jamie Madge, Co-Editor: I don't know about you, but I'm a real sucker for a Hollywood superstar playing some smooooooth jazz, so was incredibly delighted (and, some might say, unbearably overexcited) to be invited by BETC's Stéphane Xiberras and Ellen Broome to a cheeky little gig by the one-and-only Mr Jeff Goldblum! Yes, he was overwhelmingly charming. Yes, The Jurassic Park theme was played. Yes, that smile in the photo is one of pure joy.
Thursday
Danny Edwards, Co-Editor: After a breakfast of champions that included a chocolate chip muffin, and a trip to that morning's press conference, it was YDA time again for the Young Director Award, which shots has been a sponsor of since its inception 22 years ago. As well as the brilliant work [see all the winners here], there was a very insightful, interesting and important seminar from Thomas Kolster about how brands and filmmakers can make the industry be - and do - better. That was followed by our annual panel talk which this year featured, from right to left, Marie Ronn, Group Creative Director of Spotify, Jared Shulman, CEO of Brand New Story, Mindy Goldberg, Founder of Epoch Films and Alma Har'el, director and founder of Free the Bid and Free the Work... and me.
Then it was the shots Cannes party and, well, as we all know, a picture (or a whole bunch of them) is worth a thousand words, but maybe one word will suffice; EPIC!
Friday
Danny & Selena Schleh, Deputy Editor: The morning after the night before. Straight back into it though, for the Film, Glass, Sustainable Development Goals and Titanium Lion press conference with their respective jury presidents [left to right: Margaret Johnson, Chief Creative Officer at Goodby Silverstein & Partners; Jaime Robinson, Chief Creative Officer of Joan Creative; Philip Thomas, Cannes Lions CEO; David Droga, Founder and Creative Chairman of Droga5 and David Lubars, Chief Creative Officer Worldwide and Chairman North America, BBDO.]
Then it's into the press centre to crack on with writing everything (including what you're reading right now) up.
Selena Schleh, Deputy Editor: Seizing my last chance for South of France sunshine, on a quiet-ish stretch of beach that's well worth the walk from town. I could tell you where it is, but then I'd have to kill you...