News
Hyundai launches Re:Style 2023 collection with Jeremy Scott
Builders Club along with Hyundai and Innocean launch a campaign film for ReStyle by Jeremy Scott, where the fashion designer has up-cycled scrap car materials.
Creative production company, Builders Club and Hyundai release a campaign video for the fourth year of Re:Style, this time in collaboration with fashion designer Jeremy Scott.
Hyundai Re:Style is an evolving platform, featuring fresh ideas each year from design led collaborators. Hyundai continues to be innovative in the important area of sustainability; each year they recycle and rethink car materials and how they can be amplified and re-used for fashion, through these unique creative collaborations.
Innocean brought Builders Club onboard for Re:Style 2023 with the aim to not just focus on sustainability but also innovation and to expand its audience reach through innovative design. Jeremy Scott who is known as 'fashion's last rebel' was the perfect collaborator to emphasise this goal. Scott was to create avant-garde looks by using discarded car materials, from tyres and seat belts to side mirrors and handles. These materials either came from eco-friendly Hyundai cars like the IONIQ 6 or were recycled materials from scrap cars. The goal behind Re:Style is to emphasise that there are no limits to sustainability or innovation and that with these unique brand collaborations fashion is stepping forward.
Unlock full credits and more with a Source + shots membership.
Show full credits
Hide full credits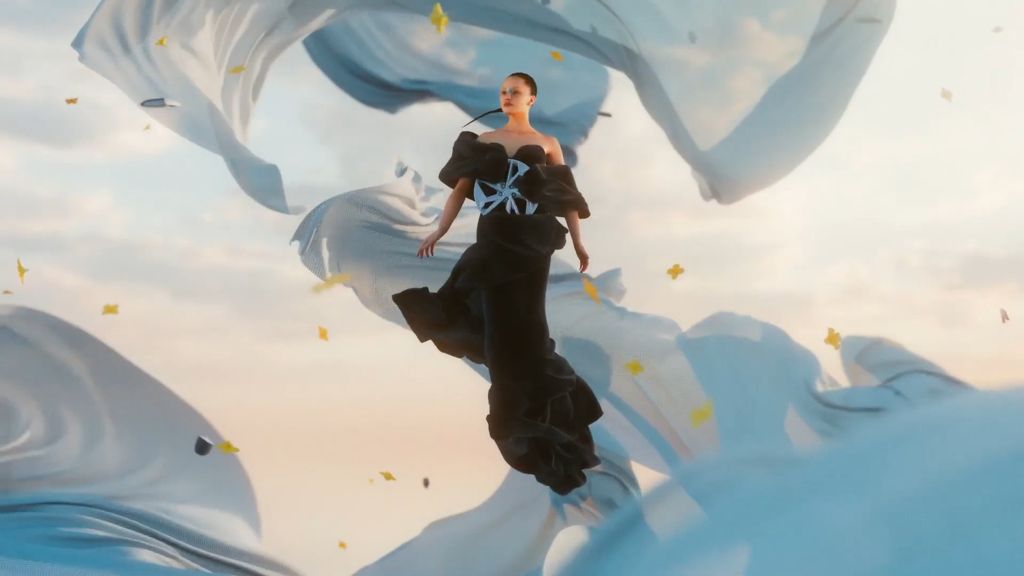 Builders Club was tasked with creating the main campaign film that was to be launched at an event in Seoul to mark the opening of Re:Style by Jeremy Scott. Within the main film the protagonist is a computer generated character existing in a computer generated 'simulation'. What she embodies is ingrained in the world of computer technology and innovation so scanning the model was the perfect creative choice to fully integrate her into the digital environment, ensuring she integrated seamlessly with our recreation of Scotts's garment.
The production team traveled to Los Angeles to do the 3D scan of the model. Then back in the main studio, in London, the Builders Club team worked on transforming car parts and materials into the outfit designed by Jeremy Scott, seamlessly morphing these parts into a garment. The model and car parts are incorporated into a beautiful, graphic, CGI landscape where an abstract visual narrative plays out in zero gravity. The result is a film that is dynamic and original and relays the overall goal of Re:Style - innovative sustainability.
The narrative revolves around deconstruction and reconstruction. As you travel from twilight to daybreak, you see both mechanical and organic objects breaking down, organic elements such as rapeseed flower and sugarcane are the raw materials for some of Hyundai's new sustainable fabrics. The mechanical elements show the palette from which Jeremy has been creating his garments. This galaxy of potential then begins to interact, dancing around our protagonist and fusing in unexpected ways to dress her in one of Jeremy's designs.
This dance is the sheer joy of creation, which takes place floating weightlessly in a dreamlike landscape. Builders Club aimed to create a sense of elegance while the film takes you on a journey teasing back and forth between micro and macro, starting with the building blocks of sustainable materials, and watching them magically shift, build and transform into elegant abstract forms, dancing around the floating model.
The project debuts at a Hyundai event in Seoul then is distributed globally online across website, social and online advertisements.
Rory Cahill, Creative Director at Builders Club: Hyundai gave us the freedom to interpret the themes of sustainability and innovation in abstract and artful ways. It was invigorating to be trusted with a project where the sole purpose is the exploration of these two themes and a demonstration of creativity rather than a push to sell a particular product, and in turn we wanted to respond in a way that was both intriguing and uplifting.