Craft
How to (literally) break the internet
Director Sonejuhi Sinha had to imagine what the digital world would be like if 25% of the code was taken out of the internet. The result is a bizarre and hypnotic film that explores how women are an essential part of the STEM ecosystem.
A bicoastal Indian-American filmmaker, Sonejuhi Sinha cut her teeth as a commercial film editor before turning to directing with division7.
With an eye for the modern and a flair for the dramatic, Sinha's work with girlswhocode is a perfect mix of her editorial background and expressive talent.

What was the brief like? So much of the spot seems like it would be difficult to translate.
The brief was to allow the viewers to imagine a world without women. The work of female coders is essential and irreplaceable and without their work the internet would literally breakdown. Mojo Supermarket had done a lot of research and pulled a lot of references for us. And Girls Who Code were really vocal and clear about what they wanted.
It was a great jumping off point but the challenge was to wrangle it all into a narrative with emotional beats and creating a character at the center of it. We also wanted to make sure that tonally it felt cohesive with the voice and the brand of girlswhocode. Aesthetically, we wanted the piece to stand out and be a bit unexpected and surprising so we discussed taking a whimsical approach to balance the seriousness of what we were seeing on screen.
I have always believed that our inspirations find a way to work themselves into the work, whether subconsciously or subtly.

At the end of the day, we wanted to create a story that felt immersive and emotional but completely fresh. Working with Mojo and shy kids was a step by step process to build towards that.
Unlock full credits and more with a Source + shots membership.
Show full credits
Hide full credits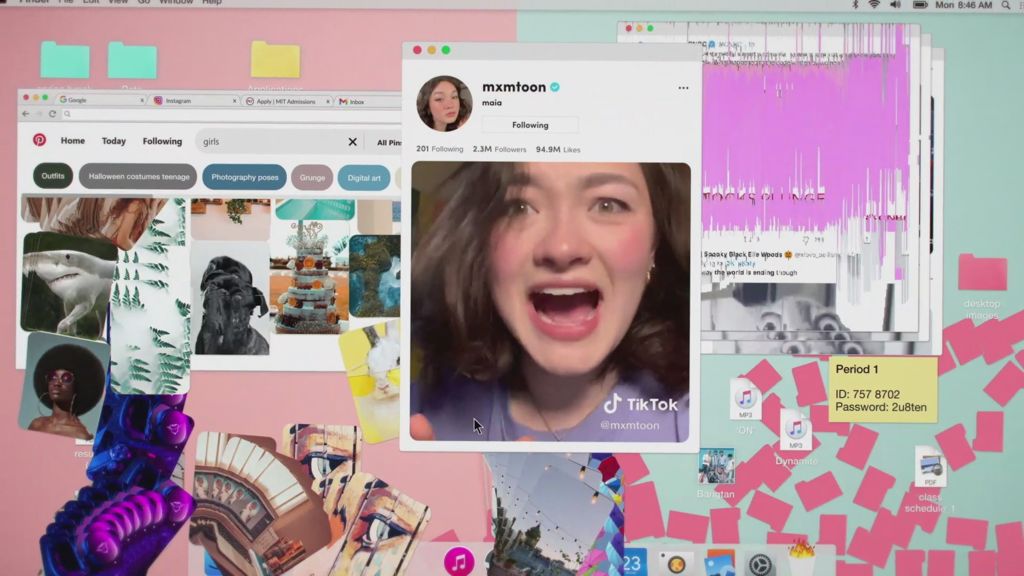 Was there something amazing left on the edit floor?
There was a scene where she clicks on her personal Bank of America account and the numbers begin fluctuating and going bonkers. Her personal savings goes from -$28,000 to millions of dollars. It was a personal favorite, but we ultimately lost it for time.
How did you decide which home pages to melt?
We wanted to be in the perspective of a young female coder, someone between the age of 16 and 19, so each choice was made from that perspective. Teen Vogue, Adidas, and Sephora are the internet's primetime for a lot of young people.
Above: In-screen film work from shy kids.
How did you and shy kids find this animation style?
We worked on a detailed physical script and shared several photos, mood boards, and references between us to nail down the tone, the look, and feel but after that—the entire process happened in post. Shy kids really got it from day one and their first pass was great. From there it was tweaking the pace, making some edits, and adding sound design and music.
Did any digital artists inspire this piece?
I love the work of Stephen McMennamy and Afua Richardson, who is this dope female comic book / graphic designer based out of San Francisco. While we don't reference them or their work specifically, I have always believed that our inspirations find a way to work themselves into the work, whether subconsciously or subtly.
Favorite lady sci-fi writer?
I love Octavia Butler and Margaret Atwood!