Funky Buddha Premium Hard Seltzer is hosting their first annual Manatee Derby. Yes, a Manatee Derby. One that helps to raise donations and awareness for our manatee friends.
It will be a YouTube Premier event hosted on www.manateederby.com with everything you'd expect from a Manatee Derby, like an announcer, jockeys (not real ones, never ever ride or touch manatees, ever!) and a half time show, as I mentioned, featuring Joey Fatone and Chris Kirkpatrick, nearly 50% of one of the best bands ever, in a Cameo video.
The Manatee Derby is a partnership between Save the Manatee Club and Funky Buddha Premium Hard Seltzer. As part of the event and partnership, Funky Buddha will donate $30,000 to support research and rescue efforts. From June 4 through June 30, they'll also be matching donations up to $20,000.
As for how manatees and Funky Buddha Premium Hard Seltzer are connected? Well, supporting local charities, especially those focused on clean water, has always been at the heart of Funky Buddha's funky soul. Plus, Funky Buddha and manatees both depend on clean water, and they both call Florida home. And since 2021 has been one of the deadliest years on record for manatees, caused much in part by polluted water that's killing the seagrasses they eat to survive, Funky Buddha knew they needed to take a stand and help make a difference for these beloved herbivores.
Unlock full credits and more with a Source + shots membership.
Show full credits
Hide full credits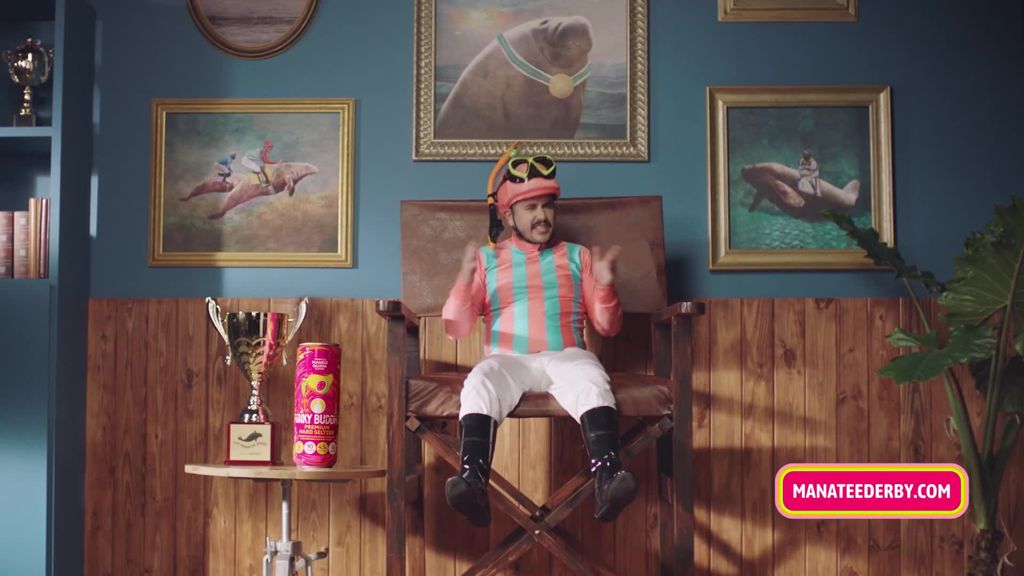 The event also celebrates Funky Buddha Premium Hard Seltzer's recent expansion into 8 new markets outside of Florida, including Alabama, Georgia, Maryland, North Carolina, South Carolina, Tennessee, Virginia, and Washington, D.C.
John Linn, Marketing Director, Funky Buddha & Constellation Brands said: "Funky Buddha is excited to announce this unique event in partnership with Save the Manatee Club. Our hope is to bring awareness to the biggest issues facing our waters here in Florida, along with the impact of that pollution on our local manatees. And by bringing awareness, we're hoping to encourage people to take action – plus, we think the Manatee Derby will be pretty funky and pretty entertaining, too."
Cora Fernandez, Creative Director, the community adds: "Funky Buddha doesn't do anything the ordinary way. So, we couldn't take the ordinary approach to helping manatees. We needed a funky, unexpected idea that not only kept people entertained, but that portrayed these lovable sea cows as strong, heroic animals that you want to root for – and help save. As a creative team, it's always special when we can create a campaign that makes you laugh while also helping a good cause. I mean, we got to make a manatee race. What else can we ask for?"
Patrick Rose, Aquatic Biologist and Executive Director, Save the Manatee Club also adds: "The threats that imperiled manatees face in their aquatic habitat are greater than ever before, as harmful algal blooms, caused by decades of pollution, are killing seagrasses, with tragic consequences for manatees. Save the Manatee Club is working with state and federal agencies as well as dedicated conservation partners to study the issue, restore water quality and seagrasses, advocate for stronger protections, and rescue and rehabilitate sick manatees. We are grateful that the support from Funky Buddha allows us to continue working on our mission to protect manatees and their habitat."