Talent
Creature feature: the fantastical world of John Nolan
From a bench-pressing rodent to filling Jurassic World with dinos, John Nolan has been flying the physical effects flag for over a decade. David Knight talks to the animatronic master about the importance of capturing magic in-camera.
When it comes to creating fantasy and wonder on screen, John Nolan takes the old-school approach.
If you happen to need dinosaurs cavorting in their natural habitat, or even causing mayhem in a shopping mall or drive-in cinema, Nolan is your man. But he does not create these beasts on a computer – he really makes them, and then he makes them move.
Nolan is a master of creature effects, animatronics and practical effects – one of the greatest ever produced in his field in the UK. He cut his teeth on the Harry Potter franchise two decades ago, then went independent, started directing himself, and has been building creatures – animals, monsters, aliens, even people – ever since. His credits span from TV ads to famous TV credit sequences, to music videos – and movies.
We built 48 dinosaurs over two years.
So when the producers of the Jurassic Park franchise wanted real, moving dinosaurs in the latest movie Jurassic World Dominion, they came to Nolan. It led to one of his biggest-ever projects. "We built 48 dinosaurs over two years," Nolan explains. "Fourteen different species – including 10 Compys [the small Compsognathus dinosaurs in the film] and the head and neck of a Giganotosaurus."
Behind-the-scenes footage of his Giganotosaurus in action on a sound stage, the head angrily tossing from side-to-side – powered by servo motors and circuitry within the structure to make it animatronic – confirms it is indeed gigantic, dwarfing members of the crew standing nearby. It really, indisputably exists. Meanwhile, the smaller Compsognathus were animated on set by puppeteers.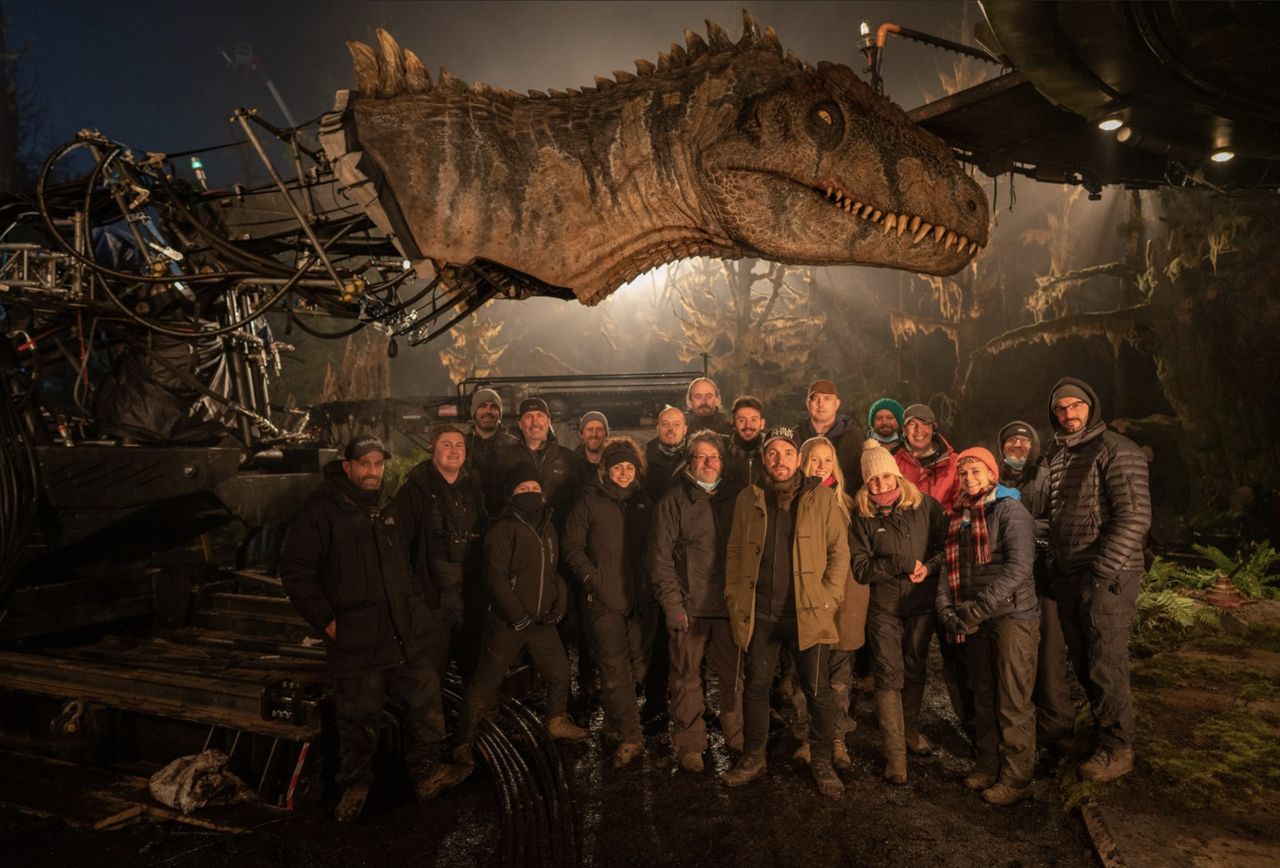 Above: Nolan on the Jurassic World Dominion set.
Of course, it could all have been achieved digitally, and unsurprisingly there is still considerable digital effects work in Jurassic World Dominion. But Nolan explains that having actual dinosaurs to shoot in-camera made a big difference to the director, Colin Trevorrow, the crew and actors. "By creating something that you're physically putting on set, you're allowing a bigger creative team to deliver that character or that shot."
He recalls that he brought his first 'real' dinosaur on set after six weeks of shooting. "There was applause," he says "Suddenly everyone really felt like they're working on a proper Jurassic movie, because now there was no green screen, no tennis ball. We had a dinosaur and twelve people under the floor pulling levers to make it move. And it worked and it looked beautiful."
We had a dinosaur and twelve people under the floor pulling levers to make it move.
It is a great testament to his skills that even with the incredible capabilities of digital effects, Nolan's ability to build these creatures for real – beautiful, scary and otherwise – is more in demand than ever. A visit to his studio in Stoke Newington, North-East London is to be treated to a grand tour of his achievements, and to appreciate the range of skills and techniques involved in the fascinating art and craft of creature effects.
The studio's reception area doubles as a gallery featuring an array of amazing creations. These represent two decades of work right up to the present day: the full-size grizzly bear from a series of Virgin ads; the rabbit head from McDonalds, the gecko and chameleon from the sponsor idents for Love Island; the goofy aliens for his recent German ad for DBK Bank; more aliens for the UK Freeview ad The Good Biscuits; ghouls from cult British horror movie The Hallow; the fortune-telling slot machine he built for his Ian Brown music video From Chaos To Harmony; ape-type creatures from upcoming feature The Legend of Ochi; and much more.
Unlock full credits and more with a Source + shots membership.
Show full credits
Hide full credits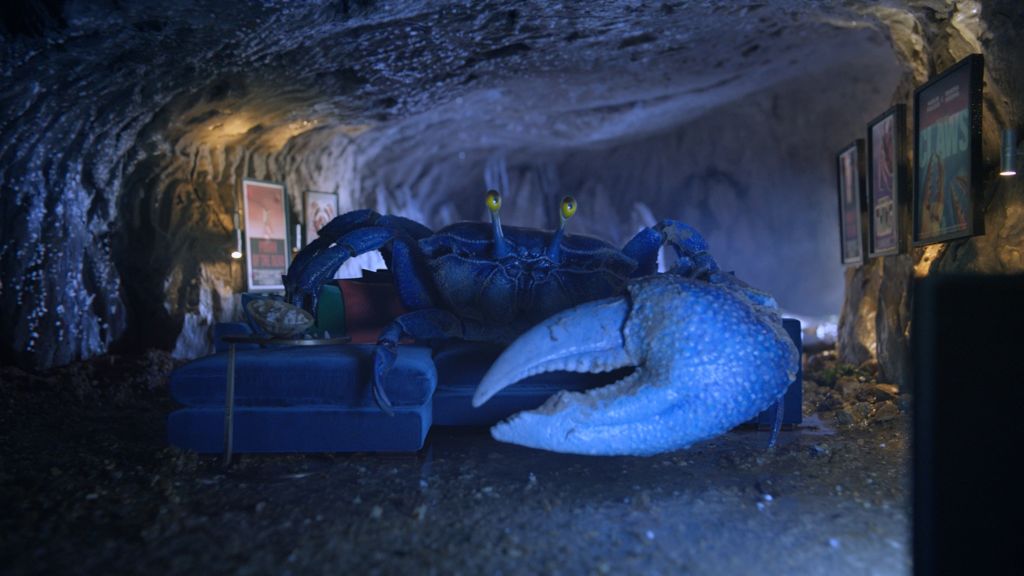 Above: Freddie Powell's Animal Thingdom for DFS, some of Nolan's most recent work.
Many of these creations contain the moving parts required to make them animatronic, so they could be captured moving realistically in-camera. And the first floor of the studio contains a busy workshop of benches and precision tools where most of these mechanisms are engineered and built. Adjacent to Nolan's office is more evidence of the extraordinary craft that goes into the making of these creatures – prototype 3D-printed models, swatches of fur and feathers, used to make the creatures as realistic as possible.
The latest addition to the reception area gallery are a crab and a frog, made by Nolan and his team for the new DFS commercial Animal Thingdom – a recent shots Ad of the Week, directed by Freddie Powell – in which accurately-formed animals add DFS sofas to their more naturalistic domestic arrangements.
Every time you switch the TV on, there's a talking bear on there.
Nolan says that this is consistent with the type of challenge he is usually set by advertising creatives these days. Whether its Virgin's grizzly bear, or bush babies in the Owen Trevor Black-directed campaign for McVities, or beatboxing geckos in Just Eat's sponsor ident for Love Island, having realistic-looking animals doing cute stuff has become a surefire way to generating feelgood warmth for a brand.
"That's my niche at the moment," he confirms. "Everyone's into it. Every time you switch the TV on, there's a talking bear on there. Personally, I love a good thriller, but when it comes to talking animals… well, I was brought up on Fraggle Rock and Babe. I love it."
There is also the work for TV itself, such as BBC series Spy In The Wild, where he created realistic facsimiles of animals containing tiny cameras, that were added to real animal groups to observe their behaviour. He worked on the Netflix series The Dark Crystal, a 'prequel' of the 80s movie made by one of his all-time heroes, Jim Henson.
In each of these cases Nolan has been engaged to make creatures on projects for other directors. Meanwhile, his own directing career has also gained new momentum. Since joining the roster at German production company Bonaparte there have been ads for DBK Bank, featuring loveable Earth-bothering aliens, and recently for McDonalds, featuring a convertible-driving rabbit.
"I just think it's a good time for animatronics, it really is," he reflects. "It's had a huge resurgence in recent years, with things like Stranger Things. And now with commercials and TV shows like Love Island. It's big at the moment."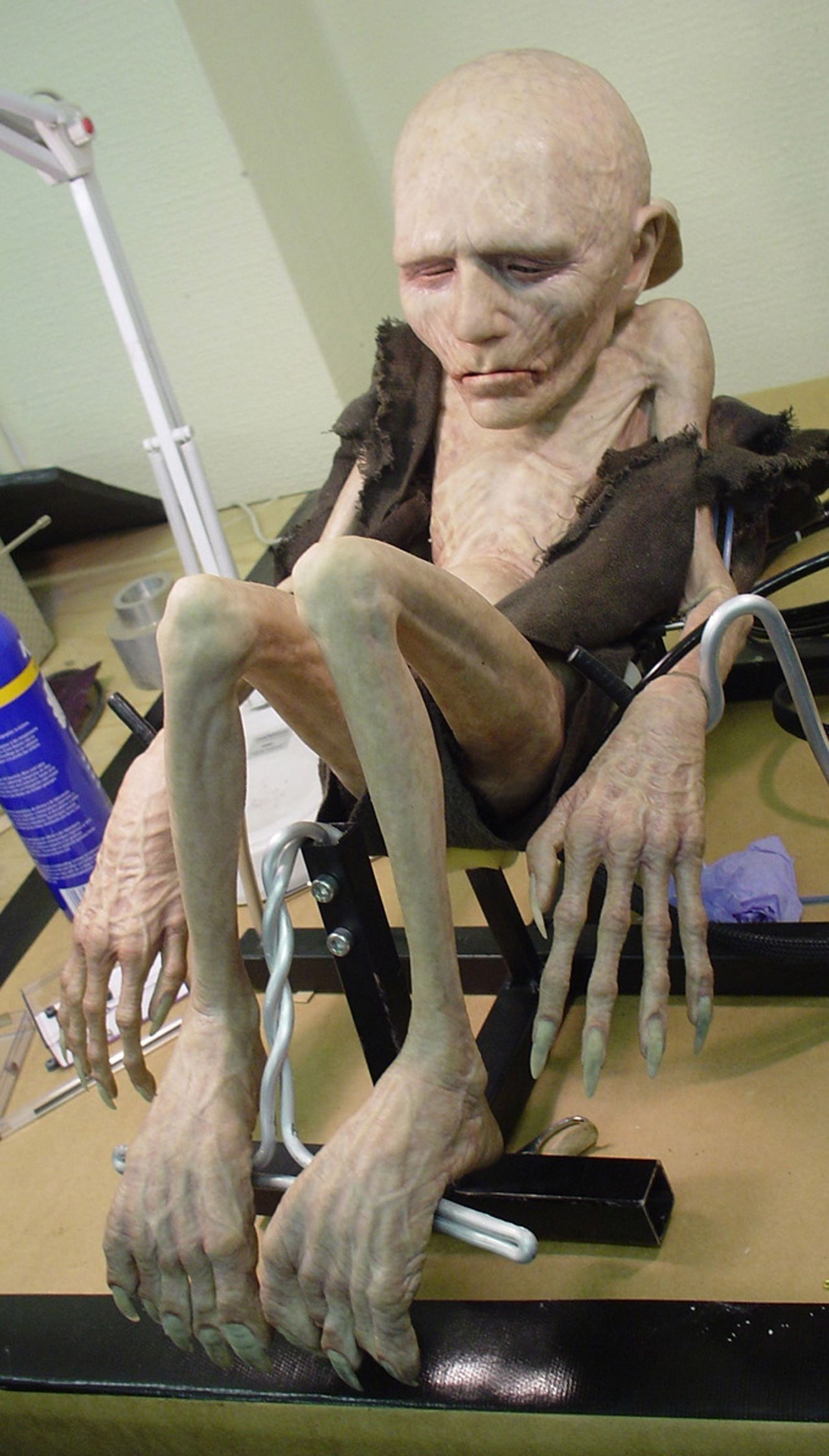 Above: A horrifying Voldermort from Nolan's time on the Harry Potter franchise.
This is the latest stage in a journey which started when Nolan was a boy growing up in Bromley, south-east London. He was messing around with animatronics while he was still a schoolboy, at that time cannibalising the components from radio-controlled model aeroplanes, and learning about control systems, for his early attempts at replicating the movement of people and animals.
"I'd already started building things - mechanical fingers, animatronic eyes, and all sorts – just at home," he recalls. "Then I started sticking my mum's pots and pans together by mixing up glues that I would find."
His motivation for undertaking these experiments were those pre-digital blockbusters of the 1980s and early 90s that featured innovative practical effects – including Terminator, RoboCop and Total Recall, and the work of the Jim Henson Creature Shop on Labyrinth and aforementioned The Dark Crystal. As well as Henson, Nolan's other hero was Stan Winston, the VFX supervisor on the Terminator series, the original Jurassic Park, Aliens, and many other movies.
He was in no doubt what he wanted to do. "Since I was young I've wanted to direct," he says, and although he took Photography at A Level he was driven to take a more unconventional route to his goal, via practical effects. He already had a self-taught grounding in the mechanical and electronic side of animatronics, so he took a degree at the London College of Fashion in prosthetics, hair and makeup.
"I didn't know how to make skin, and learning about prosthetics allowed me to understand that," he explains, "My thinking was that if I had that degree I could use that to get onto a feature film, work within a [creature/practical effects] department, be exposed to filmmaking and pick up ideas. And then get into directing through the back door."
Which is pretty much what happened. Nolan went almost directly from LCF to working in the creature effects department on the third and fourth Harry Potter movies in the early Noughties. Even on this huge movie franchise, responsibility was thrust upon him immediately. The department was headed by Nick Dudman – the man responsible for Jack Nicholson's Joker makeup in Tim Burton's Batman - who posted a list of every character in 'Potter 3' that needed animatronics.
My first proper job was building an animatronic head on Harry Potter.
"Nick said, 'Just put your name by it if you want to build it'," Nolan recalls. "In my first week as a trainee I put my name down next to 'shrunken heads', and he said 'go for it.' So my first proper job was building an animatronic head on Harry Potter."
After that he spent four years "on the bench" on Harry Potter making animatronics, including working on the Hippogriff, and he built the Voldemort baby head, sculpted by Oscar-winning creature effects artist Mark Coulier. "It was really an amazing team that Nick put together - and I just had a lot of opportunity because I was cheeky, basically."
He ended up working solidly in the film industry for eight years, also working on Hellboy for Guillermo del Toro and Where the World Things Are for Spike Jonze, and Ridley Scott's Robin Hood. It was while he was working on Clash Of The Titans that he had a breakthrough idea. "As I said, I wanted to get into directing, and I had this idea of making a bench-pressing mouse."
Unlock full credits and more with a Source + shots membership.
Show full credits
Hide full credits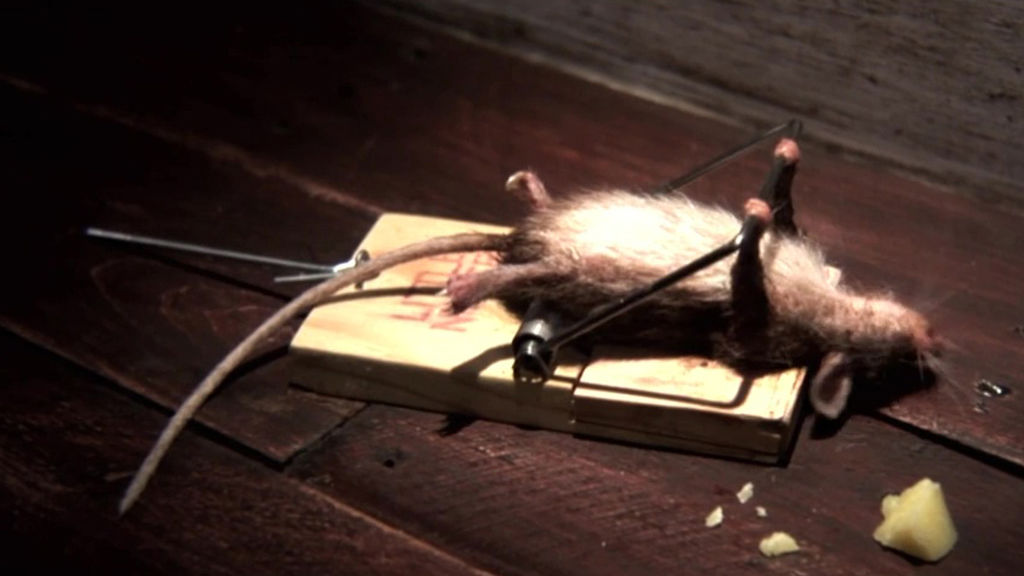 Above: Nolan's Cheddar, his breakthrough short.
His idea became Nolan's Cheddar, released in 2010, in which a mouse is lured onto a mousetrap by a piece of cheese, with inevitable results – but then the apparently doomed rodent fights back, 'bench-pressing' the bar of the mousetrap to the backing of Eye Of The Tiger. Clearly shot in 'live action' – with a real mouse to start with – this was a hilarious showcase of his talent in animatronics, and a brilliant calling card.
As it went viral it had the intended effect, enabling him to make that step to set up on his own, establishing John Nolan Studio. He was soon conducting his first PPM on a commercial for a German agency, as designer of two animatronic rabbits, which he conducted in his own tiny flat. "The studio space that I told them I had, didn't actually exist at that point," he admits. He then signed to Streetlight Films in London, established a proper studio, and the commercial work started coming in. He was now a recognised director – but something was still missing for him.
"For me, everything is led by music," he says. "I play the guitar and tickle the drums now and again. If I build an animatronic, I want to programme it to music." So he reached out to DJ/producer James Lavelle – who releases music as UNKLE. That led to that first music project: creating a real robot of the 'Pointman' figure created by street artist Futura that featured on UNKLE's early album artwork. Other projects with UNKLE followed, and most of Nolan's music-related projects down the years have been for some of his favourite artists, including former Stone Roses frontman Ian Brown.
In 2019, Nolan's remarkable video for Brown's From Chaos To Harmony was released, set in a fairground where a strange old slot machine lurks in the shadows, luring in a young teenager – played by leading young movie actor Noah Jupe. When coins are inserted, it activates an eerily accurate, giant robot head of Ian Brown in a fortune-telling 'Zoltar Box'.
"They say, don't meet your heroes, but I love The Stone Roses so much - and Ian is just an absolute hero," he says of this labour of love project. "He came round to the studio, we scanned his head and started working in 3D. I pulled some mates into work on it, made some favours happen, and it really worked out." Now he and Ian Brown are good friends – and his latest side-project is an ambitious new video for the singer that will be completed sometime next year.
Unlock full credits and more with a Source + shots membership.
Show full credits
Hide full credits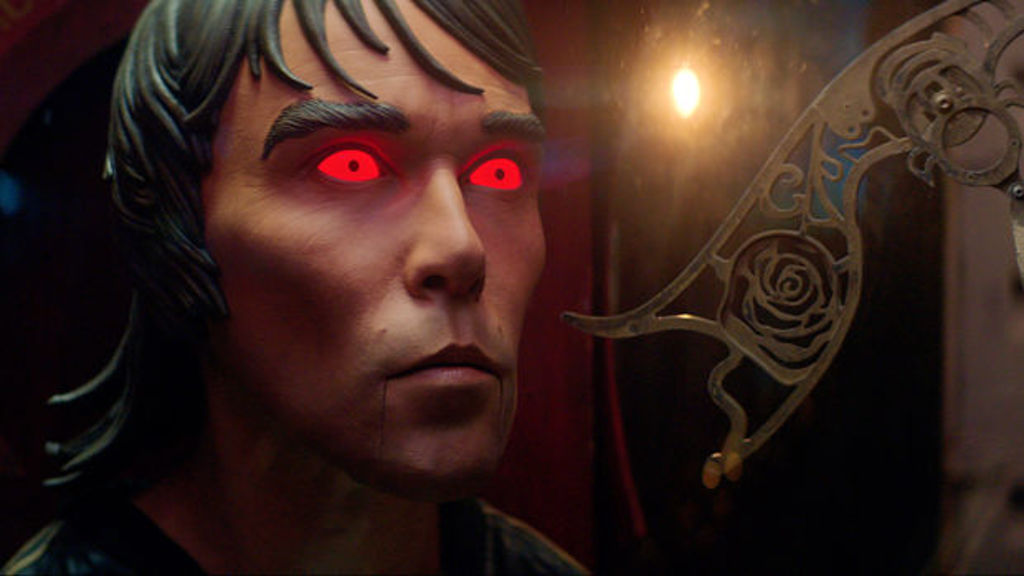 Above: Nolan's mechanical Ian Brown.
Meanwhile, commercial directing in his own right started to take off again when he signed with Berlin-based Bonaparte. In 2017, he directed the DKB ad Best Benefits On Earth, featuring two cartoonish aliens with huge heads. The heads contained animatronic works, worn by actors. Nolan then repeated that method in his recent Easter Countdown ad for Mcdonald's, featuring a supercool rabbit, arriving at a drive-through in his American convertible.
The animatronic rabbit head is worn by an actor – in this case, Hassan Taj, who played R2D2 in recent Star Wars films, and is arguably the smallest man in the UK. "I knew that to have a cute character that was interacting with humans, it needed to be as small as possible," he says. "A five-foot rabbit is too big – it becomes six foot six when you put the ears on! So it was fantastic that Hassan said he would do it."
In fact, the Mcdonald's ad is also a good example of how Nolan has incorporated digital technology into his practice, to make it even more effective and functional in the current environment. Where once creatures were physically sculpted in clay – an unavoidably messy business – there is now a program for that, so that sculpting is now done via a computer. Designs can also be based upon motion capture and 3D scans, which then are then 3D printed. The animatronics themselves are also designed in 3D.
To have a cute character that interacts with humans, it needs to be as small as possible.
"For the Mcdonald's ad we scanned Hassan and then sculpted in 3D on top of that scan, and then 3D printed," he explains. "We created a small maquette, so we could see the shape of the body and then the head full scale, and then took moulds from that. Then we engineered all the components in the computer in 3D and cut them out." From that came what Nolan calls: "a robot that Hassan wears on his head, which included 36 motors." And then they covered it with skin – nowadays a mix of silicon compounds and paint rather than the foam latex of old – and fur.
There are other benefits of designing in 3D too. "We can actually sculpt a lot quicker," he says. "And if someone wants an animatronic grizzly bear, for example, we might already have a file within our sculpting archives of a bear."
Unlock full credits and more with a Source + shots membership.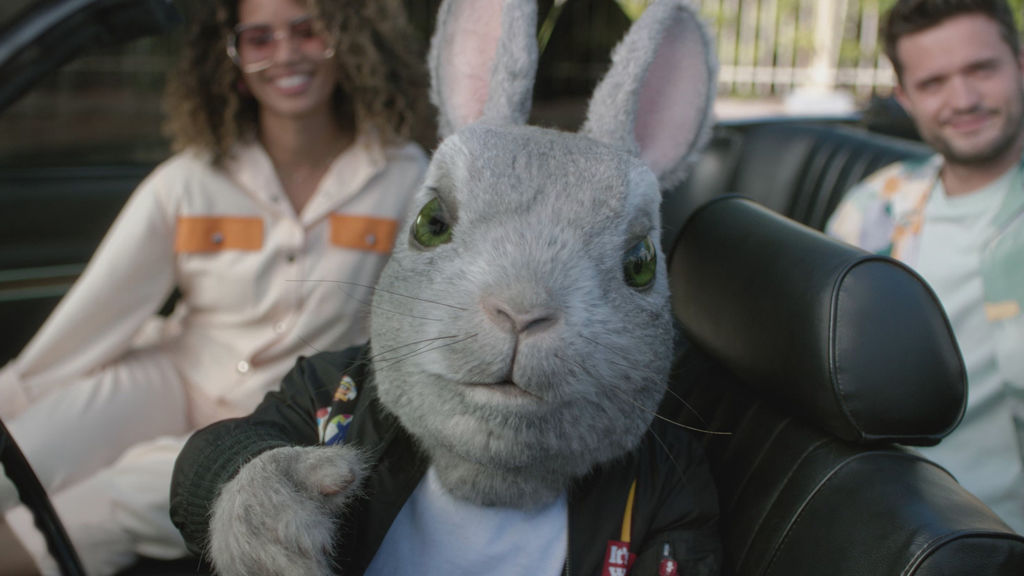 Above: The McDonald's ad, featuring Nolan's rabbity creation.
Then, at the other end of the process, Nolan now collaborates closely with post effects teams to make his creations even more amazing. For example on the new DFS ad, he worked closely with Untold Studios on those parts of the animatronic creatures that they were not able to mechanise – like the frog's fly-catching tongue. "It was a great collaboration with UNTOLD," he says. "I think we found a lovely balance between the animatronic and VFX on that project."
The VFX team gave us a walking cycle of a velociraptor, which our puppeteers rehearsed to show the director what we could achieve in camera.
Similarly, on Jurassic World Dominion, there was complete integration between the physical dinosaurs and their digitally-made counterparts. Initially, director Colin Trevorrow decided he wanted to have animatronics and practical effects in the film to recapture the feel and spirit of Steven Spielberg's original Jurassic Park movie. Nolan says that the eminent VFX supervisors on the movie were wholly supportive of the approach. "David Vickery, the VFX supervisor from ILM just said: 'if you can get it in camera, let's do it. And if it needs help later on, we can enhance it with CG.'"
Above: Nolan's DKB alien, from 3D design to build.
He mentions a scene from the movie which is a good example where the crossover between practical and digital occurred, for a scene featuring a young velociraptor. "We built the whole thing as a puppet," he explains. "And the VFX team gave us a walking cycle of a velociraptor, which our puppeteers rehearsed to show the director what we could achieve in camera."
When it came to shooting the scene, puppeteers occasionally made mistakes, with a baby velociraptor 'tripping up' at one point. But that imperfection made it more real and it made the final cut.
"It just made it that little bit more believable," says Nolan. "That's the thing that visual effects people, animators and directors are crying out for."