News
Weekly Rewind: October 9th, 2020
Aged aqua-dwellers, rejected rebrands, painted pixels and perfect penguins make up this week's round-up of the most interesting stories from the world wide web.
A Grandmother of Sharks
Last weekend, off the coast of Nova Scotia, a team of scientists successfully landed and tagged a massive female shark, reports LiveScience. The shark was scarred all over, but in excellent health, and is probably over fifty years old. The scientists, who work with the marine animal tracking nonprofit OCEARCH hope that the blood samples and ultrasound they took of the apex predator will help them better understand the biology of these creatures, and learn more about how they behave, eat, and travel, as it is rare to be able to examine a shark of this size and age. She was, after all over seventeen feet long and over 3,500 pounds. OCEARCH are working in that area over the course of two months to better understand the migratory patterns of the sharks. Chris Ficher, one of the scientists on board, said: "When you look at all the healed-over scars and blotches and things that are on her skin, you're really looking at the story of her life, and it makes you feel really insignificant." They named her Nukumi, after a wise grandmother spirit of the Indigenous Mi'kmaq culture.
Google's suite surrender
If you're a user of Google's suite of services that include Gmail, Google Docs, Sheets the calendar and others, then you might soon be joining the chorus of disapproval that has greeted the redesign of the logos which accompany these services. Google's G-Suite apps have rebranded as Google Workspace and the newly released icons have not been received with open arms.
Tech Crunch writer Devin Coldewey this week analysed the new logos, which he referred to as "little rainbow blobs that everyone will now struggle to tell apart in their tabs". While he also went on to explain why Google may have made the changes, and the fact that the company often alters perfectly good visual design for, seemingly, no good reason, his overall estimation of the rebooted icons was not great; "Since I and a hundred million other people will have to stare at these ugly new icons all day until they retire them, maybe making a little noise will accelerate that timeline a bit."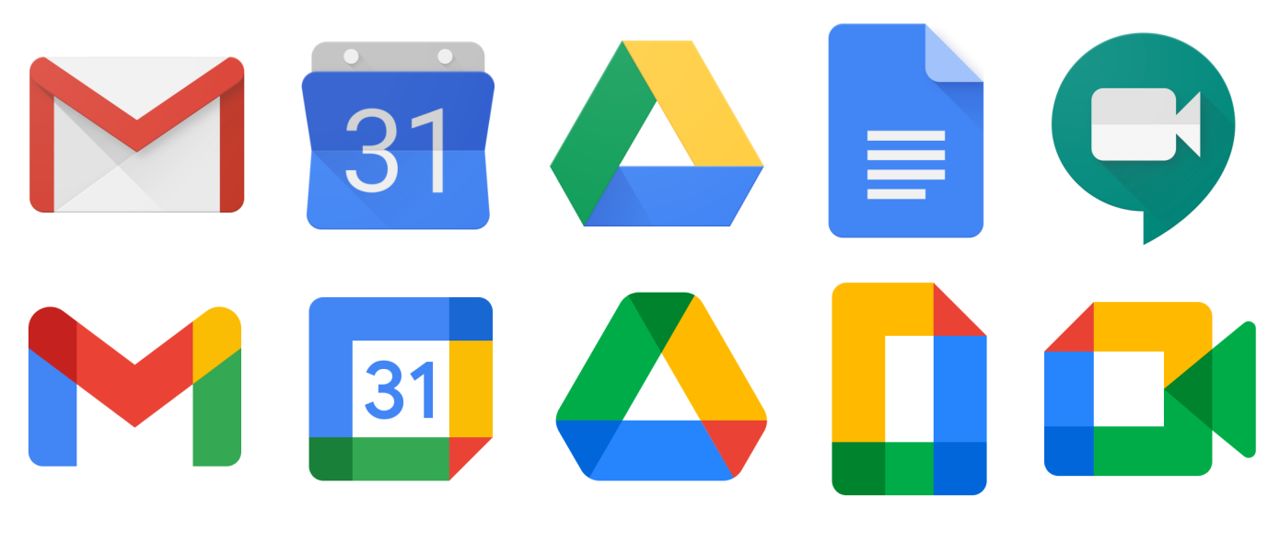 Snapchat wants you to contaminate Carnaby
Using computer wizardry and magical lens tech (both proper, official terms), Snapchat have gone and mapped Carnaby Street into the cloud (or something) in order for your phone to interact within AR. Named Local Lenses, the feature is one of the first persistent, large scale, collaborative uses of augmented reality and has potential implementations beyond the fun novelty of this experiment.
As covered in WIRED's piece on the tech, the Local Lens is called City Painter and allows people to use the camera on the Snapchat app to view Carnaby Street whilst spraying fountains of red and blue paint above Carnaby's shops, decorating the bricks with predesigned graffiti murals. Anyone on the street can see others spraying their paint, and users can battle to cover the shops in their colours.
P-p-p-pick a penguin
Yeah, the world is full of worries and woes at the moment, but here's a little unicorn chaser to brighten everyone's day. The National Aquarium of New Zealand is reaching the end of its third annual Penguin of the Year competition and it needs YOUR HELP to choose it's champion. Will it be Burny (a cheeky chappy with an eye for the camera), Captain (a fun flapper whose waddle will leave you wild), or Mo (a long-necked looker who's always looking to the stars). The choice, as they say, is yours...