News
Under Armour and DOMO give us Access to Sport
Under Armour's creative collaboration with DOMO yields extraordinary gifts for rising athletes worldwide.
Based on extensive research underscoring the "endless and critical" benefits for youths who participate in sports, and their communities, Under Armour's commitments to reducing access barriers are rapidly scaling up. Following the U.S. launch, its Gift of the Game brand campaign is now being deployed globally.
Behind the :90 Access to Sport anthem film, and other cinematic assets focusing on a trio of young athletes, stands director André Stringer, and his multidisciplinary teammates at LA-based creative collaboration company DOMO. Drawing on his decades long history with the brand, Stringer served as DOMO's Executive Creative Director and Director. DOMO's team also included Managing Partner Rani Melendez, Creative Director Julian King, Associate Creative Directors Ginger Boyd and Christopher Fung, and numerous other creative talents.
"It was a great honor for us to help illuminate the Gift of the Game and highlight the barriers young athletes face accessing sports, so that we could find the right stories to rally the world around this incredibly important mission," Stringer began. "Sport continues to be one of my foundational influences, and supporting the effort to bring that game-changing opportunity to millions of young athletes is profoundly meaningful to me." The 'gifts' include connection and confidence – which are fundamental community building blocks, as well as being transformative influences for individuals and society-at-large."
Through the exhaustive, research-driven development process where DOMO served as a creative partner to Under Armour's in-house team, the breakthrough creative solution sprang to life.
Unlock full credits and more with a Source + shots membership.
Show full credits
Hide full credits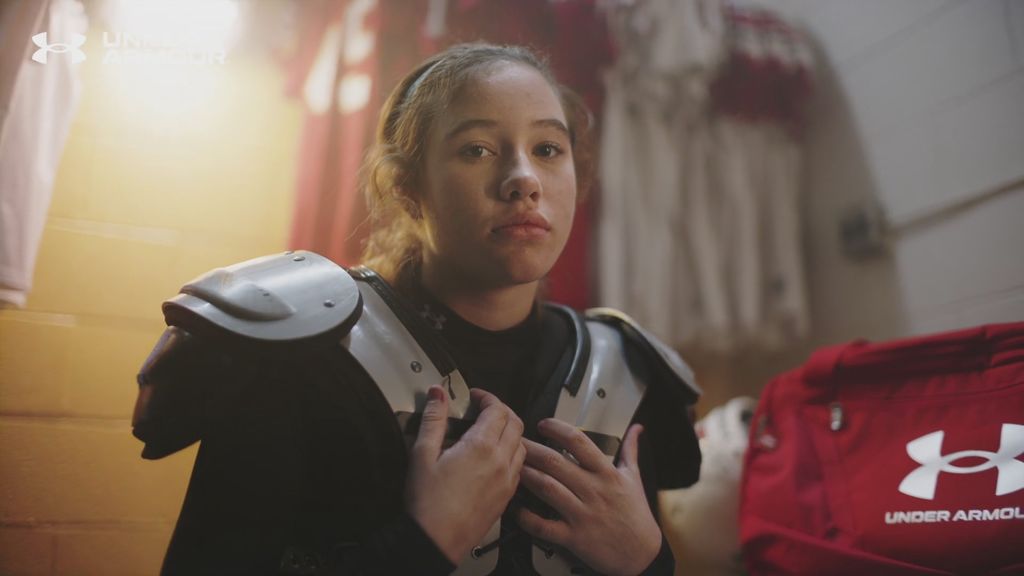 BESPOKE, IN-DEPTH PRE-PRODUCTION APPROACH

Fully immersing themselves in the ideation process, DOMO relied on Under Armour's extensive network of community-based organisations, and All of Us Casting, to activate a series of in-depth conversations. "Many organisations exist where access barriers are immense," explained Boyd, who led the writing process for the group. "We spent a lot of time in dialogue with them and their kids, exploring the problems, the ways they manifest, and the benefits offered by participation in sports."
"Following these leads and continuing to ask deeper questions, our connection with these athletes and communities deepened," said King. As a key development step, the young subjects were asked to document their lives, emphasising the role of sports. By all accounts, the resulting videos were incredibly inspiring and impactful.
"This part of our process was about making our form fit the kids," King continued. "The closer we got to those individuals, the more we were able to work in their communities, film in their worlds, and capture their authentic stories."
FINESSED PRODUCTION, POST, AND FINISHING
Embracing the reality of their on-camera talents being kids and young adults, not professional athletes, DOMO scaled its production approach accordingly. Shooting over numerous weeks in locations throughout the U.S. Mid-Atlantic, and in Birmingham, England, Stringer, director of photography Billy Peña, and their small, agile team filmed extensively. From nights on the streets in Baltimore to days on St. John's College High School ballfields and beyond, they focused on candidly capturing real life in real-time.
"For a lot of the opportunities, you really only had one chance to shoot it," said Erik Press, line producer. "It was about being free to move and having an unconstrained set; stuff that had a spatial openness which allowed us to put the camera where it needed to be." Among their camera arsenal, Stringer cited a RED Digital Cinema Komodo being especially useful due to its compact size.
Further illuminating DOMO's expertise shepherding projects through a bespoke collective process, this campaign's credits list many long-term collaborators. Each story's peak aspects take elegant form thanks to editors Nathan Caswell and Sophie Kornberg. With Sven Dreesbach as VFX supervisor and lead Flame artist, final color is courtesy of Aubrey Woodiwiss.
As the composer of The Gift of the Game campaign's music, that touch is yet another source of pride for Stringer. "That was a long-term project, starting really early in the creative process, to furthering our brand vocabulary and establishing a fresh sonic signature for the work that reflects both this new orientation toward its heart and empathy aspects, and offering that fire and charged energy Under Armour is known for."
"For us as a collaboration company, it's a huge privilege to help find the place where ideas skyrocket, and to be able to bring them from conception all the way through to final form," Melendez added.