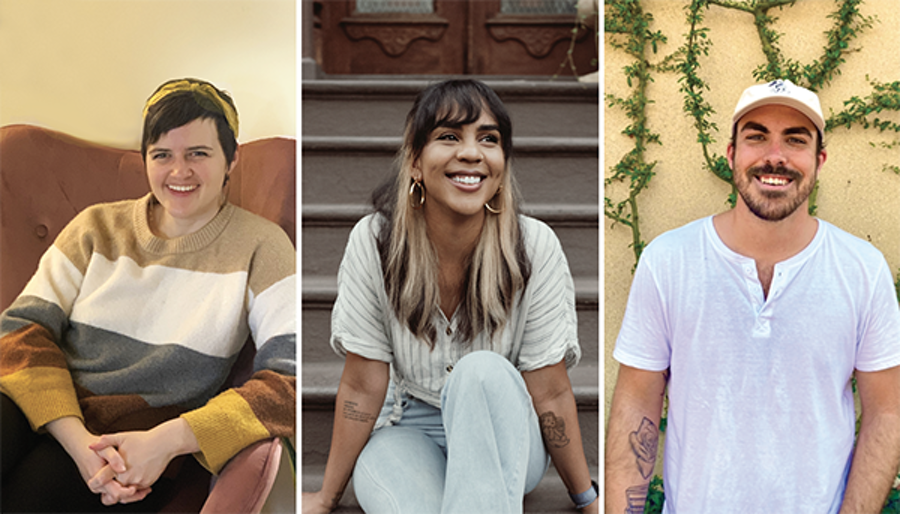 News
Sound Lounge introduces new producer team
Sound Lounge introduces new producer team: Promotes Lauren Mullen to Senior
Producer, welcomes Camila Dayson Aravena and Matt Smith.
New York City's longest-standing independent provider of sound services for advertising, television, and feature films Sound Lounge has announced its new commercial production team.
Now entering its 23rd year, the studio promoted Lauren Mullen to Senior Producer and added Camila Dayson Aravena, Producer, and Matt Smith, Production Coordinator, to the lineup.
"With care, creative thinking, and new tools, our production team is focused on the evergreen adaptation of the client experience. They're flexible, agile, and inclusive to a diverse client base with various needs. Giving the best possible experience is truly what this group is all about," explains Marshall Grupp, Sound Lounge Partner and Chief Operating Officer. "My partners and I are really excited about this next chapter."
In her new role as senior producer, Mullen will manage the day-to-day production aspects of the studio's busy commercial division and supervise its team of producers.
Over her career at Sound Lounge, Mullen has produced mix, voiceover records, and sound design for clients such as Bud Light, Dunkin Donuts, M&M's and the New York Knicks. Mullen intends to further improve the studio's remote workflow, making sure clients receive the most seamless experience, while nurturing Dayson Aravena and Smith as they develop into strong producers.
"My new team is young and hungry, and they're ready to jump into producing. I'm thrilled with how excited they are to learn and to be a part of what we're doing at Sound Lounge," says Mullen. "We're going to be a more cohesive unit with the mixers, the assistants, and the casting division. Moving forward, it's important to me that my team always has the support they need and they feel confident in what they're doing."
Producer Dayson Aravena joins Sound Lounge from Whitehouse Post. There, as associate producer, Dayson Aravena discovered her passion for audio, witnessing firsthand how it could truly make or break her projects. "I had a slow, burning passion for audio growing inside of me. I was always the editorial producer going to bat for audio post, and luckily I won that battle many times," says Dayson Aravena. "When the opportunity arose to actually produce for Sound Lounge, I had to jump on it."
Production Coordinator Smith moves up from Sound Lounge's reception team, and graduated from SUNY Oneonta's music industry program with a minor in audio production. Smith brings hands-on experience in the studio, so he's able to bridge the gap between technicality, artistry, and production. "I really understand what goes into the mixing process and the amount of time things take technically. That knowledge really helps bring the producing process full circle for me," explains Smith. "I'm so grateful for this opportunity and happy that Sound Lounge sees I will be an asset to the team."