Talent
shots Unsigned: Ragini Bhasin
For this months interview with unsigned directing talent, we talk with Ragini Bhasin about her short film Ghazaal, the origins of the story, script improvisation and building a refugee camp.
In association with
In the latest of our monthly interviews with unsigned directing talent, we spoke with Ragini Bhasin about her short film Ghazaal that revolves around a 13-year-old Afghan refugee who experiences her period in a refugee camp.
Ragini Bhasin is a filmmaker of South Asian heritage, born and raised in India, currently residing in Los Angeles. A graduate of Dodge College of Film and Media arts, Chapman University, she has made award-winning films like Ghazaal and Las Escondidas, which have played numerous festivals worldwide.
Can you tell us a little about your background and your route into directing?
Growing up in New Delhi, India I had been obsessed with going to the cinema with my family and friends to watch films. However, I was way more passionate about films that I didn't like and would come home and write down a different ending to the film, or change the character motivation or kill a plot point.
In pursuit of figuring out what shouldn't be in films, I started figuring out what should be in them.
Would you say you have a directing style? How did you arrive at it?
I love making narratives that feel like documentaries. Hence, I regularly work with non-actors, use a handheld camera and a naturalistic tone in my story-telling. I prefer less emphasis on the plot but more on the character.
I arrived at this style by observing my life and how I personally reach conclusions in different situations.
Did you study filmmaking? How did you learn your craft?
I studied my MFA in Film Production with an emphasis in Directing from Chapman University.
Making short films with other students while at film school and getting feedback from mentors and peers surely helped me hone my craft.
Unlock full credits and more with a Source + shots membership.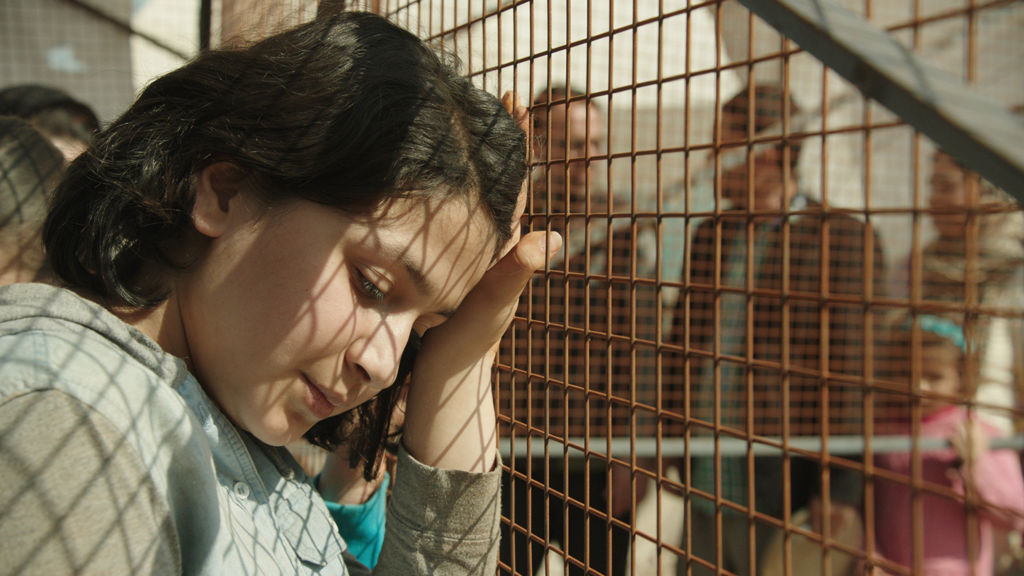 What was the inspiration for Ghazaal?
I have always wanted to tell a story that is centered around a girl experiencing her periods, but I wasn't sure why I was telling it from the point of view of a young refugee.
For years I was staggered by the multitudinousness of the refugee crisis and had read an umpteenth number of articles and seen a few documentaries, most of which seemed factual, objective, and distant. I'd wonder how people conducted themselves daily, how children made friends, and how girls managed during their menstruation cycle. Somewhere in this chain of thought, the story incubated.
I volunteered at a refugee camp in Greece and interviewed a few refugees to get a better sense of what life is like for those who inhabit the camp
For research purposes, I volunteered at a refugee camp in Greece and interviewed a few refugees to get a better sense of what life is like for those who inhabit the camp. I still don't know if I was the right person to tell this story, or if I even possess the right to fictionalise a character whose life is so different from mine, but I combined my passion with my curiosity to carve a film that hopefully feels intimate.
What other directors' work do you admire? What is it that stands out?
I really admire Asghar Farhadi, Dennis Villeneuve, and Andrea Arnold. Their work, from shorts to features is honest in their storytelling and as directors, they make choices that remain true to the story and psyche of their characters.
Where do you find the inspiration for your projects?
I find inspiration from feisty people, especially women that I meet in real life, hear about, or read up about on the internet.
Since most of my work is character-centric, I relish meeting people whose stories I can fictionalise to turn into narrative films.
What were the biggest challenges you faced in pulling this project together?
It was challenging to build a refugee camp from scratch on barren land and make it look realistic enough. I was lucky enough to have a great production designer and her team that worked so hard to built an entire camp that felt lived in.
How long was the shoot and what was the most challenging aspect of the project?
The shoot was 6 days long where we shot for around 8 hours daily. The most challenging and rewarding aspect was working with kids who were all non-actors whose native language (Dari) I am not fluent in.
I did not give them a script and let them improvise by play acting the scenes.
What have you learned during the process of making the film?
I learned a lot from the pre-production of Ghazaal to the final sound pass. Actually, I'm still in the process of learning something new from the distribution of the film. But the most integral lesson I learned was how to work on a set where 4 different languages were spoken by the cast and crew and how to communicate effectively and efficiently with them.
What are your hopes and plans for the future?
I work for a digital media company called Jubilee Media where I direct unscripted content for a number of their series like Middle Ground, Odd One Out, and Ranking, amongst others. However, I am also working on short and feature narrative films.
Currently, I am in the pre-production of my short film which is also a proof of concept for my feature. It is centered around an acid attack survivor and the angst she feels when her perpetrator who is also her neighbour is released from prison and returns home.
Take a look at Ragini's shots Unsigned page here.
You can check out some of the amazing work put out by unsigned directors in our monthly shots Unsigned Showcase, here.