Talent
shots Unsigned: Max Kane
For this months interview with unsigned directing talent, we talk with Max Kane about his short road-trip film Duck, the difficulties of shooting into a windshield and his early movie watching experiences with family.
In association with
For this months interviews with an unsigned directing talent, we talk with Max Kane about his short film Duck, in which we take an epic ride with Frank as he leaves home.
Kane makes films out of necessity. It's his way of expressing himself and connecting with people. He has written and directed numerous shorts which have played at dozens of festivals. He strives to tell psychological stories that are raw and personal, but relatable to a wide audience.
Can you tell us a little about your background and your route into directing?
I come from Taiwanese (Mom) and Jewish (Dad) descent. My Jewish grandparents took me to so many movies at their local Art Deco theatre from a super young age. In elementary school, my parents stumbled on a disturbing short story I wrote which resulted in many years of unnecessary therapy. In college, I realised that I was capable of putting the things I wrote on screen.
Would you say you have a directing style? How did you arrive at it?
I want to tell psychological stories that are unique, raw, and personal. I don't talk much, so I like to have my work stand out and speak for me.
Unlock full credits and more with a Source + shots membership.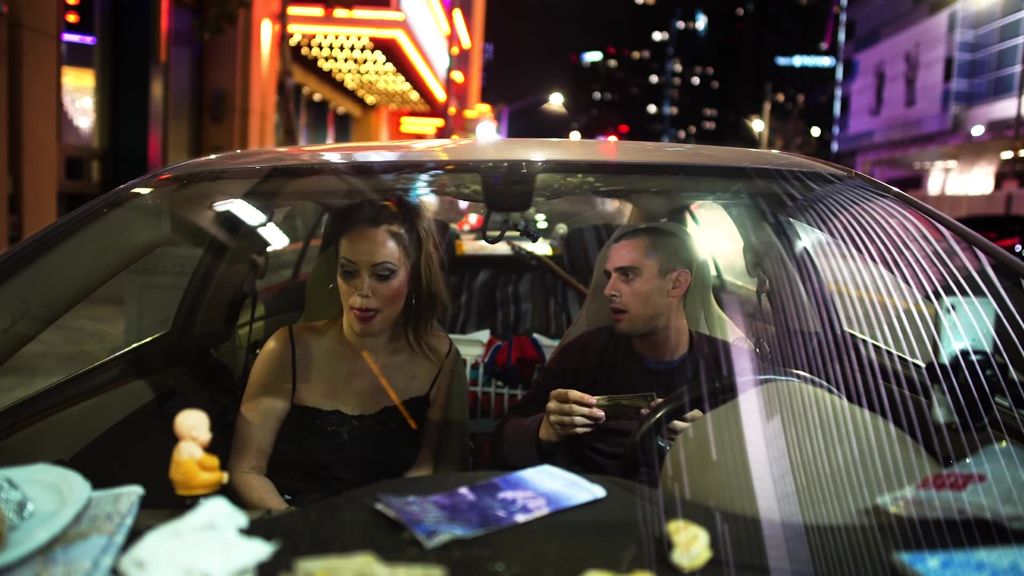 Did you study filmmaking? How did you learn your craft?
I was a Film (and Pre-Med) major in college. Despite all the film classes I sat in, I learned by doing and editing my own projects.
What was the inspiration for Duck?
Leaving home was hard for me. Even though I was excited to start a new chapter of my life, I was scared of the unknown. When I moved from Philadephia to Los Angeles, I left loving friends and family behind. Duck is a reflection of the self-doubt and uncertainty I felt on my journey across the United States.
What other directors' work do you admire? What is it that stands out?
My favourite directors are Wong Kar-wai, Yorgos Lanthimos, the Safdie Brothers. I love how they build the most thrilling worlds by distorting reality ever so slightly.
ABOVE: Some behind the scenes photographs of the shoot.
Where do you find the inspiration for your projects?
My deepest and darkest thoughts, fears, insecurities. lol.
What were the biggest challenges you faced in pulling this project together?
During pre-production, we could not find a company that would rent us a car (due to mileage limits) or loan us a camera (to be used exclusively on the hood of a car) at a reasonable price. We were forced to use our own car, camera, and lens. In pre-production, we experimented with many different methods of rigging our car.
Ultimately, we landed on this setup: camera mounted on the car hood, connected to a power bank, hooked up to a monitor, which I watched in the trunk while directing via walkie talkie. We placed four mini LEDs around the car and used an iPhone light on Joey's face. For sound, we taped a lav to the steering wheel and positioned a boom mic on the passenger seat. To scout, we used Google Earth and the Sun Seeker app. We failed to many times in order to find a set-up that worked.
How long was the shoot and what was the most challenging aspect of the project?
We began our shoot on the east coast, then drove west. From day one, we realised the difficulty of shooting into a windshield. In order to shoot during the day, the sky needed to be totally clear or the windshield would be filled with glare. We couldn't even press record for our first three scheduled days because of cloudy skies. We also had to find smooth roads where the sun was directly behind the car. It was for this reason (and many more) that our anticipated three-week shoot actually lasted three months.
What have you learned during the process of making the film?
The experience of putting this film together was invaluable. We traveled to new, breathtaking places around the US. Since we shot the film ourselves, it was like a crash course in production for me. And throughout lockdown, the edit kept us focused and sane. I feel privileged to have been able to work with Joey Krulock, who not only is a dedicated actor but a master cinematographer and editor too. The biggest thing I took from this project is that in order to make anything worthwhile, expect to spend countless hours, days, months, obsessing over your film.
What are your hopes and plans for the future?
I'm currently finishing the edit of my latest short: House of Brotherly Love. I'm really excited to share that project with the world - I've spent the last year writing/directing, producing, editing it. I'm also excited to continue writing my feature script, as I finally feel ready to take on a larger and longer project. By the time it's in production, my hope is that I've found a manager that believes in my work as much as I do by my side.
Take a look at Max Kane's shots Unsigned page here.
You can check out some of the amazing work put out by unsigned directors in our monthly shots Unsigned Showcase, here.