News
RAYE and 070 Shake indulge in some Escapism
Singer-songwriter releases music video for upcoming debut studio album, My 21st Century Blues with promo co-directed by Otis Dominique through KODE

British singer-songwriter RAYE releases the music video for Escapism, the debut single from her long-awaited studio album, My 21st Century Blues, set to be released in early 2023.
Directed in collaboration by KODE's Otis Dominique and by RAYE herself, the promo captures the brutality of post break-up blues and the hedonistic need to 'escape' the reality of being dumped.
Reeling from her boyfriend's "dumb decision" to tell her it's over, RAYE turns to partying, drinking and drugs to escape her emotions and numb her feelings. Bringing London's Soho to life using various camera techniques throughout the promo, distorting perceptions and blurring lines, mashing reality and fiction together in one painfully beautiful night of debauchery. As RAYE becomes absorbed in her vices and loses her inhibitions, the camera follows suit, becoming increasingly erratic and disjointed, echoing the mindset of her drug induced, alcohol fused, emotional mind.
Unlock full credits and more with a Source + shots membership.
Show full credits
Hide full credits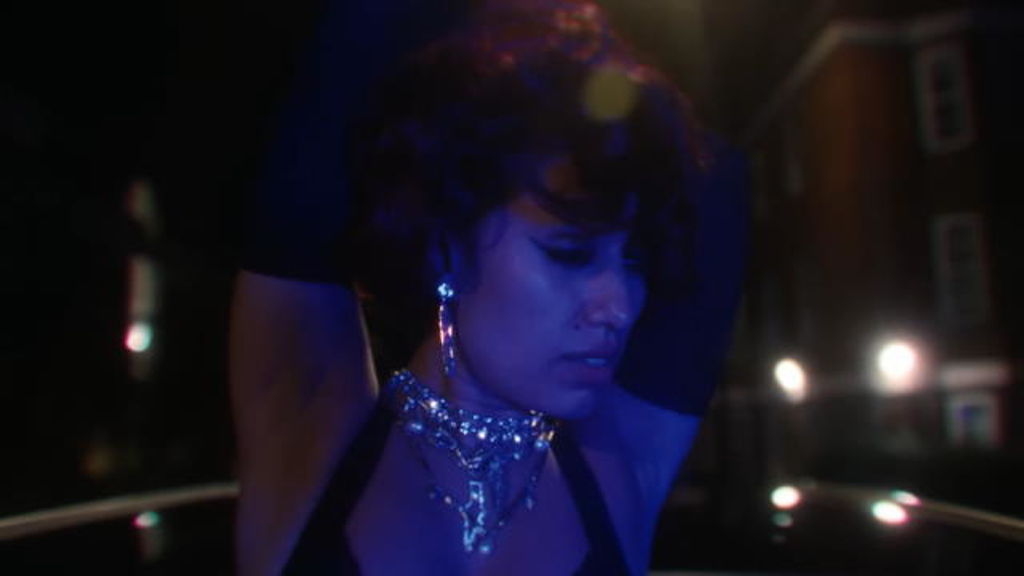 Rejecting a fixed linear timeline, the film opens to an alone and disoriented RAYE running down the street. Followed by a series of flashbacks, jumping backwards and forwards in time. The audience are delivered their own version of a hazy night that may be remembered in the morning, but probably best forgotten. Using alcohol, drugs and partying as her chosen forms of escape, RAYE's Escapism showcases the gritty sense of truth in dealing with heartbreak.
RAYE: "We worked really hard to create an honest depiction of where I was at that time in my life," RAYE shares, "It was fun and wild. We shot it over a couple of days and wore point-of-view cameras during a wild night out at many different clubs. I pushed myself outside of my comfort zone and I ran 150 metres in 5 inch heels. We really took it there! I am really proud of it and hope everyone enjoys the visuals."
Featuring American rapper and singer 070 Shake both on the track and in the promo, her vocals break through the haze, adding an extra layer to the complicated night.
Otis Dominique, Director, KODE said: "So gassed to see this film come out after all the hard work put in from the whole team involved! RAYE's and Mikey's approach to this project really allowed us all to push the limits creatively and make something that hasn't quite been done like this before. The song has so many ups and downs / changes of mood and vibe so the challenge lay in how to connect these feelings and emotions together through filmmaking and storytelling without being too on the nose. My favourite element of the film is the contrast between our real night out footage and the considered setups we shot inside the exact same locations, truly showing the differences between reality and state of mind. That stuff goes hard and is so trippy! Shot on 6 different cameras and over a good few days and nights, I've loved working with everyone involved on this from start to finish and am very grateful for how it's all turned out."
Mikey Robbins, Creative Director adds: "It's an honour to sit beside artists and filmmakers who push boundaries. This film does that and more. As it unfolds, Raye becomes completely engrossed by her vices. Ultimately, she runs frantically away from reality. That's a heavy conversation; Raye is brave for opening it up. Our goal for this film was to leave viewers confused and concerned by the end. I hope, if anything, we accomplished that. Otis is one of the best and hardest working directors out there. Joe Douglas has a wicked eye and a poise on set that is incomparable. Phoebe May's attention to detail is inspiring, each frame of this film was cut with precision! I am grateful for the ENTIRE production team. Love!"