News
Just Charge Less with Dollar Shave Club
Where The Buffalo Roam's Brian L. Perkins shoots straight with Dollar Shave Club.
Full-service creative production company Where The Buffalo Roam (WTBR) produced a hilarious new series of spots for Dollar Shave Club, directed by in-house comedy talent Brian L. Perkins.
The spots are comically blunt and stay true to Dollar Shave Club's unpretentiousness and rebellious sense of humour with a straightforward call-to-action of "we sell great razors at a great price." And while Dollar Shave Club is primarily known for their successful razor subscription model, the new spots also remind shoppers that these razors are also available in "real actual stores," as the ad says.
"We are focused on designing high quality razors at a great price and bringing fun back to the category," commented Megan Milazzo, Dollar Shave Club's Chief Marketing Officer. "Our heritage lies at the intersection of irreverence and straightforward, honest talk. We aren't afraid to poke fun at ourselves or the norms that exist in the male grooming category."
Unlock full credits and more with a Source + shots membership.
Show full credits
Hide full credits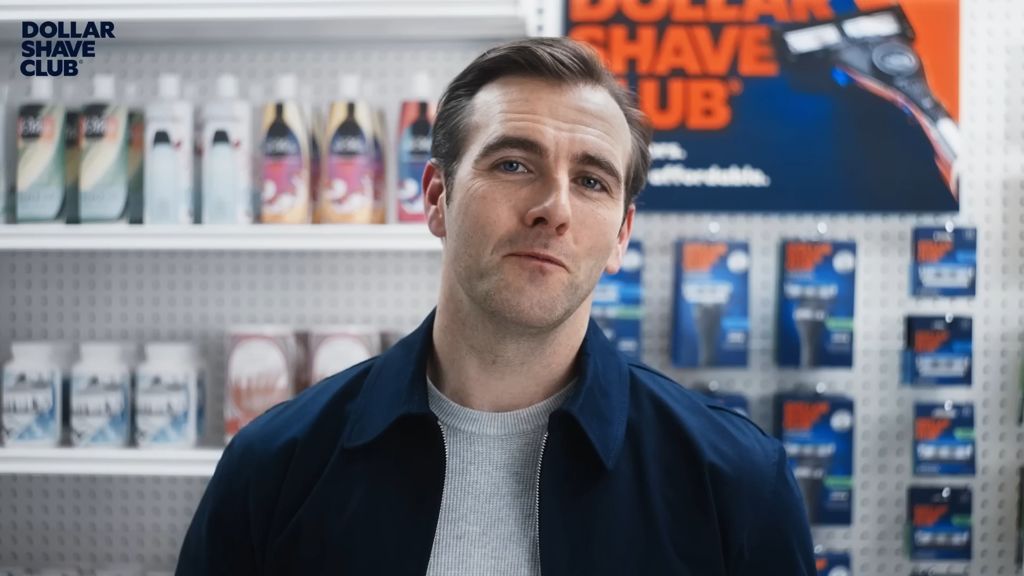 Perkins and WTBR collaborated on the campaign concept with the in-house marketing team at Dollar Shave Club, with Myles Noland scripting the hero spot.
"Myles is hilarious, a fantastic writer, and super collaborative," notes Perkins, who is no stranger to infusing absurd and outrageous comedy into commercials for Robinhood, and Webflow's Better Way campaign.
Perkins also credits the Dollar Shave Club team's willingness to "let the funniest idea win," as he, the talent, and even some of the crew riffed various ad-libs and physical gags to bring the best version of the scripts to life. "The Dollar Shave Club team was generous and selfless, which made everything easy. If we laughed at something, we used it."
In addition to Just Charge Less, Perkins shot and delivered Cool Stuff, featuring the same comedic everyman explaining how Dollar Shave Club's savings allow you to spend your extra cash on "cool things" like piñatas and dress shoes; and "Hairs Don't Care," a cowboy-themed comedy riff inspired by the popularity of the show Yellowstone, which plays into the dissonance between a rugged cowboy in a clean retail space.
Perkins notes that the spots' simple lighting and aesthetic allowed him to maximize time working with his cast. Once WTBR and the Dollar Shave team finished collaborating on the script and ideation, they handled the live-action production and editing, as well as the end title cards.
"We delivered several additional spots that are good to go," adds Perkins.
The shoot reunited Perkins with a familiar and trusted crew in Chicago: "Our producer, Emma Jubinski, has worked in Chicago for ages and assembled this kickass team of all-stars: Kyle Bainter, our DP, has an incredible eye for composition and comedy, and just as importantly, he works super fast; and Mark Dalpra, our production designer, always overdelivers with his sets, both in terms of scope and detail."
Perkins also notes that this was his first production to utilise artificial intelligence, although in a strange way: "We were filming on a set dressed like a big-box Walmart-like store and had to fill dozens of shelves with fake products. So, we used AI to create the packaging, and it spat out all these unnervingly weird products with funny names like 'Mtuls' and 'Dr. Men'."