News
Jollibee asks: Have you been emotionally harmed by a tasteless chicken sandwich?
Jollibee "Hires" attorney Chris P. Poultry to serve up chicken sandwich justice for all.
Have you been emotionally harmed by a tasteless chicken sandwich? A sandwich so soggy, dry or bland it leaves you joyless?
Justice is Best Served Crispy, is the title of Jollibee's new campaign created by David&Goliath, a fun parody on those late-night ambulance-chasing lawyer ads. The campaign inspires consumers to reconsider their chicken sandwich options and break away from the 'good enough' or simply ho hum competition by offering a free Jollibee Chickenwich for a truly joyful chicken sandwich experience.

"In the chicken sandwich 'wars,' it's easy for brands to get lost in the mix," said Ben Purcell, chief creative officer, David&Goliath. "Being the joyful brand that Jollibee is, we're excited to work with this brave client that not only could rise above the 'wars,' but also could see the bigness in the idea, and help support our efforts to bring the world chicken sandwich justice."
The fully integrated campaign officially launches September 14 and includes an :80 ad titled Chicken Sandwich Justice, created to generate buzz and engage Chris P. Poultry with consumers eager to find joy in their chicken sandwich experience. Akin to those cliche ambulance-chasing ads, the spot stars Chicken Sandwich Lawyer Chris P. Poultry fighting for the victims of tasteless chicken sandwiches by offering the mouth-watering compensation of a free, tasteful Jollibee Chickenwich.
Unlock full credits and more with a Source + shots membership.
Show full credits
Hide full credits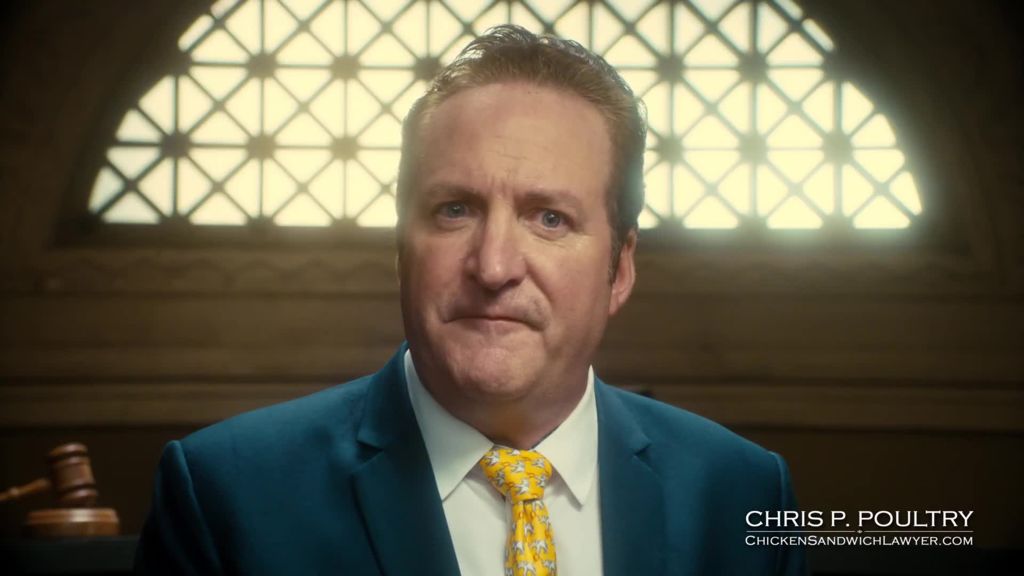 Further leaning into the trope ads, the campaign includes print and OOH ads placed on bus stop benches and billboards with Chris P. Poultry's suited-up headshot and website plastered across the front and copy that asks the probing question: "Were you the victim of a joyless chicken sandwich?" And classic call-to-action "You might be entitled to chicken sandwich compensation, go to ChickenSandwichLawyer.com."
"As someone who grew up on Jollibee chicken, it gives me great joy that we're doing this campaign for Jollibee, whose mission is to serve great tasting food and bring the joy of eating to everyone. And what better place to start than making sure people have the right to a crispy, juicy chicken sandwich that doesn't disappoint," said Yumi Prentice, president, David&Goliath. "According to a recent Meltwater social media report conducted from April to June 2021,16% of the chicken sandwich category conversation was driven by complaints about competitors. In order to reach those people who are missing out on a truly joyful chicken sandwich experience, we wanted to create a campaign that would capture their imagination and taste buds"