News
Concern Worldwide partner with 1Planet4All for new campaign
Creative agency Don't Panic collaborate with director and animator Fons Schiedon to tell the human story behind climate change.
Many people don't think of climate change as a human issue. Melting ice caps, rising sea levels and a scorched earth, with the media representation being apocalyptic, futuristic or even alien. A quick internet search shows hyperbolic, surreal imagery of a melting planet earth or an exploding globe. But where are the people?
Concern, Ireland's largest aid and humanitarian agency, sees the effects of climate change on communities and families every day across the globe. They have worked with creative agency Don't Panic to bring this insight to light with a 60" film soundtracked by the hugely popular Belfast DJ duo Bicep.
1Planet4All is an alliance of 14 organisations across 12 European countries that aims to inspire a new generation of youth activists to lead the fight against the global climate crisis. Concern is responsible for driving youth engagement in Ireland, demonstrating how climate change is driving hunger, and encouraging its audience to take action.
Collaborating with Fons Schiedon from Forever, the film from Don't Panic targets a young, scroll-happy audience with an initial gif-like bombardment of information, using imagery we see when we search 'climate change' online. Set to the rising beat of Bicep's track Cazenove from their latest album, the film then transitions to show real people and communities around the world who are battling climate change today. Using an array of footage, including Concern's own material captured from their work on the ground, the film culminates in an open invite to "take action" with 1Planet4All.
Unlock full credits and more with a Source + shots membership.
Show full credits
Hide full credits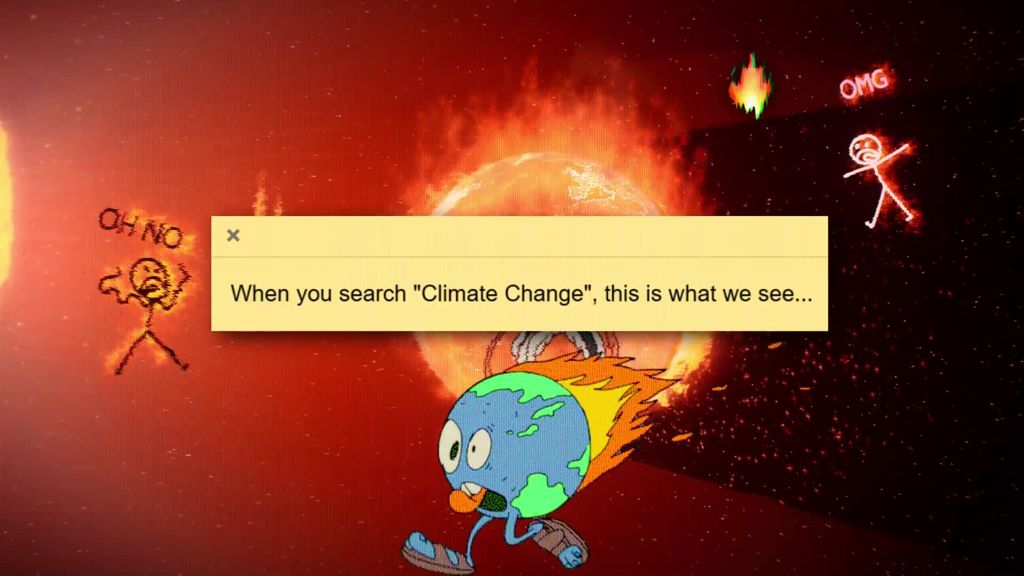 Alice Dowdall, Creative Lead at Don't Panic says; "Everything that comes up in online image searches for climate change is apocalyptic. Exploding planets, strange photoshopped images of trees up in flames, melting earth-shaped ice creams. The world needs to see this madness; but they also need to see the reality. That's why we put people in the picture. Real life stories from Concern to ensure this campaign was factual, emotional, and human. We hope to stir up the solidarity within the youth of Ireland to inspire action and change."
Fons Schiedon, Director and Animator says; "With such a strong concept to start from, the challenge was to build a message from hours of existing footage, as well as newly created animation, texts and UI elements. The way that various parts needed to interact lent itself to a more non-linear approach than usual. Our script writing became intertwined with storyboarding and editing, allowing for iteration throughout the various stages of production. As a director who is also the editor, we could try out ideas and see how changes affected other elements directly through rough cuts.
"I have lots of love for the visual language of the internet. The image search results for climate change are hilariously weird and detached. The juxtaposition of those twisted visuals with the actual day-to-day reality of people affected by climate change feels, ironically, quite relatable. I think many of us spend a lot of time online and get our information filtered through different channels, be it mainstream media or memes. That can make something like climate change feel pretty hopeless and abstract at times. The reality is mostly practical - that wherever people are, they are dealing with changes in their environment. That's why we wanted to draw the parallels between seasonal wildfires in California and floods in Ireland, and the natural disasters in Sudan or Kenya."

Sinéad Morgan at Concern says; "Climate change is the one of the biggest challenges we face today. We see its impact in many parts of the world, especially in countries where Concern works, such as Bangladesh, which would be devastated if sea levels rose. Climate change is also contributing to a rise in levels of hunger and extreme poverty as it devastates lands and ecosystems. We are dedicated to working with young people to engage with them on global issues and support them to take action. Many of us are inspired by climate activist leaders like Greta Thunberg and we hope to inspire more young people in Ireland to also lead in this global movement."
Concern will be asking people aged between 15 and 30 to join the campaign on their website, and one of the actions they will urge them to take is to contact local and national politicians about their views and wishes on the climate issue.