News
Casino Royale exorcises global trauma in experimental new music video
The promo was shot by Great Guns director Frankie Caradonna over the course of two years.
Italian band Casino Royale has enlisted the talents of Great Guns director Frankie Caradonna to film the promo for their latest single, Cospiro, featuring Marta Del Grandi.
The film takes viewers on an intense tour of humanity as it tries to make it through the toughest times. Bravely embarking upon a journey to confront their troubles, whether by getting lost in nature, tattooing a stellar route on their skin, fighting, blaming a god, or performing, they welcome redemption, symbolised by a pulsing purple night that signals a renewed bond of community.
For this music video, Casino Royale and director Frankie Caradonna took prior release, Scenario, as a starting point, which explores a hero's journey before redemption. In particular, the group wanted to depict individuals exorcising themselves of the anxiety rampant during current times marred by war, the climate and economic crisis, and pandemic aftermath.
Unlock full credits and more with a Source + shots membership.
Show full credits
Hide full credits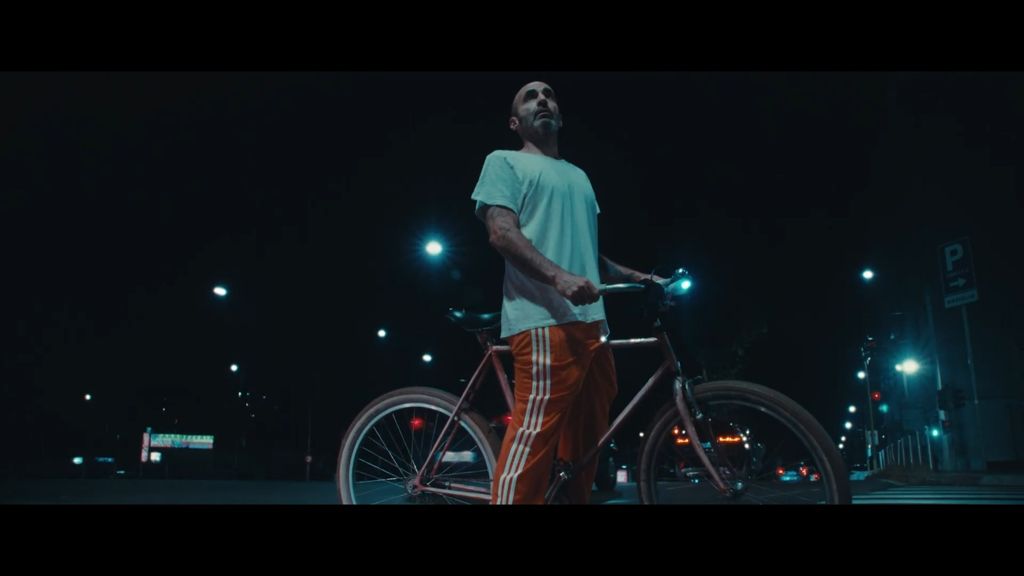 Alongside band member Alioscia Bisceglia, Caradonna sought inspiration from the album's cinematic instrumental tracks and his own documentary experience, as well as the works of directors David Lynch, Jim Jarmusch and Sophia Coppola. Their dense atmospheres, suspended moments, and wordless emotive narratives provided a springboard for the pair's creative ideas.
As the film examines humanity, Caradonna ensured it preserved an unfiltered human presence by choosing not to cast actors, instead asking friends of the band to reveal their genuine emotions on screen. Caradonna simply prompted them to let the music resonate with their real struggles in life, and filmed their journey as they each processed their fears in their own way, capturing the raw result.
Though originally planning to complete the shoot over a matter of days, the uniqueness of the project ended up demanding over two years. Caradonna remained dedicated and made the most of opportunities to film between jobs, approaching each scene as a world of its own. Involving three producers and, sporadically, DP Stefano Bella, Caradonna worked hard to keep up the consistency of the storytelling, photography, and language. The purple light seen in the film helps to secure this aim, anticipating each individual's redemption and visually connecting the narratives.
Initially intended as part of a 30 minute poetic visualisation of Casino Royale's new album, Polaris, the team realised while shooting the film that something larger was brewing. It now serves also as a teaser for ALBA AD OVEST, a longform project set to launch soon.
Frankie Caradonna comments: "This project would have been impossible without the support of my DP, Stefano Bella, and his fantastic crew at Overclock, Milan. Their commitment and devotion made this dream come true. The project has been a magnet for love, supported by so many people and I could not be happier."