News
Artlist keeps reimagining stock footage with new moon landing campaign
The newly released ad is accompanied by new collections of space-themed stock footage, royalty-free music and sound effects.
Leading content licensing platform Artlist just launched a new campaign promoting the quality and exclusivity of Artgrid's stock footage catalog.
The campaign's highlight is a commercial that jokingly claims that the 1969 Apollo 11 moon landing was faked using Artgrid stock footage.
As part of a bigger campaign, the ad is accompanied by an exclusive collection of space-themed stock footage clips - some shown in the commercial, as well as curated royalty-free music and sound effects collections from Artlist that are perfect for space-themed videos.
"We have always viewed our stock footage platform Artgrid as more than just an assortment of clips," explains Artlst's VP Creative Liran Friedman. "Quality, storytelling and uniqueness are the elements that lead our content curation of royalty-free footage. In this ad, we chose to focus on the value of uniqueness, quality, and on the fact that 'some videos you can only get on Artgrid,' as the ad says."
Unlock full credits and more with a Source + shots membership.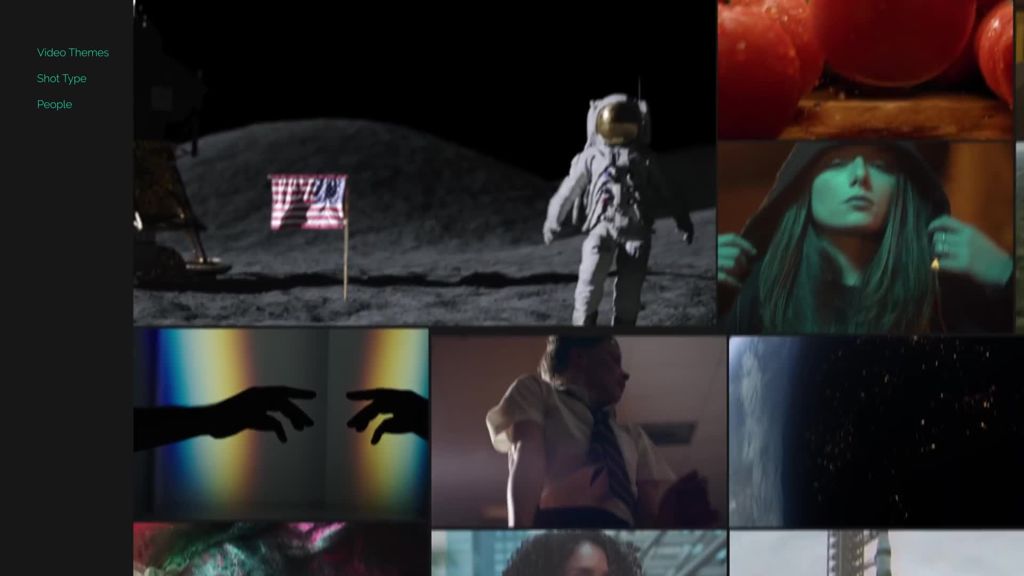 The new campaign comes as part of Artgrid's effort to reimagine stock footage. "Like what Artlist did to the royalty-free music industry, we founded Artgrid with the aim of revolutionizing the stock footage industry," says co-founder and co-CEO Ira Belsky. "We wanted to move away from footage that looks artificial and contrived to natural-looking and cinematic videos that the new content creator would feel comfortable using in his videos."
The ad shows a marketing team brainstorming on how to fake the moon landing. The team fails to come up with a good enough solution, and the boss turns to Stanley (Kubrick), who presents the ultimate solution - using stock footage.
"When we officially launched Artgrid in the Fall of 2019 our branding strategy was to introduce the product to the public by making more straightforward ads that explain what it is and what you can do with it," recalls Liran Friedman. "When we felt that Artgrid gained enough brand recognition, our focus shifted toward delivering targeted messages in a more creative way."
"The concept for the ad came during a conversation we were having in the office," recounts Artlist's Creative Director Jonathan Vardi who co-directed the ad with Sharon Chetrit. "We were talking about the 1969 moon landing and the possibility of it being staged. When someone joked that they could have just used stock footage to make it happen, we thought, 'Hey, that's not a bad idea for a new Artgrid commercial."
The ad taps into the conspiracy theory that claims that Stanley Kubrick was the one who was responsible for staging the 1969 moon landing. "There are 3 elements that come together to make the ad what it is," explains Sharon Chetrit. "One is the "Mad Men" inspired look and feel; the second is the actual footage you see; and the third, which ties everything together, is the persona of the legendary director."
The casting process included going through hundreds of potential actors. "We needed our Kubrick casting choice to be perfect to make the ad more believable," recalls Sharon. "Our initial choice was an actor based in Israel, but since the shoot happened in New York City, too many logistical and technical complications started mounting."
"A week before the shoot we found our perfect Stanley, and he was based in New York, which was a huge relief," sums up Sharon. "We brought in a special effects makeup artist that enhanced Kubricks' special features, like the beard and the eyebrows. When we watched the scene where Kubrick looks at his creation on TV, there was a moment where we actually believed we were looking at Stanley Kubrick, which gave us goosebumps," recalls Sharon.
Artlist is a company that produces all of its marketing campaigns in-house, so the creative team has several productions under its belt. However, in this campaign, they ventured into uncharted territory. "The whole COVID-19 situation forced us to produce the ad remotely, shot in New York but directed from Tel-Aviv, Israel", says Sharon. "From the casting process to the location scouting to directing the shoot, each stage had to be adapted to doing it remotely. One of the most important aspects of carrying a successful remote production," explains Sharon, "is communication. For example, we created the storyboard in two stages. The first was sort of a rough draft meant to deliver the general concept of the ad to the New York production team. After doing an initial location scouting and a recce - also remotely - we created a much more detailed and accurate version. We needed to deliver our vision as clearly and accurately as possible."