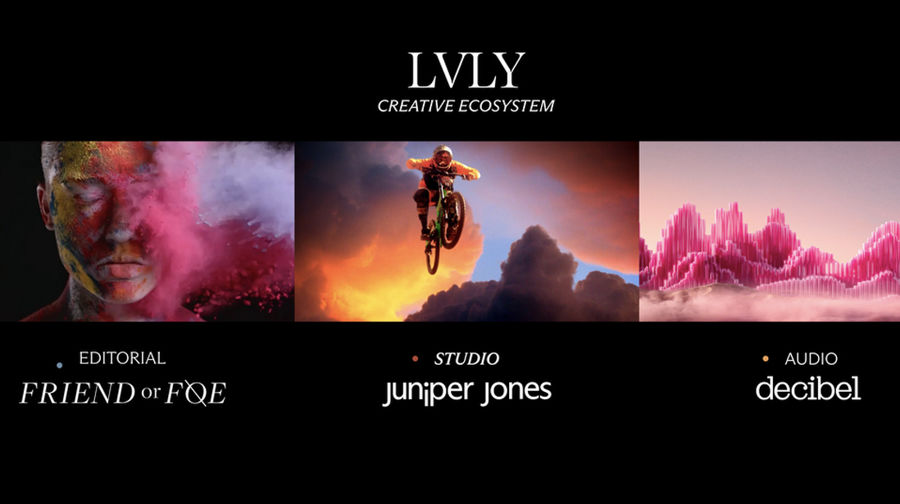 News
LVLY rebrands integrating creative strategy with new company alignment
LVLY makes a decisive move following the Juniper Jones acquisition.
In a move that began earlier this year when the company acquired creative studio Juniper Jones, LVLY has announced a rebranding strategy to reposition the company and better serve its clients.
For over four decades LVLY has been an industry-leading destination for Editorial, Design, VFX and Beauty. The company has seen the industry change countless times, enabling it to truly understand how radical the current transformation is for brands and agencies.
LVLY will now operate as three unique, stand-alone yet interconnected companies. Juniper Jones with its deep history of working with brands will lead with creative strategy, design and visual effects, Friend Or Foe with editorial and Decibel with audio post-production.

"The demand for digital and linear interconnected content continues to accelerate and evolve with virtual engagement between companies and their customers more important than ever," Ethel Rubinstein, LVLY's founder and CEO says. "Brands need agile partners who can support them throughout the entire content creation lifecycle, from Brand Strategy to Design to Content Creation so today LVLY is evolving to meet their needs."
In response to this need, LVLY is reconfiguring its teams and expanding its capabilities to create an interconnected, end-to-end Creative Ecosystem.
That ecosystem includes:
Juniper Jones: Known for solving complex creative challenges through strategy, design, VFX & innovation. Juniper Jones collaborates directly with brand teams and agency creatives to craft multi-platform stories that make brands unforgettable. Recent notable clients include AT&T, HBOMax, Xfinity, Peacock, Bloomberg and L'Oreal.
Friend Or Foe: The editorial boutique is known for telling compelling stories in unconventional ways. Their roster of uniquely talented individual editors are differentiated by their ability to think strategically about project needs and deliver conceptual solutions. Recent work includes spots for brands Fila, Toyota, Kate Spade, Maybelline, 5Gum.
Decibel: The award-winning multidisciplinary studio with years of experience serving clients' audio needs and building deeper connections through sonic experiences – from audio production to sound design to sonic branding.
The purpose of the evolution is best summed up by Juniper Jones Executive Creative Director Kevin Robinson, "We're making deeper collaboration possible. Together, LVLY's companies now provide a fully connected ecosystem of creative services spanning strategy, design and content creation, each one unique and designed to work together."
LVLY, a certified woman-owned company, will continue to be led by EVP/Managing Directors Cara Cutrone and Wendy Brovetto. Both will continue their roles as Cutrone overseeing Juniper Jones and Decibel and Brovetto with Friend or Foe.